Federer downs Gicquel in straight sets, advances
Updated:
June 27, 2008, 6:32 PM ET
Associated Press
WIMBLEDON, England -- Roger Federer continued his march toward a sixth straight Wimbledon title by beating Marc Gicquel in straight sets Friday, setting up a fourth-round matchup with the last man to win the championship before him.
After the first rain delay of the tournament, Federer overwhelmed the 53rd-ranked Frenchman 6-3, 6-3, 6-1 on Centre Court for his 62nd consecutive win on grass and 37th straight at the All England Club.
His next opponent will be Lleyton Hewitt, who won Wimbledon in 2002 -- the year before the Swiss star began his run of five straight titles.
Federer surprisingly dropped serve in the opening game. But he immediately broke back and was in control the rest of the way as he sailed to victory in 1 hour, 21 minutes. The rain delay before the match lasted longer -- 1 hour, 41 minutes -- the first rain of the tournament.
"Again, difficult conditions, tricky opponent," Federer said. "The wind was swirling. I got down a break in the first game and had to rally back. I played really well throughout the match considering the circumstances."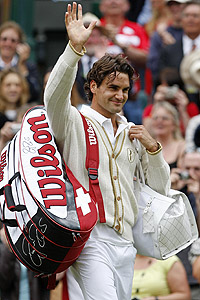 ADRIAN DENNIS/Getty ImagesRoger Federer breezed through his third-round match in 1:21 to set up a fourth-round meeting with Lleyton Hewitt.
Federer hasn't dropped a set so far in the tournament.
"It's always nice," he said. "Couple of days off now. Hope I play as well next week. It's important to try to keep the game where it is."
Hewitt, who has been troubled by a chronic hip injury and is seeded No. 20, served 14 aces and beat Italy's Simone Bolelli 6-1, 6-3, 7-6 (2).
Federer leads Hewitt 13-7 in career meetings and has won 11 straight going back to the Australian Open in 2004. They have played twice before at Wimbledon, with Federer winning in the quarterfinals in 2004 and semifinals in 2005.
"The next round will be much more difficult," Federer said. "We've played maybe over 16 times. He's a former No. 1 and Grand Slam champion. Should be a great match."
The 31-year-old Gicquel, who had never gone beyond the first round at Wimbledon, has a big serve and strong forehand but couldn't trouble Federer. Gicquel saved a set point on his own serve at 3-5, but Federer closed it out in the next game with a 129 mph ace.
On the final point of the second set, Federer whipped a forehand that left Gicquel lunging and doing the splits. Federer cruised through the third set in 20 minutes.
Also on Friday, No. 11 Tomas Berdych lost to Ferndando Verdasco, 6-4, 6-4, 6-0.
And the last remaining American in the men's draw, Bobby Reynolds, lost to Spain's Feliciano Lopez, 6-4, 7-5, 4-6, 6-4.

Copyright 2008 by The Associated Press
SPONSORED HEADLINES
MORE TENNIS HEADLINES
MOST SENT STORIES ON ESPN.COM
WIMBLEDON 2008
Instant Classic
ESPN Classic will replay Rafael Nadal's epic five-set victory over Roger Federer in the men's final on Monday at 7 p.m. ET.
Day 14
•
Men
|
Scores
•
Bob Bryan beats brother Mike in mixed doubles
•
Garber: Nadal muscles his way to championship
•
Ubha: Top five Wimbledon finals
•
Harwitt: Loss a microcosm of Federer's year
•
Ubha: Wimbledon men's final instant analysis
•
Bodo: Nadal shows plenty of courage
Day 13
•
Women
|
Scores
•
Garber: Venus finally stands up to little sister
•
Ubha: Williamses match competitive and clean
•
Garber: Borg the man in the middle
•
Ubha: Wimbledon women's final instant analysis
•
Who will win the Wimbledon men's singles final?
•
Bodo: Five reasons Nadal can win
Day 12
•
Men
|
Scores
•
Garber: Best friends set to do battle again
•
Harwitt: Coach-less Federer ready for title
•
Ubha: Nadal clearly in Federer's head
•
Who will win the Wimbledon women's final?
Day 11
•
Men
|
Women
|
Scores
•
Garber: Time is now for Nadal at Wimbledon
•
Ubha: Top Williams sisters moments
•
Grass Stains: Williamses ready for showdown
•
Tennis.com: Rafa will win Wimbledon
Day 10
•
Men
|
Scores
•
Wimbledon women's court schedule troubles WTA
•
Ubha: Federer serving lights out
•
Nadal blog: Happy to get by Murray
•
Garber: Venus is best grass-courter of generation
•
Star Watch: Safin looking confident again
Day 9
•
Women
|
Scores
•
Garber: Williams sisters crushing opponents
•
Ford: Ancic hoping to take care of Federer again
•
Chip and Charge: Olympics taking center stage
•
Ubha: Can Murray maintain momentum
Day 8
•
Men
|
Women
|
Scores
•
Garber: Unpredictability in women's tennis
•
Grass Stains: Valiant determination from Lopez
•
Star Watch: Murray electifies hometown crowd
Day 7
•
Ford: Midway at Wimbledon report
•
Ubha: Breaking down the final 16 in each bracket
See all stories from Week 1