Commentary
Ho-hum, a quiet first week at Wimbledon
Originally Published:
June 27, 2009
By
Greg Garber
| ESPN.com
WIMBLEDON, England -- The biggest news to emerge from the All England Club came three days before the tournament even started. But after defending champion Rafael Nadal withdrew citing his aching knees, it's been pretty quiet.
Oh, the No. 5 seed, Juan Martin del Potro, got waxed by 2002 Wimbledon champion Lleyton Hewitt. And yes, Marat Safin's 10th Wimbledon was his last, courtesy of American qualifier Jesse Levine. One of the few surprises on the women's side wasn't really a surprise; Maria Sharapova -- swept aside by Gisela Dulko in the second round -- has yet to rediscover the form that produced her first Grand Slam title here in 2004. Melanie Oudin, the 17-year-old from Marietta, Ga., reached the fourth round, and reigning French Open champion Svetlana Kuznetsova fell to 19-year-old Sabine Lisicki 6-2, 7-5.
Tweet, tweet
Don't miss a moment of the latest tennis coverage from around the world. Follow us on Twitter and stay informed. Join »
Actually, the Pulitzer Prize-eligible scoop of the week went to Brooklyn Decker, the new wife of Andy Roddick. After Roddick criticized her musical tastes on his Twitter feed -- he was particularly rankled by her love of Britney Spears, Miley Cyrus and Taylor Swift -- the Sports Illustrated swimsuit model outed Roddick.
"One of his favorites," Decker tweeted, "is Rick Astley (enough said). He knows a few 'N Sync dances and he LOVES Kelly Clarkson. I promise he is far worse."
Clearly embarrassed, Roddick explained himself in a subsequent press conference. "She brought up Rick Astley. I can't deny it. It's in my iPod. I bet it's in your iPod, too, so shut up."
Uh … no, it's not, Andy.
So it's been a slow news week. That's a good thing at a Grand Slam tournament, for it means that most of the engaging storylines remain intact for Week 2. In other words, no news is exceedingly good news.
Here's a brief look at the week that wasn't:
Signs point to an All-Williams final: Serena and Venus Williams are a collective 12-for-12 in sets and have hardly had their feathers ruffled.
Venus, looking for her third consecutive title here, won her 17th straight match at Wimbledon on Saturday and 26th of 27. She dispatched Carla Suarez Navarro 6-0, 6-4. Despite the hulking tape job on her left knee because of tendinitis, she has now won 29 consecutive sets.
[+] Enlarge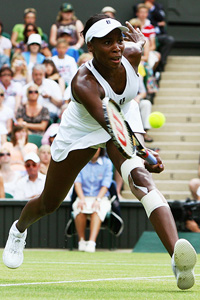 Paul Gilham/Getty ImagesVenus Williams has won 17 straight matches at Wimbledon.
The last dropped set came in 2007, in a third-round match against Akiko Morigami that stretched over two days.
"That was an intense match," said Williams, who rallied to win 6-2, 3-6, 7-5 after being down 3-5 in the third. "When the chips are down, I start to force the issue even more. Usually it works."
Still the one: Roger Federer, the overwhelming favorite in Nadal's absence, won nine of his 10 sets and seems to be moving smoothly toward the final, presumably opposite one of the Andys -- Murray or Roddick.
With Sunday off, Federer said Monday will feel like a different tournament entirely.
"Yeah, it seems like it's down to business in the second week," Federer said. "This is where it gets really interesting for me, you know, as a top player."
Not-so-plaintive wail: After Michelle Larcher De Brito set decibel records at Roland Garros with her shrieking, departing Sony Ericsson WTA Tour CEO Larry Scott said the organization has "started a process of looking at it more carefully."
Larcher De Brito's Paris emissions were described by Chuck Culpepper of the Los Angeles Times as something akin to the sound of a person getting "mauled by wild dogs."
Yet she was curiously quiet in her first-round victory over Klara Zakopalova. "It's something I've always done," Larcher De Brito insisted, "and I guess I'm going to keep doing it. It's part of my game, and I don't want to change it."
Marathon men: The best match of the week was (finally) concluded Saturday afternoon. Tommy Haas ushered Marin Cilic from the tournament with an epic 7-5, 7-5, 1-6, 6-7 (3), 10-8 victory. The match was suspended Friday night with the score 6-all in the fifth.
Cilic, 20 and previously the youngest man left in the draw, saved two match points in the fourth set. Haas, at 31 the oldest player left in singles, saved two match points in the 12th game in the fifth. Haas, who had a two-sets-to-none lead on Federer in their fourth-round match at Roland Garros before losing, is on a tear.
"I came very close to beating Roger there," Haas said. "And then winning a title again in Halle, Germany, is obviously a dream come true for me. So you kind of keep going, and that's it."
Class wars: The folks at the All England Club spent 80 million pounds (about 131 million U.S. dollars) on the state-of-the-art translucent retractable roof over Centre Court. The only problem? It never rained.
The one time the roof came into play was Tuesday, when it was a stifling 92 degrees around Centre Court. The 3,000-ton roof was closed very slightly to cast shade over the Royal Box, prompting critics to point out that the monarchy still reigns over the commoners.
Come on! Lleyton Hewitt, still campaigning at the age of 28, reached the fourth round here for the fourth year. He is a good bet to reach the quarters (he next faces Radek Stepanek), where he'd face Andy Roddick.
Greg Garber is a senior writer for ESPN.com.
Writer, Reporter
Greg Garber joined ESPN in 1991 and provides reports for NFL Countdown and SportsCenter. He is also a regular contributor to Outside the Lines and a senior writer for ESPN.com.
SPONSORED HEADLINES
MORE TENNIS HEADLINES
MOST SENT STORIES ON ESPN.COM
2009 WIMBLEDON

2009 championsWomen's singles:
Serena Williams, United States
Men's singles:

Roger Federer, Switzerland
Men's doubles:
Daniel Nestor, Canada, and Nenad Zimonjic, Serbia
Women's doubles:
Venus and Serena Williams, United States
Mixed doubles:
Anna-Lena Groenefeld, Germany and Mark Knowles, Bahamas
Scoreboard
Follow us on Twitter
ESPN360.com
Slam Central
---
Day 13
Day 12
Day 11
Day 10
Day 9
Day 8
Day 7
Sunday
More