Commentary
Murray madness just around the corner
Updated:
June 16, 2009, 9:59 AM ET
By
Sandra Harwitt
| Special to ESPN.com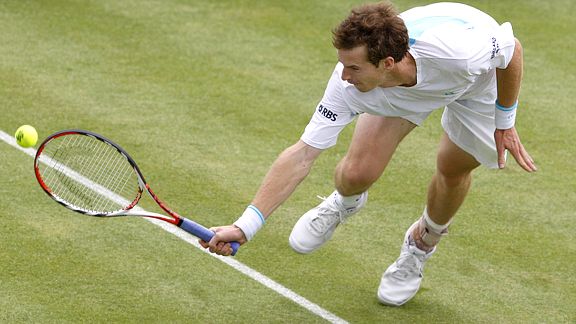 AP Photo/Kirsty WigglesworthThough his game isn't ideally suited to grass, Andy Murray is considered a Wimbledon contender.
Is this Andy Murray's time to shine?
That's the question bound to be on every Briton's mind. Even before the famed Fred Perry Gates swing open for another year at Wimbledon, the buzz figures to be deafening. Blinded by patriotism, even those who have little interest in sports have been waiting, impatiently, for a native son finally to bring the Wimbledon trophy home where it belongs.
This is not a surprising phenomenon, considering that British pride has long been bruised by the locals' lack of luck at the All England Club. You have to go all the way back to Perry himself -- who won the last of his three consecutive crowns in 1936 -- to find the last homegrown Wimbledon champion.
There have been a few British hopefuls on the Grand Slam front since Perry, but none have succeeded. John Lloyd and Greg Rusedski reached the 1977 Australian Open and 1997 U.S. Open finals, respectively. Most recently, Tim Henman teased fans with six Grand Slam semifinal appearances -- four in front of the fans at home -- but left dreams unfulfilled.
Now it's all about Murray.
Most tennis pundits agree that Murray, 22, can live up to the hype. And after reaching his first Grand Slam final at last year's U.S. Open, the No. 3-ranked Murray himself believes he is a future Slam champion who is now ready to fulfill his potential.
"The year as a whole has been by far, up to this stage, my best so far," Murray said after reaching the quarterfinals at the French Open. "You know, I've won a lot of matches -- a lot more matches on clay this year than I had in the past. I probably won double the amount of matches that I had won in my life on clay before this stretch. I don't feel like I'm going to be rusty at all going into the grass, because obviously I played a lot and still feel confident."
Although a whole nation is waiting for Murray to deliver at Wimbledon -- which is somewhat ironic in that he identifies more with his middle-class Scottish roots -- reality suggests his game translates better to a truer-bouncing hard court than to the low, sliding balls inherent to grass-court play, for which the player needs to force the issue.
"I think on grass, the way the grass is playing these days, you actually really need to hit the ball through the court," ESPN analyst Patrick McEnroe said. "I think one of Andy's problems is sort of creating something out of nothing, hitting a big shot when he has to. Obviously on a fast hard court, he can get some help from the court. He's obviously a great counterpuncher."
Murray's approach to the game speaks volumes about his dedication to improve on all levels and surfaces -- and his ability to avoid getting caught up in the fan adoration at Wimbledon, which can quickly transform supporters into critics when a player falls short.
Eleanor Preston, who co-wrote "Andy Murray: The Story So Far" and has now switched gears from journalist to player media adviser to the British Lawn Tennis Association, believes Murray is equipped to handle the delicate situation.
[+] Enlarge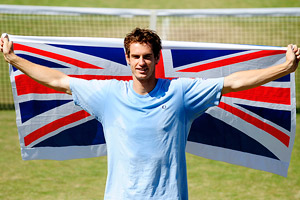 Kieran Doherty/Pool/Getty ImagesEngland adores its native son, but the irony is that Murray probably identifies more with his Scottish roots.
"I think Andy has found out who he is, and that probably applies to his tennis and to him as a young man," Preston said. "As a result, I think he takes things in stride a lot more and doesn't allow anything peripheral to get in the way of getting the job done."
In 2006, with hopes high that Murray was a future Grand Slam champion, the British Lawn Tennis Association paid a hefty price to hire renowned American coach Brad Gilbert to facilitate Murray's road to glory. After less than a year of working together, however, Murray determined that Gilbert's was not the voice he wanted to hear.
Instead, Murray assembled a less star-studded, broader-based team equipped to address different aspects of his game, with coach Miles Maclagan as the centerpiece. Others are smartly invited to join the fold on occasion, including two-time French Open finalist Alex Corretja, who was brought in to offer advice during the clay-court season.
Murray has made great strides in recent years with the help of this team. Improvements have come as he has found more power and improved his first serve and increasingly learns to become a more aggressive offensive player. Of course, there was good material to work with from the start: Murray's innate tennis intelligence, a lanky body that moves well around the court, good feel on the ball, and the ability to challenge an opponent with a sturdy return-of-serve.
Murray also has learned how better to keep his emotionally charged personality in check, although he occasionally reverts. And despite his improved fitness, he still tends to look drained in his final match at important tournaments. Which raises the question: Does he have seven-matches-in-a-row stamina?
So while Murray might not appear to be the ideal Wimbledon champion -- the U.S. and Australian opens are better matches for his game -- his talent keeps him from being discounted as a potential champ.
"You know, he's smart enough and he's improved a lot, so you can't discount him at Wimbledon," McEnroe said. "I think he still has a pretty good chance. He's improved his serve. But the way the grass is playing now you really have to step up when you have a chance."
Unlike Henman, Murray has an easier time seeing beyond Wimbledon as the ultimate goal. He appreciates the stature of the tournament, but he isn't single-mindedly obsessed with it.
"Andy isn't steeped in the culture of the All England Club the way Tim was," Preston said. "I believe Tim's parents are members and he now serves on the management committee, whereas Andy doesn't come from that upper-middle-class English background. I think Andy appreciates the history of Wimbledon and how tough it is to win, but he loves the noise, bustle and razzamatazz of the U.S. Open."
That Murray is poised to become a Grand Slam champion one day is no secret. Whether that time is now is hard to say, though most believe he isn't ready just yet.
And if Murray does make it to the Wimbledon final? Even Queen Elizabeth -- who is anything but a tennis fan -- might show up. Just in case a "local" boy finally makes good.
Sandra Harwitt is a freelance tennis writer for ESPN.com.
Sandra Harwitt is a freelance tennis writer for ESPN.com.
SPONSORED HEADLINES
MORE TENNIS HEADLINES
MOST SENT STORIES ON ESPN.COM
2009 WIMBLEDON

2009 championsWomen's singles:
Serena Williams, United States
Men's singles:

Roger Federer, Switzerland
Men's doubles:
Daniel Nestor, Canada, and Nenad Zimonjic, Serbia
Women's doubles:
Venus and Serena Williams, United States
Mixed doubles:
Anna-Lena Groenefeld, Germany and Mark Knowles, Bahamas
Scoreboard
Follow us on Twitter
ESPN360.com
Slam Central
---
Day 13
Day 12
Day 11
Day 10
Day 9
Day 8
Day 7
Sunday
More