Commentary
The return of the Djoker
Updated:
June 29, 2010, 11:16 PM ET
By
Kamakshi Tandon
| Special to ESPN.com
WIMBLEDON, England -- After belting a winner to seal his win over Lleyton Hewitt and book a spot in the Wimbledon quarterfinals, Novak Djokovic let out a roar and tore the collar of his white shirt, which he then ripped off his body.
"That was a great moment," Djokovic's coach, Marian Vajda, told ESPN.com. "I felt I haven't seen that for months, maybe a year. I'm really pleased he's showing and expressing himself."
Men's quarterfinals preview
While Novak Djokovic is a heavy favorite against Yen-Hsun Lu, the other three men's quarterfinals offer tantalizing matchups that all feature the prospect of a dramatic upset.
Roger Federer vs. Tomas Berdych
Head-to-head: 8-2 Federer
"Big Berd" edged out Federer in a third-set tiebreak in Miami this past March, one of the matches Federer feels he let slip away this season. The six-time Wimbledon champ also got off to a rough start in this tournament, going five sets in his opener, but has recovered some of his aura with impressive performances in his last two matches.
Berdych caught the world's attention by beating Federer at the 2004 Olympics in Athens, and he can give Federer trouble when he's on his big-hitting game. But he can also tighten up at crucial moments, having choked after going up two sets against the Swiss at the Australian Open last year. Expect some nerve-racking moments if Tuesday's match gets tight.
Rafael Nadal vs. Robin Soderling
Head-to-head: 4-2 Nadal
They meet again. It was here in 2007 that Soderling earned Nadal's ire by mimicking the Spaniard's habit of picking his shorts before serving, and last year the Swede hit Nadal where it hurt once more by handing him his first-ever defeat at the French Open. Nadal earned revenge a year later with a win in the French Open final earlier this month.
This encounter is perfectly poised. The surface theoretically gives Soderling a slightly better chance than on clay, and both players have been playing well so far at Wimbledon. But there are question marks, too, with Nadal feeling twinges of pain in his knee again and Soderling going five sets against David Ferrer in his previous match.
Andy Murray vs. Jo-Wilfried Tsonga
Head-to-head: 2-1 Murray
Murray is the only player not to have dropped a set through the first four rounds, but Tsonga is the kind of big-hitting shot-maker he has tended to trip over at Slams. In fact, he did exactly that against Tsonga in the first round of the Australian Open in 2008.
With England out of the World Cup, the whole nation's focus is now on Scotland's Murray, so there'll be a frenzy over this match whether he wins or loses.
Asked to explain his reaction, Djokovic simply said, "Emotions."
More importantly, positive emotion.
After his fourth-round victory at the French Open a few weeks ago, Djokovic was asked about losing the second set and snapped, "Why do we have to keep on getting back on negative things, you know? Always struggle, struggle, struggle. I won the match. That's what happened."
But a midmatch lull would be costly in his next encounter. Ahead by two sets against Jurgen Melzer in the French quarterfinals, Djokovic let his opponent back in during the third set and ended up losing the encounter. "I thought I was gaining that confidence, the right play that I had in last couple of years," Djokovic recalled. "In that quarterfinals -- just very strange turnover. I was very disappointed after that match."
"After that match he was a little bit down," Vajda said. "We talk about it for hours and hours."
It was the kind of defeat that might have sent him into an extended slump, like his loss to Rafael Nadal in a four-hour thriller in the Madrid semifinals last year.
An early singles loss at the grass-court warm-up tournament in Queen's intensified the concern, but Djokovic ended up winning the doubles with Jonathan Erlich. With the pressure off and a partner on court to share a laugh with, he enjoyed the week and approached his practice sessions with more enthusiasm and vigor, as well.
"So it was very important," said Vajda.
At Wimbledon, Djokovic found himself embroiled in a five-set encounter in the opening round against Olivier Rochus, but the Serb finished strongly, winning the last two sets. Then came emphatic victories against two very different types of players: serve-and-volleying Taylor Dent and clay court-loving Albert Montanes.
But it was the win against Hewitt, who won Wimbledon in 2002 and took the grass-court title in Halle earlier this month by beating Roger Federer, which really demonstrated Djokovic was back on track.
"It's really big because it proves he's playing very well," said Vajda. "[Hewitt's] a great competitor. It's a really big struggle with him always. He doesn't give you free points and it's a big win mentally."
And with Yen-Hsun Lu waiting in the quarterfinals instead of Andy Roddick -- the 26-year-old Taiwanese shocked Roddick 9-7 in the fifth set to win their fourth-round match -- Djokovic has an excellent chance to reach his first Grand Slam semifinal since the U.S. Open last year.
He has been to the quarterfinals of all three majors so far this year -- but no further. "He lost to guys he should have beat," John McEnroe told BBC television. "He's got this incredible opportunity, but he's got to capitalize on that."
On the other hand, it was only a few months ago that the Serb looked as though he was on the verge of a steep slide, mired in a rut with both his serve and stamina.
The story of the changed service motion is so hazy that even Djokovic and Vajda tell slightly conflicting versions. According to Djokovic, shoulder problems at the end of last year meant he began struggling to get his arm up, a bad habit that proved hard to get rid of. According to Vajda, it was a deliberate attempt to get him to raise his arm a little earlier in the motion, but one which simply failed to stick.
When Djokovic added Todd Martin to his coaching team last August, Martin and Vajda agreed that the serve could use a little tinkering, but Djokovic found the change uncomfortable and unsettling.
"It didn't work well. Probably some misunderstanding in communication in working because we [Vajda and Martin] had separate bases," said Vajda. "We didn't work together at every tournament."
Djokovic recommitted to his old service motion at the beginning of the clay-court season in April, the same time his partnership with Martin ended.
[+] Enlarge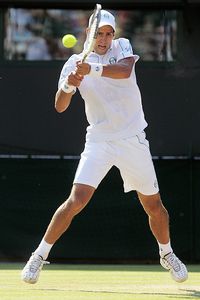 Hamish Blair/Getty ImagesNovak Djokovic's body language and energy appear to be back on track.
"We're going back to old roots," said Vajda. "Now he is just wanting to focus on his old habits, because he had one of the best serves in the world. I don't know what we need [to] change so drastically."
As for Djokovic's apparent stamina struggles -- a career-long problem, but particularly noticeable this year -- Djokovic has cited a pollen allergy which affects his breathing. He even withdrew from his family-owned tournament in Belgrade in May as a result.
"It caught him this year incredibly hard," said Vajda. "He didn't sleep well, he didn't breathe well during matches. Not excuses -- it's reality. It's like you're choking almost every day.
"I worried. Sometimes it gets him and he cannot breathe at all."
The problem, which is at its worst when the weather is humid and the pollen count is high, was particularly acute when Djokovic played at the French Open. "In the first three rounds, he had always crisis, like for one set, but he overcame," said Vajda. "It was tough to see him fighting to catch his breath after every ball."
Medication combined with a change of season means things are better than during the spring, but a foolproof cure has not been found. "Three months now," Vajda said. "It's getting better, but it's up and down."
It hasn't helped Djokovic's already notorious reputation for calling medical timeouts and retiring during matches. Both Federer and Roddick have called Djokovic out for it in the past, and in January the Serb lost his Australian Open quarterfinal to Jo-Wilfried Tsonga after being treated for a stomach bug.
Tsonga was asked, "When did you first notice he had a problem?"
"About three years ago," Tsonga cracked.
Djokovic, who was again treated for stomach problems during his match against Hewitt on Monday, is sensitive about the criticism. "Everybody has an opinion. I don't know why the people think that I'm always having something, which is absolutely wrong because I haven't asked for medical or physio timeout for a long time," he said. "Any time I ask, you know, somebody has to say something."
In the end, there's no panacea like a few good wins. A nice run here at the All England Club would, at the very least, put Djokovic in the right frame of mind to do some damage during the summer hard-court season, the surface on which his pinball-like game is most effective.
"This is the kind of result that can really do it," Vajda said. "He's in a good way."
Kamakshi Tandon is a freelance tennis writer for ESPN.com.
SPONSORED HEADLINES
MORE TENNIS HEADLINES
MOST SENT STORIES ON ESPN.COM
WIMBLEDON 2010

2009 champions
Women's singles:
Serena Williams
Men's singles:
Roger Federer
Women's doubles:
Venus and Serena Williams
Men's doubles:
Daniel Nestor and Nenad Zimonjic
Mixed doubles:
Anna-Lena Groenefeld and Mark Knowles
The Pulse
Follow us on Twitter »
ESPN3.com
Day 13
Day 12
Day 11
Day 10
Day 9
Day 8
Day 7
Rest day
More