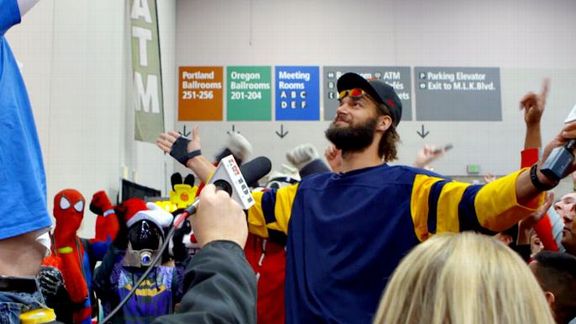 @trailblazers/TwitterRobin Lopez went to Wizard World Portland in 2014. Now he's taken his comic-loving talents to NYC.
NEW YORK -- Robin Lopez had a few reasons to look forward to Wednesday night.
The center, who signed a four-year, $54 million deal in the offseason, was making his New York Knicks debut in front of the home crowd at Madison Square Garden.
But Wednesday was also the eve before New York Comic Con, a four-day convention on the city's west side that is expected to draw more than 140,000 attendees -- including at least one 7-foot-tall NBA player.
"I am [planning on going]," said Lopez, who finished with six points and four rebounds in 16 minutes in his first game with the Knicks.
Lopez has attended conventions in the past, including Wizard World Portland in 2014 when he was a member of the Trail Blazers and served as a special ambassador for the show.
Moving to a new city means an opportunity to attend a new show, but it also meant finding a new comic book shop, something Lopez turned to his brother for.
"Brook's taken to me to Midtown [Comics], obviously," he said. "And I forget the name of the store, it's over by Washington Square, I stumbled upon that one."
Lopez said he leans toward books from DC over Marvel -- his favorite superhero is the Wally West version of The Flash -- and reads "anything Grant Morrison puts out. And Mark Waid, obviously. Nothing surprising about that I guess."
"I grew up with a lot of '90s comics, Mark Waid's 'Flash,' 'JLA,' 'Starman,' all of that."
Unlike most comic fans, Lopez doesn't necessarily go see every movie adaptation, and he expressed some trepidation about next year's DC tentpole film, "Batman v Superman: Dawn of Justice."
"I think they're establishing a different tone from the Marvel films," he said, "and I'm not sure it's exactly for me. But I think there are interesting things about it. It's nice that they're finally getting Wonder Woman in the movies for example."
As for what he's looking forward to most at this weekend's show, Lopez turned to the world of movies.
"I hear Christopher Lloyd [from 'Back to the Future'] is going to be there, and they're going to hand out the Pepsi Perfect bottles to people dressed up as Marty McFly."
So is Lopez -- whose brother has campaigned for a role in the new Star Wars movie as a Wookie -- going to dress up?
"I might," he said. "We'll see."
By
Hannah Whitten
| ESPN.com
Sometimes, it's necessary to do the "Whip" and "Nae Nae" no matter what you're in the middle of, right?
These 'Mighty Mites' teams from Milford, Massachusetts were scrimmaging at halftime of a high school varsity game. When Silento's hit song "Watch Me Whip" came on, many of the players proceeded to stop what they were doing and dance ... while the rest of their teammates continued to play.
It might be the best thing you'll see all day:
One day after his brother, Martellus Bennett, made a rather outlandish comment about Jay Cutler, Seattle Seahawks defensive end Michael Bennett might have one-upped him.
After his team's controversial win over the Detroit Lions, Bennett went in on opposing quarterback Matthew Stafford ... in a rather odd way.
Michael Bennett: "I don't like Matt Stafford much. He's from Dallas. They killed the President (JFK). ... I hold it against him."

— Curtis Crabtree (@Curtis_Crabtree) October 6, 2015
Now, we've heard quite a few JFK conspiracy theories over the years, but bringing in someone who was nearly 25 years from being born is a new one.
Marlins second baseman Dee Gordon went 3-for-4 on the final day of the MLB season to narrowly edge Nationals right fielder Bryce Harper for the NL batting title.
After accomplishing such a feat, one can expect an outpouring of praise and adulation from fans, friends, family and peers. Unless those folks have the wrong number.
A flurry of congratulatory messages were texted to Gordon in the wake of his feat -- only he didn't receive several of them because they were sent to his old number. Instead, Joe Adel received those messages and shared them in a tweet to Gordon: "I think I have your old cell phone # n people are giving you love and your not receiving it. Congrats man"
@JoeAdel21
Adel is a former pitcher for the USF baseball team so he's probably used to some celebrity. But nothing can prepare you for having a pro athlete's following.
Here's hoping Adel has unlimited text messages.
Is Jay Cutler criticized too much?
After Chicago's oft-maligned quarterback delivered a gritty come-from-behind win over the Raiders on Sunday, that question was posed to Bears tight end Martellus Bennett.
is Jay Cutler too often criticized? Martellus: "They threw rocks at Jesus, & Jesus was an excellent guy who did a lot of awesome stuff."

— Patrick Finley (@patrickfinley) October 4, 2015
Before comparing Jay Cutler to Jesus, Martellus Bennett compared him to Keanu Reeves in the movie 'The Replacements'

— Patrick Finley (@patrickfinley) October 4, 2015
It's safe to say the tongue-in-cheek Bennett is having some fun here, but what an answer.
The quotes predictably earned some laughs and retweets on Twitter, and good on Chicago Sun-Times reporter Patrick Finley for posing the question to Bennett -- the self-proclaimed "black unicorn" -- who's always a good quote.