Anthony Davis' planned coup to take over the NBA is officially underway after punching a ticket to his first NBA postseason trip Wednesday night.
That alone was cause for celebration. But the grueling manner in which they got there, beating the defending champs on the final day of the season, had Davis and the Pelicans partying like it was 2011 (N.O.'s last playoff appearance).
Last night's locker room celebration was so great it's worth another look.

Posted by New Orleans Pelicans on Thursday, April 16, 2015
Look at the versatility and dexterity in that 6-foot-10 body. You can easily see why opposing bigs struggled to keep him in check.
Davis launched into the Dougie (it was hot the last time New Orleans danced into the playoffs, so maybe he was paying tribute), then hit the Whip shortly after, easily showing up head coach Monty Williams, who could only offer an awkward old man two-step. (Monty, we applaud your effort, but please stick to coaching.)
The Pelicans party could be short-lived, however, with top-seeded Golden State their opponent in the first round. But with New Orleans still smarting following the Warriors' referring to their last meeting as a "scrimmage," this series could be tighter than you expect.
While most aren't giving Davis & Co. much of a chance at the upset, the big stage will open the eyes of fans unfamiliar with his immense talent and could supply us with more scintillating moments like his game-winner vs. the Thunder.
And more dancing, of course.
With the May 2 megafight approaching, more and more people are showing their support for either Floyd Mayweather or Manny Pacquiao.
Put attorney Robert Shapiro, who defended O.J. Simpson, in the latter camp. Recently Shapiro surprised Pacquiao with a special speed bag ... on which Mayweather's face was emblazoned.
Check out Pacquiao's reaction to receiving the gift ...
Famed attorney Robert Shapiro gifted @MannyPacquiao a speedbag emblazoned w/@FloydMayweather's face. #MayPac pic.twitter.com/mWLra327Jc

— Top Rank Boxing (@trboxing) April 15, 2015
Forgot to add the photo, but here is Pacquiao's new speedbag. #WildCardBoxing #Pacman pic.twitter.com/q2MmDRQG77

— Patrick O'Neal (@Patrick_ONeal) April 14, 2015
Yep, things are heating up.
H/T SB Nation
When it comes to dunk-of-the-year nominees, the ballots have been filled with offerings from many of the usual high-flying suspects such as DeAndre Jordan and Russell Westbrook.
With only two days left in the season, a dark horse, young pogo stick has emerged as a late entry into the race.
76ers rookie JaKarr Sampson, he of the amazing hair and reserves of ups, absolutely destroyed Milwaukee guard Jerryd Bayless on Monday night, throwing down a two-handed putback with authority and nearly dunking Bayless' headband off.
Bayless had zero chance; the poster was inevitable: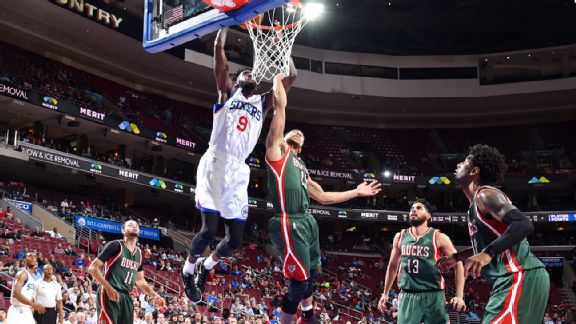 Jesse D. Garrabrant/NBAE via Getty Images
On the disrespectful dunk scale, this has to check in at 10. Sampson postered his opponent, followed by the requisite stare down and strut to play to the audience and cameras.
Teammate Jerami Grant added extra theatrics with a two-armed flex in the background and the Bucks' bench (not pictured) followed suit with the always hilarious laughing at a teammate but hiding it behind a towel or another guy on the bench. Even the announcer struggled to conceal his guffaw. An embarrassed Bayless was left to readjust his headband and pride.
The only thing that would've made this better -- or worse for Bayless -- would be Wu-Tang's "Protect Ya Neck" blaring as the dunk soundtrack.
Russell Westbrook scored 54 points in a loss to the Indiana Pacers on Sunday, and Twitter lit up with talk of another number: 43 shots, the number the Oklahoma City Thunder star took to reach that point total.
Well, Kobe Bryant was not about to sit idly by and let a high-volume shooter get attacked.
#StopIt pic.twitter.com/pPRO8BnF4P

— Kobe Bryant (@kobebryant) April 13, 2015
What ALL TIME Great went 19 for 43 in a game 3 nba finals loss? #lookItup #onlyringsmatter #byAnyMeans

— Kobe Bryant (@kobebryant) April 14, 2015
Ppl will always find a way to critique Only way to shut up critics is to WIN That's the challenge myself and Mj accepted #CantcritiqueRings

— Kobe Bryant (@kobebryant) April 14, 2015
(1) The answer to Kobe's question: Michael Jordan, in Game 3 of the Chicago Bulls' 1993 series against the Phoenix Suns. (You don't need to be a tortured Suns fan to know that the Bulls went on to win that series.)
(2) We have to point out that Bryant is being a little self-serving here, as the Los Angeles Lakers legend is third all-time in field-goal attempts but outpaces the two ahead of him on the list (Kareem Abdul-Jabbar and Karl Malone) in shots per game.
(3) None of that matters, because Bryant dropped a Liz Lemon meme! Not that we're shocked; knowing the cultured Bryant, he likely used his recent injury layoff to binge-watch "30 Rock" (if he hadn't already seen the full series when it was on the air).
But back to the Westbrook topic:
In February, Manny Pacquiao announced the upcoming release of a new album, which will include a theme song for his May 2 megafight with Floyd Mayweather.
The song, "Lalaban Ako Para Sa Filipino" (I fight for the Filipino) -- plus a music video directed by Pacquiao himself -- has arrived:
"Lalaban Ako Para Sa Filipino" OFFICIAL MUSIC VIDEO!

Posted by Manny Pacquiao on Sunday, April 12, 2015
This is hardly Pacquiao's first foray into music; the boxer's rendition of Dan Hill's "Sometimes When We Touch" reached the Billboard adult contemporary top 10, and a few months ago he was spotted singing "Let it Go" from "Frozen."