The NFL released its 2014 schedule Wednesday, and yes, we forgive you if you can't wait for it to start. There's a Super Bowl rematch. A star returning to his former home. Part II of an old-school/new-school quarterbacking rivalry. And that's just the first month.
Check out these 10 games you absolutely can't miss from the upcoming season:
Sept. 4: Green Bay Packers at Seattle Seahawks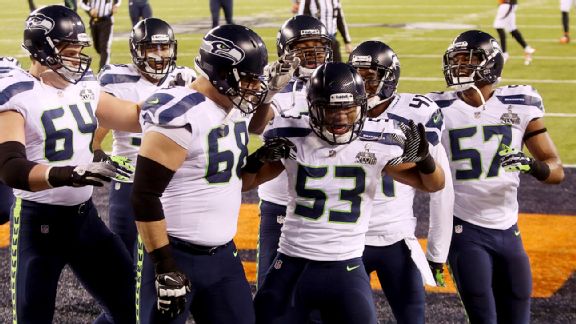 Brian Branch Price/MCT/Getty Images
The Seahawks ended the 2013 season by thumping the Denver Broncos in the Super Bowl. They'll begin the 2014 season by aiming to do the same against a healthy Aaron Rodgers and a new-in-green Julius Peppers. Will Pete Carroll's crew return with the same fire? Or will they suffer from a dreaded post-championship hangover?
Sept. 7: Indianapolis Colts at Denver Broncos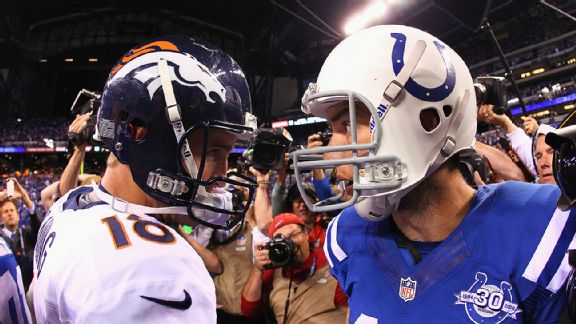 Dilip Vishwanat/Getty Images
Part I of Old Colt versus New Colt went to the young'un, with Andrew Luck guiding Indy to a 39-33 home win last October. The rematch takes place in Colorado, though, where Peyton Manning gets the chance to show his replacement a thing or two about NFL quarterbacking.
Sept. 21: Washington Redskins at Philadelphia Eagles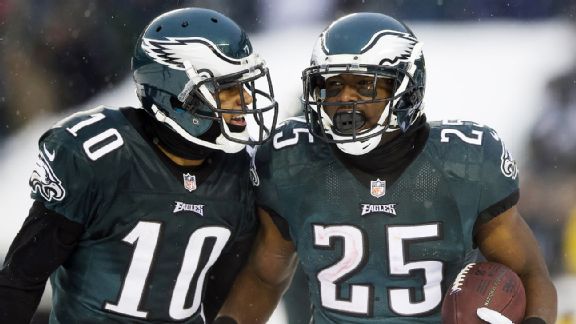 AP Photo/Michael Perez
Nothing to see here. Just another entry in this heated NFC East rivalry ... turned up to a boil by the return of ex-Philly receiver DeSean Jackson.
Sept. 21: Denver Broncos at Seattle Seahawks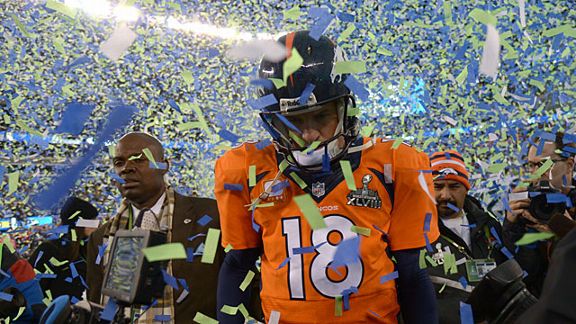 John Leyba/The Denver Post via Getty Images
No regular-season game can make up for a 43-8 loss on football's biggest stage. But the Broncos will try their best to make it happen when they travel to the Pacific Northwest.
Sept. 28: Green Bay Packers at Chicago Bears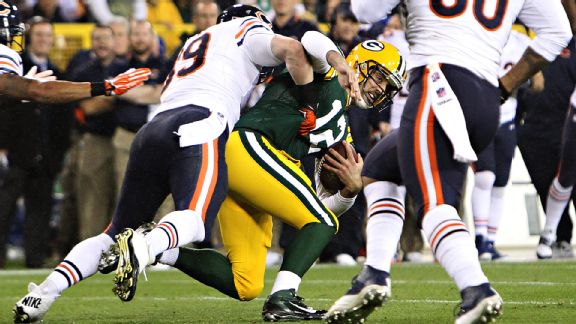 Mike McGinnis/Getty Images
This always-simmering rivalry hasn't been the hottest of late, but this time around it should be radiating enough to thaw a local sidewalk in winter. Peppers took the drive up the Lake Michigan coast during the offseason, while Aaron Rodgers surely still recalls the hit that forced him to miss seven games last fall.
Sept. 28: Carolina Panthers at Baltimore Ravens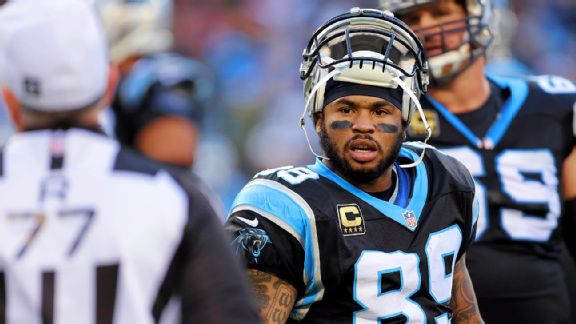 AP Photo/Bob Leverone
Like Jackson versus Eagles, only with wide receiver Steve Smith's old team coming to his new house. Good thing Smith isn't the fiery type.
Nov. 2: Denver Broncos at New England Patriots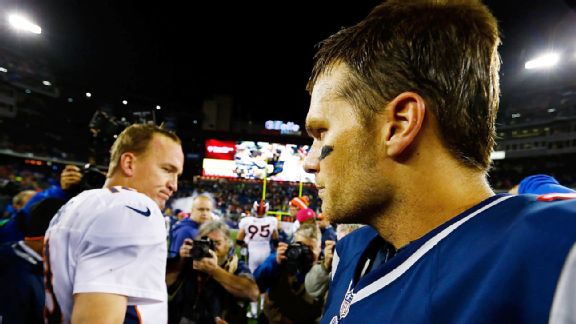 Jared Wickerham/Getty Images
AFC Championship Game rematch. Peyton Manning versus Tom Brady. Possible AFC Championship Game preview. But other than that ...
Nov. 27: Seattle Seahawks at San Francisco 49ers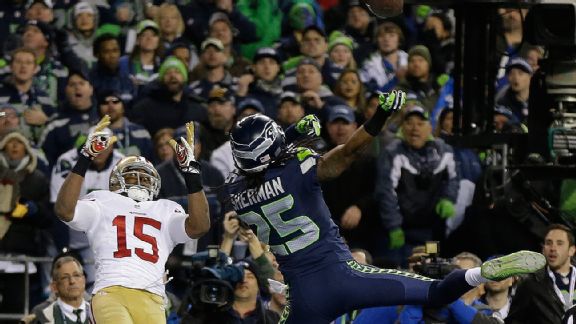 AP Photo/Marcio Jose Sanchez
NFC Championship Game rematch. Richard Sherman versus Michael Crabtree. Pete Carroll versus Jim Harbaugh. Potential landmark in the NFC West race. Possible NFC Championship Game preview. But other than that ... (Happy Thanksgiving to us.)
Nov. 30: Washington Redskins at Indianapolis Colts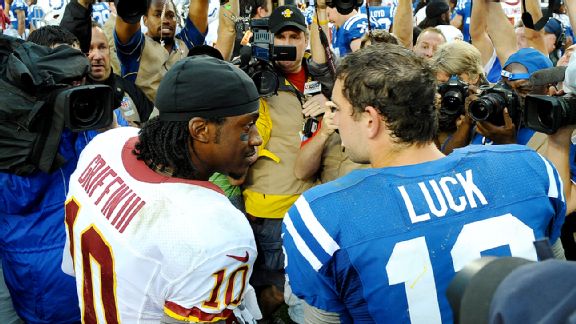 Ricky Carioti/The Washington Post/Getty Images
Year 1 of the Andrew Luck-versus-Robert Griffin III, No. 1-versus-No. 2 showdown went to Griffin. Year 2 was won, resoundingly, by Luck. Is the Colts' QB unquestionably the better signal-caller? Or will this late-November meeting be another step in RG III's resurgence?
Dec. 14: San Francisco 49ers at Seattle Seahawks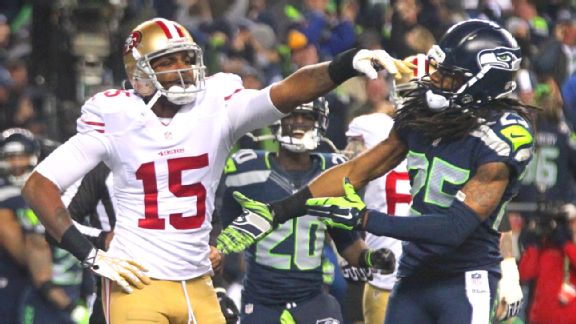 Tony Overman/Getty Images
Yeah, we already mentioned the first matchup. This rivalry is just that good.
Frank Vogel on hot seat?
The Indiana Pacers might have blasted past the Atlanta Hawks in a 101-85 win Tuesday night, but that doesn't mean coach Frank Vogel is safe. Vogel, according to sources, is coaching for his job right now, after Indiana went from NBA title near-favorites to possible upset victim in short order. Is this fair for Vogel? Who is most to blame for the team's recent struggles?
A year ago, Tracy McGrady was playing a bit part in the San Antonio Spurs' run to the NBA Finals -- his longest journey into the postseason:

D. Clarke Evans/NBAE/Getty Images




On Wednesday, McGrady fulfilled a quite out-of-left-field (sorry) dream, officially becoming a pro baseball player by making the independent Sugar Land Skeeters' Opening Day roster as a 6-foot-8 right-handed pitcher. (And no, this is not the Skeeters' official mascot.)

AP Photo/Pat Sullivan




Bet you didn't see that one coming.

AP Photo/Pat Sullivan

Forget Southern California-Northern California or the Battle of Texas. Raptors-Nets has been the most heated first-round NBA playoff series, with verbal shots fired by Toronto GM Masai Ujiri, some Brooklyn Nets veterans and, most notably, the cities' respective tabloids.

It started with this, from the Toronto Sun:

The back page was not so kind to the Nets this morning in Toronto. (via @TheTorontoSun) pic.twitter.com/qfr2CtuIFV

— SportsCenter (@SportsCenter) April 19, 2014




Then this, in response to Ujiri's "f--- Brooklyn" comment from before Game 1, after the Nets took a 1-0 series lead:

The NY Daily News headline: "Don't f*** with Brooklyn" pic.twitter.com/BovyfiT26t

— NBA Legion (@MySportsLegion) April 20, 2014




And Wednesday, after the Raptors leveled the series 1-1, the Sun went with a headline reminiscent of an old Shaquille O'Neal rap lyric:

The Toronto Sun takes a shot at the Nets again....front page of the paper this morning. "JurASSKICK Park" pic.twitter.com/U9L3zZKLQk

— NBA Legion (@MySportsLegion) April 23, 2014




May this series, somehow, never end.

Much of Lakers swingman Nick Young's appeal as a player is his belief that he can do anything. Swaggy P has never met a shot he doesn't think he can make, a pass he doesn't think he can complete or, apparently, a vehicle specifically constructed for the purpose of smoothing and cleaning ice hockey rinks that he doesn't think he can drive.

Considering the Kings lost in overtime to the Sharks on Tuesday night and are down 3-0 in the series, this picture might end up being the highlight of their 2014 postseason.