In the sixth inning of the second game of the Kansas City Royals-Chicago White Sox doubleheader, Alex Gordon launched into the stands to make what might be the catch of the year so far: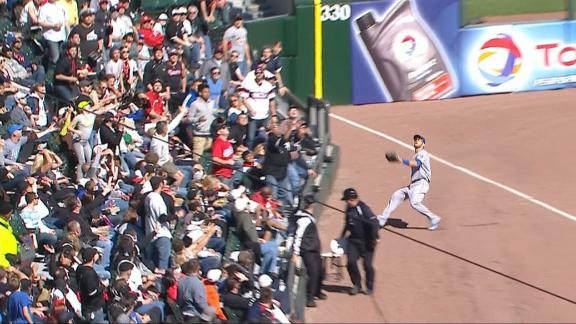 No matter how hard the foul ball off the bat of Micah Johnson tried to get away, and no matter how many people stood in Gordon's way, the four-time defending Gold Glove winner would not be deterred.
Here's an up-close image of the aftermath:
How's it going Alex Gordon? Just made a sweet catch flying by me in the stands pic.twitter.com/9E0dH3W2eW

— Ethan Routzahn (@EthanRoutzahn) April 26, 2015
You can probably start making room for Gold Glove No. 5, Alex.
In just 10 days, Manny Pacquiao will step into the ring with Floyd Mayweather in the most highly anticipated boxing event in recent history. But before he tries to finally put a blemish on Mayweather's sterling 47-0 record, the Filipino superstar endured a different kind of challenge -- late night TV.
Wednesday night, Pacquiao chopped it up on "Jimmy Kimmel Live!" singing his now-famous -- despite most non-Filipino fans not knowing a single word -- self-produced ring entrance song and enduring a few over-the-top questions such as this:
Dr. Phil was also on hand to "counsel" Pacquiao on his behavior and left him with some final advice on how to approach Mayweather in the ring:
When one becomes a fan of the English Premier League -- a trend that has been increasing globally in recent years -- an important decision must be made: Which team to support?
Well, Twitter recently collected and mapped all the followers of Premier League teams on its social media platform, showing which teams, and where, are most popular throughout the world via this interactive tool:
Some takeaways:
• Arsenal rules America, with 21.08 percent of fans rightfully choosing the Gunners ahead of likely 2015 champion Chelsea (19.68) and Manchester United (18.02). Arsenal makes its biggest gains on the coasts, with Chelsea and Man United having more of a hold on the Midwest and Mountain West.
• Liverpool is fourth in the U.S. at 13.23 percent, winning only a few scattered regions throughout the country. One of those is not Boston, despite the club sharing owners (the Fenway Group) with the Red Sox.
• Defending champion
Manchester City
(8.98 percent) is fifth in America, followed by
Tottenham
(5.2).
Everton
is seventh with just 2.69 percent, despite boasting U.S. keeper Tim Howard and, not long ago, American star Landon Donovan.
Newcastle
(1.66),
West Ham
(1.28) and
Aston Villa
(1.17) compose the rest of the top 10.
• As America goes the world? Or maybe it's the other way around ... or the fact that Twitter was invented here. No matter what the explanation, the U.S. and world top 10 rankings line up perfectly: Arsenal is most popular with 5.68 million followers worldwide, followed by Chelsea (5.49 million), Manchester United (4.88 million) and Liverpool (4.22 million), with defending champion Manchester City (2.43 million) rounding out the top five and Tottenham (1.09 million) the only other club with more than a million followers.
• As America goes Canada? The U.S.'s neighbor to the north has the exact same top 10.
• Mexico, though, is Chelsea territory, with 30.62 percent of its fans choosing to incorrectly support the Blues, ahead of 21.51 percent for Arsenal, 15.76 percent for Liverpool and a surprisingly low 15.63 percent for Man United, which employs Mexican star Javier "Chicharito" Hernandez (although he is currently out of favor with the club and on loan with Real Madrid).
That's just America and its nearest neighbors. So much more information about the world can be gleaned from this map, so check it out yourself.
Note: This writer apologizes for any editorializing in this text. People are free to make their own choices; some are just righter than others.
Sure, spring football practice is important. But let's be honest, it can get pretty boring taking snap after snap with actual games still months away.
So what better way to break up the monotony than a little self-deprecating humor?
That can be the only reason Dakota State University defensive coordinator Cory Miller and head coach Josh Anderson subjected themselves to the dizzy punt, a challenge in which participants hold a golf club and spin around it 12 times before attempting a punt. As you can expect, the results were unremarkable, but quite comical.
The players' reaction is priceless. We'd love to see more coaches take up this challenge -- Urban Meyer, Nick Saban, we're looking at you.
Ever wonder what the NBA playoffs would look like if their mascots faced off head-to-head? Well, thanks to user Asur from BasketEvolution.com, we've got you covered with these illustrations of each matchup from the first round.
Cavaliers vs. Celtics
Asur/BasketEvolution.com
Spurs vs. Clippers
Asur/BasketEvolution.com
Raptors vs. Wizards
Asur/BasketEvolution.com
Rockets vs. Mavericks
Asur/BasketEvolution.com
Trail Blazers vs. Grizzlies
Asur/BasketEvolution.com
Hawks vs. Nets
Asur/BasketEvolution.com
Warriors vs. Pelicans
Asur/BasketEvolution.com
Bulls vs. Bucks
Asur/BasketEvolution.com