SportsNation Blog Archives

Baltimore Orioles
The Gold Glove awards are out, which means it's time for everyone to complain about how their favorite fielder didn't win this time around. The big to-do from this batch of awards is the snubbing of Mike Trout, he of the (according to several metrics) top-30 season all-time at the tender age of 21. Trout's defensive numbers are off the charts, and he seemed to make weekly Top 10 appearances with home run-saving catches, but the voters decided Baltimore's Adam Jones (a fine player in his own right) was the better choice. Did they get it right? Do they ever get it right?
---
A worthwhile award?
There always seems to be at least one odd selection in the Gold Glove Awards, but at least Jones over Trout is better than Palmeiro over literally anyone else.


freddylang2: "Gold Glove - The biggest joke award in sports. 40% of the guys on any given year don't deserve it and get it. Rafael Palmeiro won one and played like 30 games at 1B."
michaeldantep: "Trout is literally one of the best baseball players in MLB and now he didn't win a Gold Glove, won't win the MVP."
DRod0517: "NL CF was the biggest snub. Bourn was in another stratosphere defensively than McCutcheon."
theosu809: "You want to talk about a snub? Look no further than Michael Bourn and Martin Prado. Bourn KILLS Cutch in EVERY defensive metric. It seems like all they looked at was McCutcheon's name and his 1 error and just overlooked Bourn. Prado was good for 12 DRS, which lead NL LF, while Cargo GAVE UP 8 more runs than a replacement level defender. Are you kidding me? At least they got it right on Heyward. Should have been a clean sweep for the Braves' outfield."
Memb1.: "Trout made some great catches, but overall there are better center fielders in the AL. I'm glad the voters didn't get caught up in the media hype for him."

Join the conversation or respond by signing in or creating a profile and blogging.
MLB's umpires have been involved in some pretty high-profile headlines during these playoffs, from bizarre infield fly calls to calling a runner safe when he was pretty obviously out. The Yankees have been struggling at the plate, so a call like that is both infuriating and almost irrelevant. Manager Joe Girardi, who was ejected after giving umpire Jeff Nelson a piece of his mind, wants replay use expanded to encompass safe/out calls. With incidents like Nelson's blown call happening in October, commissioner Bud Selig might find his hand being forced on the matter.
---
A turning point?
The Yankees may have been in a better position had Jeff Nelson made the right call, but they haven't exactly been hitting well this postseason.


cabana boyz: "You can't have replay for all plays. Almost every play at first is a bang-bang play. It would turn into 4-5 hour games. Give each manager 2 challenges on plays like they do in football and a 3rd if the first two are in the managers favor. "
Sailor011: "Joe Torre states that he doesn't know how intant replay would be implemented. Joe... you were a great manager at one time. This answer is pretty easy. Instant replay for all plays on the field except for balls and strikes. It isn't rocket science."
Hassler247: "This is irrelevant since the yankees still didn't score a run in this game."
potttts: "Players make errors, managers make poor managerial decisions, and umpires blow calls. It's part of the human aspect of baseball."
bigapplemortgage: "The call was dead wrong and not even a close bang-bang type of play that is understandably missed, everyone knows this. It directly caused 2 additional runs to score, that is also true. That said, the Yankees putting up a ZERO leave no room to complain."

Join the conversation or respond by signing in or creating a profile and blogging.
We know we've been harping on Alex Rodriguez quite a bit this week, but he is just making it real easy on us. A-Rod had one hit last night but struck out in a situation that just required him to put the ball in play. Joe Girardi waited until the final at-bat to pinch hit for him, but by then, it was too late. Now, Girardi is starting early. Rodriguez is not in the starting lineup for Game 5. Is this the right move?
---
Which team wins?
Most of the Yankees' lineup is having trouble hitting, a problem made more galling when you realize the Orioles are having similar issues.


thsCoach99: "The Yanks created their own problem with A-ROD. Just because you CAN pay someone 200 million that is aging doesn't mean you should!! The guy is getting 20 million per though 2017. Get used to it NYC.....he's going to be around for a while."
SEC Post Game Interpreter: "Jeffrey Mayer has done more for the Yankees in the Playoffs than ARod and he wasn't on the payroll."
yanksfan923: "A-Rod and Granderson must be benched."
mmoney0021: "The offense has been a total embarrassment the last few games. Did I miss something or did Verlander, King Felix, and Strasburg morph into the Orioles rotation? To make a bunch of average at best pitchers look like Cy Young candidates is awful. The Yankees deserve to lose if their lineup doesn't come out tonight and hit the cover off the baseball."
NYFG_Jpe: "That was pretty disgusting effort last night by the Yankees. Cano, Teixeira, Granderson, Swisher, and A-Rod have all disappeared."

Join the conversation or respond by signing in or creating a profile and blogging.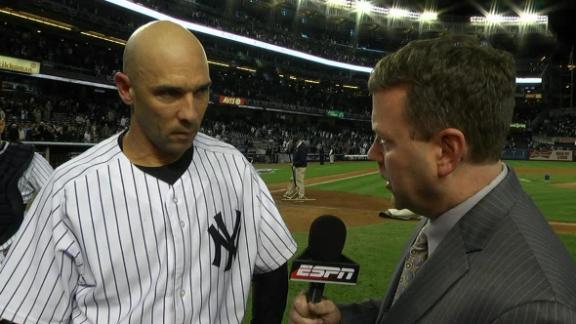 All of the talk about dropping Alex Rodriguez in the Yankees' batting order resulted in an unexpected outcome Wednesday night, as Joe Girardi's decision to pinch hit for A-Rod with Raul Ibanez paid off in grand fashion. Rodriguez is a sure-fire Hall of Famer and one of the greatest players of all time, but at this point in his career, he's not quite the player he once was. Should he expect to be replaced at critical junctures from now on, at least for the remainder of this postseason?
---
Which team wins?
The Orioles have come back from worse deficits than this in the regular season, but they can't be feeling good about their chances after Game 3.


LMAXmd: "The way these games were heading to the bottom of the 9th, the O's should have swept the series last night. But that's the beauty of baseball: just takes one swing to change everything."
Lapex004: "I don't see A-Rod playing through the next 5 years of his contract. If by chance he does, it's gonna get real ugly, he is already a shadow of his former self. "
lofty133: "If Ibanez iddn't tie the game, the story would be 'A-Rod benched'. Even now, the talk is about Arod being benched, rather than talking about Ibanez bailing out the Yanks."
godsent224: "Ibanez was great but Joe gets a lot of credit for the move"
soundadvice2k7: "Ibanez is a great weapon off the bench but I think he needs to be in the lineup all the time. I wonder if he can play 3rd?"

Join the conversation or respond by signing in or creating a profile and blogging.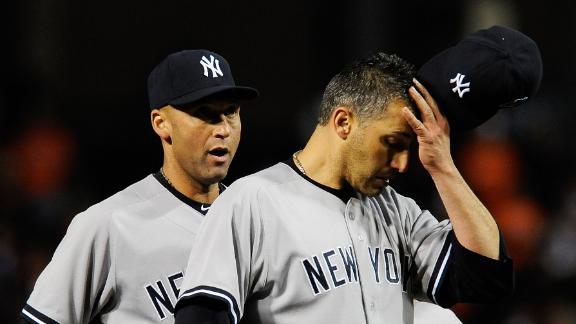 Alex Rodriguez has been struggling in the Orioles-Yankees division series, leading some to suggest that he should be dropped a few spots in the lineup. Joe Girardi says he has no plans to do so, but would this help New York prevail?
---
Which team wins?
The Orioles have challenged the Yankees all season long, but can they finish the job this time?


ivanmax1313: "Making a move like that puts your job in jeopardy. Girardi is not moving his highest paid player down in the lineup. Although he should"
CodyNew York: "Girardi wants A-Rod in front of Cano because he knows it is the only chance pitchers will actually throw strikes to A-Rod. If you move A-Rod to 6th or 7th he will strike out three times a game."
BamTimo: "It's not even a question to bat A-Rod down in the lineup. In fact, you could make a good argument he should bat 6 or 7 vs. lefties and sit him vs. righties in favor of Chavez. "
MexiRoll6: "A-Rod clearly does not have a quick bat anymore and is not selective of pitches, striking out on inside breaking balls. Eric Chavez and Nunez give the Yanks a better chance, and though Alex is playing solid defensively at third, you can't have a gaping hole in the middle of your lineup that whiffs with men on base."
tshaq21: "Couldnt agree more. I was watching the game with yankee fans and all of them were positive he was going to strike out in the 9th. They were just hoping for a walk!"

Join the conversation or respond by signing in or creating a profile and blogging.