SportsNation Blog Archives

New Orleans Pelicans
LeBron James, just look at what you've started.
Maybe it's not particularly fair to blame King James for the news that Chris Paul may be leaving the New Orleans Hornets, but you can definitely see LeBron's invisible hand at work here. Despite Paul's best efforts, the Hornets aren't making the NBA Finals anytime soon. Why should he waste his prime years getting knocked out in the first round of the playoffs every season? It's much more appealing, no doubt, to simply bring one's talents to a team with cap space, or a bevy of young talent, or an established superstar or two. Paul's desires are certainly understandable.
Is this going to happen all the time, however? Will established stars bolt the teams that drafted them if things aren't quite going as planned? If anyone else follows LeBron's lead, we might just see such a practice becoming standard.
"

Orlando has the best players to trade, a huge expiring contract included in that, they can take on Posey's contract and fit him in nicely!!! Paul will have a team he can easily contend on and it makes total sense for both teams!!!

"

-- openminded43
"

CP3 isn't going anywhere. He is the face of the franchise, has two years left on his contract, and did I mention "HE IS THE FRANCHISE." I think someone mentioned the Kobe plan earlier. He's gonna stay put and the Hornets w/ at least $21 mil in expiring contracts, will be VERY ACTIVE players at the trade deadline and free agency.

"

-- damanrighthere78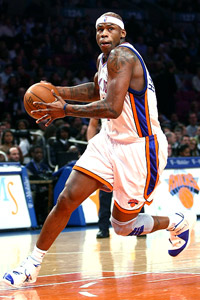 A consolidation of player power in Miami is the talk of the offseason, for obvious reasons. But when do we talk about a diffusion of power in the Western Conference?
Phoenix moves on without Amare Stoudemire but with Hedo Turkoglu. Utah has to hope Al Jefferson and Raja Bell equal the departed Carlos Boozer and Kyle Korver. Dallas kept Dirk Nowitzki, no minor feat, but it's hard to envision Tyson Chandler as the missing piece of the puzzle. Will impending free agency distract Carmelo Anthony? Will Yao Ming stay on his feet for an entire season? Should we just let the Lakers skip ahead to the NBA Finals?
In following Horace Greeley's advice, Al Harrington said he picked the Nuggets instead of the Mavericks based on each team's potential (the extra money inherent in suggestions that the Mavs were loathe to give him five years probably didn't hurt). We say if Harrington can judge Western Conference potential, he's a better man than us.
jay (uptown dallas)
are the mavs seeking ant other trade scenerios right now
ESPN Dallas' Jeff Caplan
Jay, Donnie Nelson says the team will be as active as ever. They'll continue to probe New Orleans about Chris Paul. the Hornets just fired GM Jeff Bowers, so things are in flux there and Paul is getting increasingly uneasy about the direction of the franchise. Otherwise, the Mavs will keep calling clubs for trades, kicking around Carmelo, as if that's going to happen, but yes, they will be looking for trades, particularly a blockbuster to land a star to pair with Dirk. I think the percentages are low. Full transcript
"

Great signing by Denver. Al Harrington was the only bright spot on a horrible Knicks team. He's young and from NJ so you know he has energy and toughness.

"

-- mcbrinkosu
As if we needed more offseason intrigue on the eve of the draft, a week away from free agency and while awaiting word on the future plans of the most successful coach in league history, now we have Chris Paul saying he's open to a trade.
We're not sure what to make of Paul's words or all the rumors that the Hornets might be listening to, if not outright soliciting, offers for their star point guard. We don't know what kind of financial trouble the Hornets might be in. We don't know if landing Paul might help the Nets sign LeBron James -- and if that might make for a better combination than LeBron and Dwyane Wade.
What we can say with some degree of confidence is Marvin Williams won't be the centerpiece of any trade for Paul. One of three players picked ahead of Paul in 2005, Williams averaged fewer points per game last season than Esran Ilyasova. It's not quite Sam Bowie ahead of Michael Jordan, but would the Hawks take a mulligan?
"

CP58 just wants to be blown out by another team in the playoffs. Let him go.

"

-- JTRMS45
"

You know what, Chris Paul is a top five player still, even with the injury he sustained midway through the season but I'm not scared to say it, Chris Paul is TRADEABLE. I mean, you got a guy like Collison in the backcourt, who isn't Paul but he's good enough. You can't reached the playoff anymore because you can't get guys on the team i.e. the Okafor trade last year messed up the team since he's salary is so high.

"

-- mmohamed004
It's just like the census, only this one is fun and doesn't come in the mail. And nobody from FOX News or MSNBC will yell at you about it. It's time for ESPN The Magazine's Ultimate Standings, in which SportsNation grades organizations on everything from ticket prices and stadium experience to the talent on the field, court or rink. Which team will end up on top this year? It depends on what you say.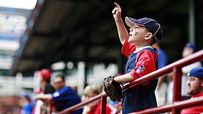 Take part in the 2010 MLB survey
2009 MLB Ultimate Standings
1. Los Angeles Angels (Overall: No. 1)
2. Milwaukee Brewers (Overall: No. 7)
3. Tampa Bay Rays (Overall: No. 16)
4. Minnesota Twins (Overall: No. 23)
5. Philadelphia Phillies (Overall: No. 24)
Take part in the 2010 NFL survey
2009 NFL Ultimate Standings
1. Pittsburgh Steelers (Overall: No. 3)
2. Green Bay Packers (Overall: No. 13)
3. Indianapolis Colts (Overall: No. 14)
4. Tennessee Titans (Overall: No. 15)
5. New England Patriots (Overall: No. 19)
Take part in the 2010 NBA survey
2009 NBA Ultimate Standings
1. Cleveland Cavaliers (Overall: No. 5)
2. San Antonio Spurs (Overall: No. 9)
3. New Orleans Hornets (Overall: No. 12)
4. Houston Rockets (Overall: No. 17)
5. Orlando Magic (Overall: No. 18)
Take part in the 2010 NHL survey
2009 NHL Ultimate Standings
1. Carolina Hurricanes (Overall: No. 2)
2. Detroit Red Wings (Overall: No. 4)
3. Washington Capitals (Overall: No. 6)
4. Pittsburgh Penguins (Overall: No. 8)
5. St. Louis Blues (Overall: No. 10)
What's the most important injury news in the New Orleans sports scene? For the moment, SportsNation says it's the ankle injury likely to slow the guy chasing Saints quarterback Drew Brees in the Super Bowl. But fans in the Big Easy could wake up Monday (or, say, Wednesday if the Saints win) feeling a little blue about facing a month or more without Chris Paul.
Paul reportedly needs knee surgery that will keep him out of action for at least a month -- not good news for a Hornets team that woke up Monday clinging to the final playoff spot in the West. And if you listen to some in SportsNation, it could be bad news beyond a month.
"Paul is done. He won't be the same player. career will have problems with that knee in coming years. He also won't try as hard because of the thought of reinjuring his knee. Hornets should look to trade him after he gets back on floor. -- SN commenter CheckIttG
Carl (England)
Using the mock draft/lottery tool and with a 0.6% chance the Hornets came first and took John Wall. Tell me, if this happens...do the Hornets get rid of Chris Paul?
Chad Ford

I don't know. It was the toughest scenario I had to deal with. I do think they could play together, but they could trade the No. 1 and get a substantial haul in return or, I guess they could trade Paul. But as much as I love Wall as a prospect, I'm not sure he's Chris Paul. Full transcript