SportsNation Blog Archives

Philadelphia Eagles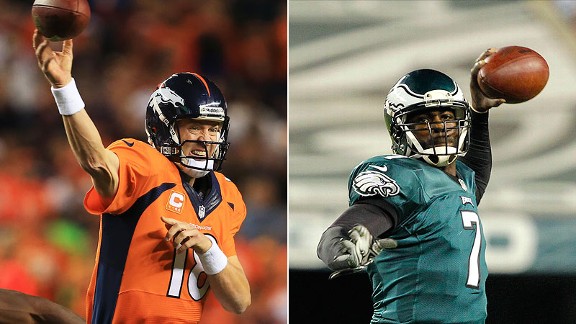 Getty Images
NFL Week 4: Eagles at Broncos
The Broncos already got a taste of what the NFC East has to offer ... in a 41-23 beatdown of the Giants. But Chip Kelly and the Eagles are looking to leave a different taste in the mouths of arguably the best team in the NFL. That will be a tall task, being that Peyton Manning has thoroughly outplayed Michael Vick (and every other QB, for that matter), and Philadelphia's offensive line can't seem to keep Vick upright. But the battle between DeSean Jackson and Dominique Rodgers-Cromartie should be entertaining. So should watching the NFL's leading rusher, LeSean McCoy, go up against a the league's best run defense.
Power shift in the NFC East?

Before the season, experts and voters alike liked either the Washington Redskins or New York Giants to claim the NFC East title. Three weeks in, neither has won a game. Washington fell 27-20 to the Detroit Lions at home Sunday. The Giants were embarrassed by the Carolina Panthers 38-0. Meanwhile, the Dallas Cowboys hammered the St. Louis Rams 31-7, meaning America's Team owns twice as many victories as the rest of its division combined. Will the current standings hold?

What to make of Chiefs & Eagles?

If Andy Reid wanted revenge, he kept it pretty quiet before Thursday night's return to Philadelphia. During the game, though, his new team didn't exactly go easy on the Eagles. Don't be fooled by that 26-16 score; the game was rarely in question, as the Kansas City Chiefs all but breezed to 3-0 -- surpassing last season's win total -- while sending the Eagles to 1-2. Should Philly be feeling remorse? What will become of these two teams?

AP Photo

NFL Week 3: Chiefs at Eagles

While he won't show it, those on the inside say Chiefs head coach Andy Reid badly wants to defeat his former team, the Philadelphia Eagles. To do it he will have to outwit first-year NFL coach Chip Kelly who admitted to making some rookie mistakes in Week 2. How will Eagles fans greet Reid and will Kelly give the Philly faithful something to cheer about?

September 11, 2013

Sep

11

Can Eagles' O stay up to speed?

That Philadelphia Eagles offense sure looked blurry Monday night -- for a while. Then it slowed down a bit, perhaps because of fatigue (although the Eagles still beat Washington 33-27). "It's crazy," Seattle Seahawks linebacker Bobby Wagner said. "They ran 50-something plays in the first half and only 20-something in the second half. It shows you they can't keep that type of pace." Wagner was one of several players from around the league to talk about coach Chip Kelly's new system, and question whether Philly can maintain the pace throughout the season. What do you think?