SportsNation Blog Archives

Washington Redskins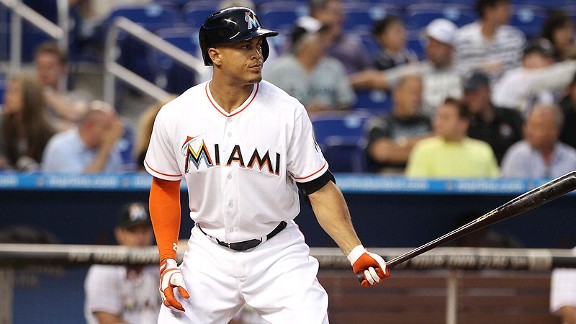 The Marlins were the worst team in the National League last year, a 62-100 disaster that was last in most major offensive categories. Lone bright spot Giancarlo Stanton even had a bit of a down year, hitting only .249 with an .845 OPS and 62 RBIs. What's worse, he actually led the Marlins in all of those categories. Marlins general manager Dan Jennings said the team is planning to rebuild around Stanton, but is it time for them to try to accelrate that rebuilding by shipping him for prospects?
---
Keeping Stanton?
Stanton is one of the most dangerous hitters in the game when healthy -- he led the league in slugging percentage in 2012 with a .608 mark and made the NL All-Star team.

Brandon Meriweather apologizes
According to NFLPA executive director DeMaurice Smith, Brandon Meriweather is sorry for the comments he made earlier this week directed at the league's rules and Bears WR Brandon Marshall. Meriweather, who was suspended one game for helmet-to-helmet hits against the Bears, said Monday that the NFL rule changes are going to force him to hit players in the knees. Meriweather also took aim at Marshall, after the Bears receiver criticized Meriweather's playing style. Does SN think Meriweather needed to apologize?
Pressure has been mounting on the Redskins to change their name. Representatives of the Oneida Indian Nation had a meeting with NFL executives to request that the league sanction Redskins owner Daniel Snyder for conduct detrimental to the league. Snyder reportedly told commissioner Roger Goodell in a recent meeting that he had no plans to change the name, but given the amount of pressure both the league and team are under, things might come to a head fairly soon.

---

Name change?

In addition to their request to sanction Snyder, Oneida representatives asked league executives to amend the league's bylaws with a rule prohibiting teams from using "dictionary-defined racial slurs" in their names.

Getty Images

NFL Week 8 -- Redskins at Broncos

The Denver Broncos finally lost, but the world kept turning, as there's no doubt Peyton Manning's team remains one of the best -- if not the best -- squads in the league. Of course, this view could be shifted if Robert Griffin III & Co. win their third in four games on Sunday to pull back into the NFC East race.

Cowboys clear NFC East favorites?

It's just one game, and it's only Week 7, but the Dallas Cowboys sure made a statement -- and helped their divisional positioning -- with a 17-3 win at the Philadelphia Eagles on Sunday. That moves Dallas to 4-3, one game ahead of Philly in the NFC East. Is Dallas a lock? What will happen in the rest of the NFC playoff race?