SportsNation Blog Archives

San Francisco 49ers
How does SportsNation see Super Bowl XLVII playing out? As NFL experts everywhere attempt to forecast which players will deliver big performances on football's biggest stage, we're asking SportsNation to join in on the fun. Do you think Colin Kaepernick will score a rushing touchdown? How will Ray Rice fare against the 49ers' stout defense? Will Ray Lewis do his squirrel dance when the clock hits 00:00? Cast your votes!
---
Ray, running wild
So far this postseason, Ray Rice has rushed for 247 yards and two touchdowns, including a 131-yard effort against the Broncos.

---
Can't catch Kap!
Colin Kaepernick is fast ... really fast. In two postseason starts, he has burned teams for 202 yards and two rushing TDs.

---
Not your average Joe
Don't call him Fluke-O anymore. In this postseason, Joe Flacco has thrown eight touchdown passes and no interceptions.

---
Moss on the mike
Randy Moss made it clear that he considers himself the GOAT, but he's been an afterthought in the 49ers' offensive system this season with only 28 catches.

---
Lewis' last ride
Since his incredible return Jan. 6 from a torn triceps injury, Ray Lewis has averaged more than 14 tackles/assists per game.

Randy Moss is no stranger to grandiose statements about his own greatness, so it's not much of a surprise that he considers himself the "greatest receiver to ever play this game". Jerry Rice's response? "Put my numbers up against his numbers." Fortunately, we can do just that. Considering their respective stats (and those of these eight other top receivers), who do you think is the greatest receiver of all time?


Greatest wide receivers
Tim Brown

Tim Brown
1988-2004
9 Pro Bowls
1,094 receptions
14,934 yards, 100 TD
Isaac Bruce

Isaac Bruce
1994-2009
4 Pro Bowls
1,024 receptions
15,208 yards, 91 TD
Cris Carter

Cris Carter
1987-2002
8 Pro Bowls
2-time All-Pro
1,101 receptions
13,899 yards, 130 TD

Marvin Harrison

Marvin Harrison
1996-2008
8 Pro Bowls
3-time All-Pro
1,102 receptions
14,580 yards, 128 TD

Don Hutson

Don Hutson
1935-45
8-time All-Pro
488 receptions
7,991 yards, 99 TD
Michael Irvin

Michael Irvin
1988-99
5 Pro Bowls
1-time All-Pro
750 receptions
11,904 yards, 65 TD
Steve Largent

Steve Largent
1976-89
7 Pro Bowls
1-time All-Pro
819 receptions
13,089 yards, 100 TD
Randy Moss

Randy Moss
1998-present
6 Pro Bowls
4-time All-Pro
982 receptions
15,292 yards, 156 TD
Terrell Owens

Terrell Owens
1996-2010
6 Pro Bowls
5-time All-Pro
1,078 receptions
15,934 yards, 153 TD
Jerry Rice

Jerry Rice
1985-2004
13 Pro Bowls
10-time All-Pro
1,549 receptions
22,895 yards, 197 TD

America has to fill time somehow during the week leading up to the Super Bowl, and media day is probably the biggest (and best) time-waster of them all. Want to know what Colin Kaepernick's favorite color is? Itching to find out whether Joe Flacco has any wacky pregame rituals? Media day is there to help you, and if the person asking those questions is dressed up in a clown suit, all the better.
---
Too ridiculous?
You're not going to get much in terms of insight or game-day strategy from media day ...

---
Better than the Pro Bowl?
... but you could probably say the same thing about the Pro Bowl.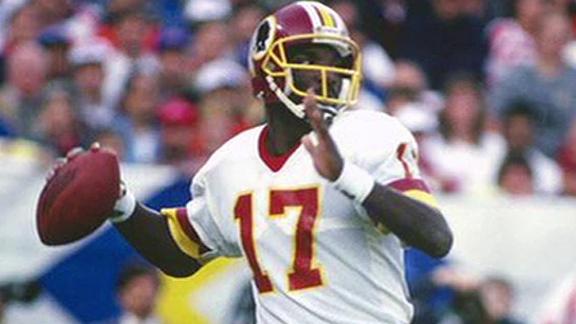 Every so often, a Super Bowl matches or exceeds the hype, giving football fans something to remember with an improbable upset, a superlative performance or a closely matched battle that remains in doubt until the final whistle. Which of these memorable Super Bowls is your favorite? Cast your ballot by clicking on the images below.


Best Super Bowls
Jets 16, Colts 7

Jets 16, Colts 7
First win for AFL in Super Bowl III validates Joe Namath's "guarantee."

Steelers 16,
Vikings 6

Steelers 16,
Vikings 6
Dominant Steelers defensive performance In Super Bowl IX allows Vikings just 119 yards.
Steelers 21,
Cowboys 17

Steelers 21,
Cowboys 17
Lynn Swann's catch highlights Super Bowl X, a matchup of the best teams of the '70s.
Steelers 35,
Cowboys 31

Steelers 35,
Cowboys 31
Terry Bradshaw throws four TDs as Steelers hold off Cowboys comeback in Super Bowl XIII rematch of '70s dynasties.
Giants 39, Broncos 20

Giants 39, Broncos 20
Phil Simms completes a record 22 of 25 passes In Super Bowl XXI as Giants pull away from Broncos in second half.
Redskins 42,
Broncos 10

Redskins 42,
Broncos 10
Redskins' Doug Williams throws 4 TDs in 35-point second quarter, wins Super Bowl XXII MVP.

49ers 26, Bengals 21

49ers 26, Bengals 21
Joe Montana leads 92-yard scoring drive late as 49ers edge Bengals in Super Bowl XVI.
Giants 20, Bills 19

Giants 20, Bills 19
Giants hold Bills' explosive offense at bay, win Super Bowl XXV as Buffalo's game-winning FG attempt sails wide right.
Broncos 31,
Packers 24

Broncos 31,
Packers 24
John Elway outduels Brett Favre in Super Bowl XXXII as Broncos claim first SB win in five tries.
Rams 23, Titans 16

Rams 23, Titans 16
Kurt Warner, Rams take early lead, withstand Titans comeback that ends 1 yard short on final play in Super Bowl XXXIV.
Patriots 20, Rams 17

Patriots 20, Rams 17
Underdog Patriots slow Rams' "Greatest Show On Turf," win Super Bowl XXXVI on last-second FG.
Patriots 32,
Panthers 29

Patriots 32,
Panthers 29
Panthers roar back to tie Super Bowl XXXVIII in fourth quarter, but Patriots win on late FG.
Giants 17, Patriots 14

Giants 17, Patriots 14
Underdog Giants drive late for winning TD, spoiling Patriots' quest for undefeated season in Super Bowl XLII.
Steelers 27,
Cardinals 23

Steelers 27,
Cardinals 23
Santonio Holmes' TD catch caps see-saw fourth quarter as Steelers outlast Cardinals in Super Bowl XLIII.
Your Rankings
1.

2.

3.

4.

5.

6.

7.

8.

9.

10.

11.

12.

13.

14.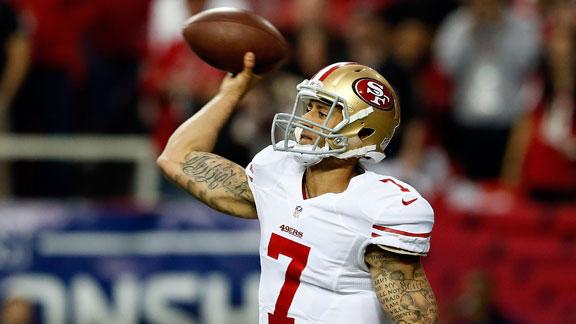 Colin Kaepernick didn't start the season as the 49ers No. 1 QB, but he'll be the man under center (or a couple yards behind center in the pistol) when San Francisco takes the field for Super Bowl XLVII. Kaepernick is just the latest in a long line of quarterbacks to start the season holding a clipboard and end it starting on the NFL's biggest stage. So how does the 49ers' second-year quarterback stack up with these other rags-to-riches stories? Click on the images below to rank the backup quarterbacks to start a Super Bowl.


Backup QBs to start Super Bowl
Roger Staubach

Roger Staubach
1971 Cowboys
Won full-time starting job from Craig Morton starting Week 8
Won Super Bowl VI vs. Dolphins
Terry Bradshaw

Terry Bradshaw
1974 Steelers
Replaced benched Joe Gilliam starting Week 7
Won Super Bowl IX vs. Vikings
Vince Ferragamo

Vince Ferragamo
1979 Rams
Replaced injured Pat Haden starting Week 12
Lost Super Bowl XIV vs. Steelers
Jim Plunkett

Jim Plunkett
1980 Raiders
Replaced injured Dan Pastorini starting Week 6
Won Super Bowl XV vs. Eagles
Doug Williams

Doug Williams
1987 Redskins
Named starter for playoffs after starting two regular-season games
Won Super Bowl XXII vs. Broncos
Jeff Hostetler

Jeff Hostetler
1990 Giants
Replaced injured Phil Simms starting Week 16
Won Super Bowl XXV vs. Bills
Kurt Warner

Kurt Warner
1999 Rams
Replaced injured Trent Green following preseason finale
Won Super Bowl XXXIV vs. Titans

Trent Dilfer

Trent Dilfer
2000 Ravens
Replaced benched Tony Banks starting Week 9
Won Super Bowl XXXV vs. Giants
Tom Brady

Tom Brady
2001 Patriots
Replaced injured Drew Bledsoe starting Week 3
Won Super Bowl XXXVI vs. Rams
Colin Kaepernick

Colin Kaepernick
2012 49ers
Replaced injured Alex Smith starting Week 11
Faces Ravens in Super Bowl XLVII
On Thursday, ESPN's "First Take" debated the wisdom of Colin Kaepernick seeking to trademark ''Kaepernicking'' -- that is, his celebration where he kisses one of his biceps. Skip Bayless thinks it's way too soon, as Kaepernick hasn't established himself in the league, while Christian Fauria says it's an unnecessary distraction in the lead-up to the Super Bowl. Takeo Spikes doesn't have an issue with it, as he sees it as Kaepernick striking while the iron is hot. What's your take?
The Super Bowl XLVII matchup is set with the Ravens and 49ers squaring off in New Orleans on Feb. 3. Ray Lewis will be there for the final game of his storied 17-year career with the Ravens, as will Colin Kaepernick making just his 10th career start at quarterback for the 49ers. Throw in some top-notch wide receivers (Anquan Boldin, Michael Crabtree), tight ends (Vernon Davis, Dennis Pitta) and running backs (Frank Gore, Ray Rice) and we've got a pretty even matchup, with SportsNation giving the slight edge to the Niners. How do the best players in the Super Bowl stack up? Click the images to cast your votes.


Super Bowl XLVII players
Anquan Boldin

Michael Crabtree

Vernon Davis

Joe Flacco

Frank Gore

Colin Kaepernick

Ray Lewis

Dennis Pitta

Ray Rice

Aldon Smith


Torrey Smith

Patrick Willis

Super Bowl XLVII is set. The 49ers beat the Falcons to earn their sixth Super Bowl appearance -- but first since the 1994 season -- while the Ravens took care of the Patriots to reach the big game for the second time. It'll be the first Super Bowl that features a sideline match-up of coaching brothers, and one quarterback will leave New Orleans with his first Lombardi Trophy. Which team will win? Cast your vote!
More: Which team are you rooting for in Super Bowl XLVII?
---
From backup to Super Bowl
Super Bowl XLVII will be just the 10th start for Colin Kaepernick, who's in his second year in the NFL.

---
Moving on up?
Joe Flacco once said he believed he was the best quarterback in the NFL. A Super Bowl win would go a long way toward backing up that claim.

---
Brother vs. Brother
John Harbaugh is 62-30 (incl. playoffs) as coach of the Ravens, while little brother Jim is 27-8-1 in two seasons with the 49ers.

The NFL's final four teams are set and ready to determine who'll play for the Lombardi Trophy. The Falcons will host the 49ers (Sunday, 3 p.m. ET) then the Ravens will visit the Patriots (Sunday, 6:30 p.m. ET). Which teams will win each game? Which game are you more looking forward to? And who'll be holding up the trophy in February? Cast your votes!
More: 49ers-Falcons | Ravens-Patriots
---
Defining a legacy?
Colin Kaepernick and Matt Ryan each earned their first playoff win this weekend. Which one will pick up his second, and a trip to New Orleans?

---
Unfinished business?
The Ravens let a potential Super Bowl trip slip through their hands a year ago in Foxborough. Will the rematch on Sunday be different?

---
Weather or not?
The AFC championship will be played in the elements, while the NFC is indoors. Could a snow game make you more excited for Ravens-Pats?

There are four teams left in the NFL playoffs, with two games to decide who'll play for the Super Bowl. But which units will have the biggest impact on Sunday's championship games? Click on the images to rank each team's offense, defense and special teams. You must rank at least five for your vote to count.
Stats from 2012 regular season.


2012 NFL playoff units
49ers Offense

49ers Offense
361.8 YPG, 11th in NFL
24.8 PPG, 11th in NFL
49ers Defense

49ers Defense
294.4 YPG, 3rd in NFL
17.1 PPG, 2nd in NFL
49ers Special Teams

49ers Special Teams
29-42 FG (69.0%), 31st in NFL
24.8 yds per KO return, 12th in NFL
Falcons Offense

Falcons Offense
369.1 YPG, 8th in NFL
26.2 PPG, 7th in NFL
Falcons Defense

Falcons Defense
365.6 YPG, 24th in NFL
18.7 PPG, 5th in NFL
Falcons Special Teams

Falcons Special Teams
33-38 FG (86.8%), 14th in NFL
23.7 yds per KO return, 14th in NFL
Patriots Offense

Patriots Offense
427.9 YPG, 1st in NFL
34.8 PPG, 1st in NFL
Patriots Defense

Patriots Defense
373.3 YPG, 25th in NFL
20.7 PPG, t-9th in NFL
Patriots Special Teams

Patriots Special Teams
29-35 FG (82.9%), 18th in NFL
21.2 yds per KO return, 25th in NFL
Ravens Offense

Ravens Offense
352.5 YPG, 16th in NFL
24.9 PPG, 10th in NFL
Ravens Defense

Ravens Defense
350.9 YPG, 17th in NFL
21.5 PPG, t-12th in NFL
Ravens Special Teams

Ravens Special Teams
30-33 FG (90.9%), 6th in NFL
27.3 yds per KO return, 1st in NFL