SportsNation Blog Archives

Seattle Seahawks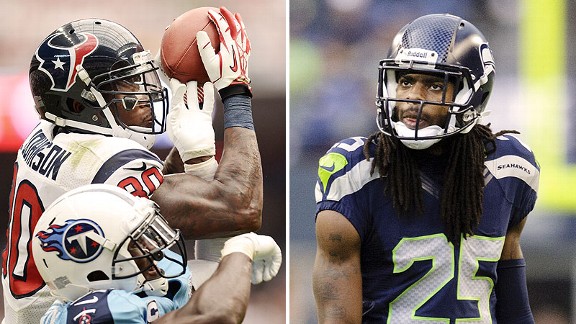 USA TODAY Sports
NFL Week 4: Seahawks at Texans
It's no surprise that the Seahawks are undefeated heading into Week 4. OK, well, a 29-3 shellacking of the 49ers in Week 2 was a bit surprising, but football fans wouldn't be shocked if they didn't lose a game any time soon. The Texans aren't looking as good, but they've done pretty well for themselves with a 2-1 start. The biggest question in this game: Will Andre Johnson go off on the NFL's best secondary?
Seahawks tops in NFC West?

We know. It's early. But Sunday night's weather-interrupted showdown between the San Francisco 49ers and Seattle Seahawks left the home team in a pretty good position. That would be 2-0, after the Seahawks used a dominant second half to down the defending NFC West (and NFC) champions 29-3. So much for that whole "49ers are best in the conference" thing ... right?

USA TODAY Sports

NFL Week 2: 49ers at Seahawks

An early season divisional battle between two title hopefuls, each with big-name quarterbacks. Alabama at Texas A&M? That fits the description, sure, but we're here to talk about a West Coast showdown featuring the top two teams in our NFL Power Rankings. Both earned hard-fought wins in Week 1. Both have their sights on the ultimate prize. Both feature players who like to talk. Yeah, this game should make some noise.

Who's the best in the NFC?

With apologies to the NFC East, whose season did not start until Sunday night, the NFC's major powers -- at least according to the Super Bowl odds -- all played Sunday afternoon. Early on, the Saints held off a late Falcons goal-to-go to open the season 1-0, a nice development, considering New Orleans' 0-4 start a year ago. Seattle, meanwhile, slogged through a 12-7 win over the improved Panthers. In the late game, the Seahawks' NFC West nemesis, San Francisco, outlasted the Packers 34-28, thanks in large part to Colin Kaepernick's 412 passing yards and three TDs. What does all this mean for the National Football Conference?

Revis tells Sherman to 'earn it'

We've still got time before the NFL season kicks off, which means wars of words will have to do. Still raging: Darrelle Revis vs. Richard Sherman, with the latter declaring himself the best cornerback in the NFL and the former countering (through the media) that "you can't crown yourself anything in this league," and "you've got to earn it." The two undoubtedly are among the best corners in the league, even with Revis recovering from an ACL injury. But do they need to talk so much?