SportsNation Blog Archives

Cincinnati Bengals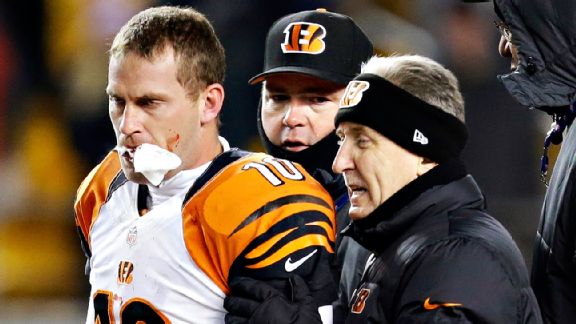 AP Photo/Gene J. Puskar
Punters are athletes -- this much is not in dispute -- but they're athletes with a focus on kicking things and not necessarily on tackling people. That being said, if they're in position to make a play, blockers have to take them into account. Terence Garvin did a bit more than take punter Kevin Huber into account, however -- he broke Huber's jaw and cracked a vertebra in his neck as a result of a massive hit during a 68-yard touchdown return in Sunday's Bengals-Steelers game. Officials didn't throw a flag, but this seems exactly like the type of hit that the NFL will come down on during its review.
Here's a sampling of what readers had to say in our Facebook conversation on the story:
Kevin Hollard: "There's no doubt that this was a dirty hit...any chance these guys get to take a cheap shot on a defenseless QB or kicker they take it. Hopefully the NFL will stop ignoring this and administer some serious disciplinary action."
Christopher Lambert: "Watched the hit a few times ...frame by frame..it looked clean, borderline illegal. Yes the rules say kickers are defenseless....but they are football players too. Once he kicks the ball he is now on the coverage team and susceptible to being blocked or hit, was it a brutal hit? yes. was it illegal...I don't know."
Jonathan Krishnan: "This hit was extremely vicious to the point of being upsetting to watch. It was totally uncalled for. There was clear malice there and Mr. Garvin should be held accountable."
Ed Hollinger: "The block was not blindside. He was directly in front of him. Huber was only a few feet from Brown and in position to make the tackle so why should this be a penalty? Where should Garvin have hit him? In the knees? If Punters want to make a tackle they should be fair game like any other player on the field."
Josh Cook: "Seeing as kickers/punters don't wear full pads or facemasks, I would assume the officials would have an obligation to protect them...Besides, do you even need to block a kicker/punter...the dude was just taking a cheap shot so he could deliver a 'knock out' blow that would look good on film."
Andrew Weber/USA TODAY Sports
Ravens change playoff picture?
Six Justin Tucker field goals -- including a 61-yarder with 38 seconds left -- were all the Baltimore Ravens needed on "Monday Night Football" to throw three playoff races for a loop. By beating the Detroit Lions 18-16, Baltimore moved to 8-6 and within one game of the Cincinnati Bengals atop the AFC North. By losing, Detroit fell to 7-7 and a surprising third in an NFC North Division it recently controlled. And then there's the AFC wild-card race, which still features three strong candidates -- four if you count Cincinnati -- fighting for one last spot. How will it all shake out?
Bengals contenders? Colts doomed?

The Cincinnati Bengals and Indianapolis Colts entered Sunday with the same record. In the game, though, they looked worlds apart. The Bengals won 42-28 over Indy -- and it wasn't even that close; a late Colts TD pulled them to within two scores. What does this game say about these teams, both now and for their playoff future?

While the Denver Broncos were taking control of the AFC West against the Kansas City Chiefs on Sunday, the other three top AFC contenders took care of business to extend their leads atop their respective divisions. And although none has officially clinched, the Cincinnati Bengals (two games up), New England Patriots (three) and Indianapolis Colts (also three) seem destined to host playoff contests come January.

Elsewhere, the Miami Dolphins moved to .500 by hammering the New York Jets, while the Baltimore Ravens looked on after beating the rival Pittsburgh Steelers on Thanksgiving. Which wild-card contender will taste the postseason? How will the division leaders fare?

---

Patriots' outlook?

The Patriots moved to 9-3 on Sunday -- but had to eke out a win over Houston.

---

Bengals' outlook?

The Bengals topped the host Chargers 17-10, moving them to 8-4 with three home games left.

---

Colts' outlook?

Indy hasn't looked great of late but is 8-4 and should cruise to the AFC South title.

---

Last spot?

The Dolphins and Ravens are one game ahead of a four-team pack at 5-7.