SportsNation Blog Archives

Texas Rangers
On Wednesday, "First Take" brought in special guest Tony La Russa to discuss long-term deals in baseball. The Rangers have a decision to make about Josh Hamilton, and potentially could lock him up for many years to come. La Russa said he wouldn't give more than a five- or six-year deal to a player of any caliber, citing the Angels' 10-year deal with Albert Pujols as one that was not worth the risk. Both Stephen A. Smith and Skip Bayless agreed. What's your take?
Roy Oswalt has cleared waivers, which gives the Rangers leeway to trade him. Should they take a chance on their oft-injured veteran, or try to flip him for prospects?
mgarrison767: "No team is gonna give up the prospects the Rangers would demand to take on Oswalt. I doubt he is going anywhere this year - except maybe to the bench if his attitude doesn't change."
mikealioto: "If the Ranger are going to try to trade him by Aug 31st they are going to trade him National League team. Not to any contender they will half run into during the playoffs. On the American league of course "
texasluva: "I'm sorry but he can no longer get MLB players out on a consistent basis. Send him back to his farm and if he needs a couple of farm hands send Feldman to help him out."
easchner: "He's likely going to be in the long relief role, and will likely do very well there. There's only been a couple of games where he's let in more than 1 through his first 3-4 innings. Come playoffs, it's a very nice luxury to have a fifth starter you can put in games when someone breaks down early in a game (which will happen)."
lifer-for-life: "Not sure why the Rangers would consider keeping him around, he was a gamble that hasnt really paid off."

Join the conversation or respond by signing in or creating a profile and blogging.
The Brewers are shopping Zack Greinke around the league, as a likely short-term rental for a competitor. Jayson Stark thinks the Angels, Rangers, Braves and White Sox have the best chance of getting him. What do you think?
gsa817: "If the Rangers really want him, they can get him. They have the best pieces. Doubt it will happen though. Greinke isn't exactly King Felix or Verlander, so Texas would be dumb to trade their future stars for him. He'll probably end up on the Angels."
dirkfanman81: "rangers please do not give up prospects for a half year rental. id rather tough it out then basically just throw out good young prospects for him."
zelts3: "Greinke would be fine in a big market....he's had so many articles and eyes on him lately and his last start vs the Phillies shows he can pitch well with that environment. Greinke is shut-down."
thesonicbrew: "As a Braves fan I keep thinking back to about 5 years ago when I read one of these rumor articles about Greinke to Atlanta for, a then up-and-coming Jeff Francouer.....and the Braves passed. Ah the irony."
Big-E28: "The Braves need to get Greinke now. We have the prospects that Milwaukee is looking for. They need a shortstop, then we'll give them Pastornicky. They need a good young arm, then we give them Delgado. Obviously the Braves are willing to trade Delgado as he was going to the Cubs, so what is the problem?"



Join the conversation or respond by signing in or creating a profile and blogging.
Nolan Ryan can say pretty much whatever he wants when he's talking about baseball, and evidently he thinks Josh Hamilton gives away too many at-bats. He might have a point -- Hamilton's having a good season, but his .290/.357/.592 line could use a lot more in the "getting-on-base" department. This could be just a motivational tool by Ryan, who no doubt has bad memories of his otherwise-excellent team losing its edge in the last minute in the 2011 World Series. Is he right?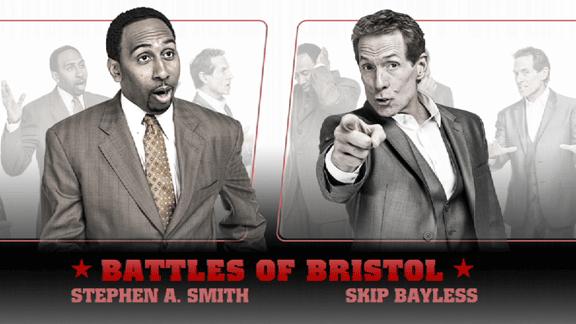 Whether Josh Hamilton or Matt Kemp is the better long-term investment, well, that's up for debate. Skip Bayless is taking Hamilton as the right here, right now player, but would rather have Kemp for the future. Stephen A. Smith says Kemp is a no-brainer when it comes to who will produce the bigger numbers over the course of their careers. Which player would you put your faith in?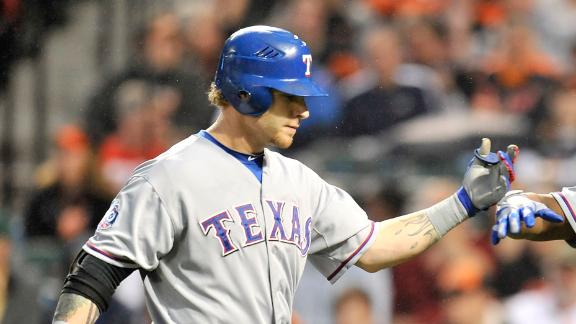 Did any of you have Josh Hamilton on your fantasy teams last night? Congratulations -- you can take the rest of the week off. No need to worry about matchups or injuries or any of that. Hamilton gave you (and the Rangers) a week's worth of production with a four-homer game in Baltimore on Tuesday night. Hamilton is the first American League player to go 5-for-5 with four home runs in a game, and the first to total 18 bases in one contest. He actually came close to hitting five homers, but he narrowly missed a hanging curveball in his third at-bat. That would have been unprecedented -- no major leaguer has reached the five-homer plateau in a game.
---
Hamilton the MVP?
Hamilton is leading in all kinds of offensive categories. Hilariously, he has more home runs this season (14) than the entire San Diego Padres roster (12).

---
Home run total?
Hamilton's career high in home runs is 32; he did that in 2008 and 2010. Right now, he's almost halfway there ... and May has just started.

---
Hamilton or Humber?
Four-homer games are slightly rarer than perfect games, although there's no doubt that a perfecto carries with it a significantly higher element of tension.

---
Stay in Texas?
Hamilton seems to enjoy it in Texas, but he's a free agent after this season, and bidding for his services will likely be fierce.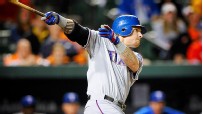 In just his fifth multi-homer game, Josh Hamilton became the 16th player in MLB history to hit four home runs in one outing. It's the first four-home-run game baseball has seen since 2003. Who are the other 15 men to have hit a quartet of homers in a single game? Take our quiz now!
More games from ESPN Arcade »
Seeing as they're all major league hitters, the Mariners can be expected to score runs in bunches from time to time. Just not all that often, and certainly not in the debut of the Rangers' marquee offseason pitching acquisition. Yu Darvish struggled mightily in his first start in the majors, giving up four runs in the first inning to an anemic Seattle offense, but he settled down later on, which could suggest that it was just nerves. Can Darvish handle MLB?
---
A worrisome sign?
The Rangers expected Darvish to be an ace, but aces aren't in the habit of putting their teams behind four runs in the first inning.

---
Darvish's future?
Darvish's adjustment period could have ended after that disastrous first inning, or it could never truly end. We'll have to wait and see in his next few starts.

---
Tigers or Rangers?
Both the Rangers and Tigers have been winning big in the opening stages of the season.

Opening Day -- well, Opening Night, really, and we technically already had one of those in Japan, but who's counting? -- is finally here, as the Cardinals will take on the Marlins tonight in the first stateside regular-season MLB game. It's bound to be an exciting season with so many players having changed teams, but has the power structure been altered significantly?
Vote: Pick each division and pennant, and the winner of the World Series
Rank: Baseball's best teams? | Top players in the game?
---
World Series repeat?
The Cardinals prevailed over the Rangers in the 2011 World Series, but St. Louis lost its biggest gun this past offseason ...

---
Best player?
... which is a pretty big loss, considering he might be one of the best players of all time.

---
Odd one out?
The Red Sox missed the playoffs last season after an epic September collapse. Will they be on the outside looking in once again?

---
AL's best?
Prince Fielder and Albert Pujols were probably the two biggest additions to teams in the American League, meaning the balance of power could shift.

---
NL's best?
Likewise, the addition of Jose Reyes to the Marlins could give the team a huge upgrade -- offensively with new third baseman Hanley Ramirez, and defensively at shortstop.

C.J. Wilson tweeted Mike Napoli's phone number, and Napoli's not happy about it. Was Wilson's prank harmless or out of line?
carloshobbs: "Way too serious Rangers fans! Wow! Let it go and just let them take care of it when they face each other."
Pylon Phaneuf: "who cares, Napoli is a millionaire. Just buy a new phone."
PS_28: "Wilson has secured his place as the next Barry Zito. The baseball gods usually keep to the diamond but even they do not approve of this level of off the field lameness."
CheckPlease7777: "Good job, CJ! I thought it was funny and Napoli just acting like a baby. (please don't apologize)"
CompDiddy: "CJ will play great all year for them since they won't make the playoffs. He should stick to what he does best; brag about irrelevant nonsense, quote samurai proverbs, and race go carts."
Clark_and_Addison99: "Wilson's "joke" is a text book example of using poor judgement. I hope Napoli can light Wilson up at the plate this season. "



Join the conversation or respond by signing in or creating a profile and start blogging.