SportsNation Blog Archives

New York Knicks
Eli and Peyton Manning's "Football on Your Phone" video blew up on the Internet this week, amassing nearly 5 million views in two days. Now the younger Manning says his rap career is likely "one-and-done," meaning he might not reach the heights of certain athletes who tried hip-hop. Still, with one big hit and widespread love, he already has passed a few ill-fated would-be rappers. Who's the best? Click the images below to make your picks!


Rank: Athletes Who Tried Hip Hop
1985 Chicago Bears

1985 Chicago Bears
Known for: "Super Bowl Shuffle"
Kobe Bryant

Kobe Bryant
Known for: "K.O.B.E."
The Golf Boys

The Golf Boys
Known for: "Oh, Oh, Oh" and "2.Oh"
Allen Iverson

Allen Iverson
Known for: "40 Bars" (under the name Jewelz)
Roy Jones Jr.

Roy Jones Jr.
Known for: "Y'all Must've Forgot"
Eli & Peyton Manning

Eli & Peyton Manning
Known for: "Football on Your Phone"

Shaquille O'Neal

Shaquille O'Neal
Known for: "Shaq Diesel" (and four other albums)

Deion Sanders

Deion Sanders
Known for: "Prime Time" and "Must Be the Money"
Chris Webber

Chris Webber
Known for: "Gangsta, Gangsta" (under the name C. Webb)
Metta World Peace

Metta World Peace
Known for: "My World" (as Ron Artest)
Your Rankings
1.

2.

3.

4.

5.

6.

7.

8.

9.

10.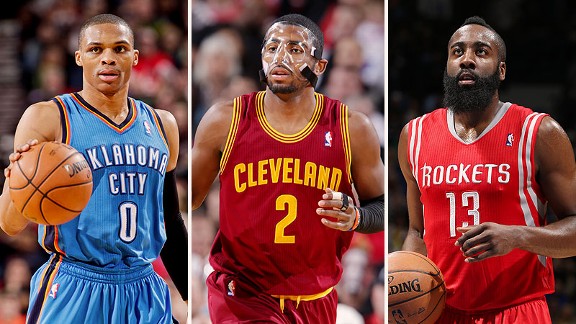 There's no question that the NBA has become a young man's game. Basketball fans see it night-in and night-out when the Thunder's high-scoring duo of Kevin Durant and Russell Westbrook or the Rockets' James Harden and Jeremy Lin take the court. It's also noticeable in the high-flying dunks and sweet passing that members of the Cavaliers and Pelicans are capable of. Which team has the best young talent? NBA Insider Amin Elhassan had his say, and now it's time for SportsNation to weigh in! Mouse over the team logos to view each team's under-25 players, then click to set your rankings!
Rank 'Em: Point guards | Shooting guards | Power forwards | Centers


NBA teams under-25 talent

76ers

76ers
Lavoy Allen (24)
James Anderson (24)
Michael Carter-Williams (21)
Justin Holiday (24)
Arsalan Kazemi (23)
Arnett Moultrie (22)
Nerlens Noel (19)
Tim Ohlbrecht (24)
Evan Turner (24)
Royce White (22

Bobcats

Bobcats
Bismack Biyombo (20)
Michael Kidd-Gilchrist (19)
Jeff Taylor (24)
Kemba Walker (23)
Cody Zeller (20)

Bucks

Bucks
Giannis Antetokounmpo (18)
John Henson (22)
Brandon Knight (21)
Khris Middleton (21)
Larry Sanders (24)
Nate Wolters (22)

Bulls

Bulls
Jimmy Butler (23)
Erik Murphy (22)
Derrick Rose (24)
Tony Snell (21)
Marquis Teague (20)

Cavaliers

Cavaliers
Anthony Bennett (20)
Carrick Felix (22)
Kyrie Irving (21)
Sergey Karasev (19)
Tristan Thompson (22)
Dion Waiters (21)
Tyler Zeller (23)

Celtics

Celtics

Avery Bradley (22)
MarShon Brooks (24)
Jordan Crawford (24)
Colton Iverson (24)
Fab Melo (23)
Kelly Olynyk (22)
Phil Pressey (22)
Jared Sullinger (21)

Clippers

Clippers
Reggie Bullock (22)
Blake Griffin (24)
Byron Mullens (24)
Maalik Wayns (22)

Grizzlies

Grizzlies
Jerryd Bayless (24)
Ed Davis (24)
Jamaal Franklin (22)
Kosta Koufos (24)
Jon Leuer (24)
Willie Reed (23)
Tony Wroten (20)

Hawks

Hawks
Jared Cunningham (22)
John Jenkins (22)
Shelvin Mack (23)
Mike Muscala (22)
Lucas Nogueira (21)
Dennis Schroeder (19)

Heat

Heat
Norris Cole (24)
James Ennis (23)

Jazz

Jazz
Trey Burke (20)
Alec Burks (22)
Derrick Favors (22)
Rudy Gobert (21)
Gordon Hayward (23)
Enes Kanter (21)

Kings

Kings
DeMarcus Cousins (22)
Jimmer Fredette (24)
Ray McCallum (22)
Ben McLemore (20)
Patrick Patterson (24)
Isaiah Thomas (24)

Knicks

Knicks
Tim Hardaway Jr (21)
C.J. Leslie (22)
Iman Shumpert (23)
Jeremy Tyler (22)

Lakers

Lakers
Ryan Kelly (22)
Robert Sacre (24)

Magic

Magic
Maurice Harkless (20)
Tobias Harris (21)
Doron Lamb (21)
E'Twaun Moore (24)
Andrew Nicholson (23)
Kyle O'Quinn (23)
Victor Oladipo (21)
Romero Osby (23)
Nikola Vucevic (22)

Mavericks

Mavericks
Jae Crowder (23)
Shane Larkin (20)
Ricky Ledo (20)

Nets

Nets
Mason Plumlee (23)
Toko Shengelia (21)
Tyshawn Taylor (23)

Nuggets

Nuggets
Kenneth Faried (23)
Evan Fournier (20)
Danilo Gallinari (24)
Jordan Hamilton (22)
J.J. Hickson (24)
Quincy Miller (20)
Anthony Randolph (24)

Pacers

Pacers
Paul George (23)
Solomon Hill (22)
Orlando Johnson (24)
Lance Stephenson (22)

Pelicans

Pelicans
Al-Farouq Aminu (22)
Anthony Davis (20)
Tyreke Evans (23)
Eric Gordon (24)
Jrue Holiday (23)
Pierre Jackson (21)
Darius Miller (23)
Austin Rivers (21)
Jeff Withey (23)

Pistons

Pistons
Kentavious Caldwell-Pope (20)
Andre Drummond (19)
Brandon Jennings (23)
Tony Mitchell (21)
Greg Monroe (23)
Peyton Siva (22)

Raptors

Raptors
Quincy Acy (22)
Dwight Buycks (24)
DeMar DeRozan (24)
Terrence Ross (22)
Jonas Valanciunas (21)

Rockets

Rockets
Isaiah Canaan (22)
Robert Covington (22)
James Harden (23)
Terrence Jones (21)
Jeremy Lin (24)
Donatas Motiejunas (22)
Chandler Parsons (24)
Greg Smith (22)
BJ Young (20)

Spurs

Spurs
Cory Joseph (21)
Kawhi Leonard (22)
Patty Mills (24)
Deshaun Thomas (21)

Suns

Suns
Michael Beasley (24)
Eric Bledsoe (23)
Archie Goodwin (18)
Malcolm Lee (23)
Alex Len (20)
Kendall Marshall (21)
Markieff Morris (23)
Marcus Morris (23)
Miles Plumlee (24)

Thunder

Thunder
Steven Adams (20)
Kevin Durant (24)
Serge Ibaka (23)
Reggie Jackson (23)
Grant Jerrett (20)
Perry Jones III (21)
Jeremy Lamb (21)
Daniel Orton (23)
Andre Roberson (21)
Russell Westbrook (24)

Timberwolves

Timberwolves
Lorenzo Brown (22)
Gorgui Dieng (23)
Kevin Love (24)
Shabazz Muhammad (20)
Ricky Rubio (22)
Alexey Shved (24)
Derrick Williams (22)

Trail Blazers

Trail Blazers
Will Barton (22)
Nicolas Batum (24)
Victor Claver (24)
Allen Crabbe (21)
Meyers Leonard (21)
Damian Lillard (23)
C.J. McCollum (21)
Thomas Robinson (22)

Warriors

Warriors
Harrison Barnes (21)
Kent Bazemore (24)
Festus Ezeli (23)
Draymond Green (23)
Nemanja Nedovic (22)
Klay Thompson (23)

Wizards

Wizards
Bradley Beal (20)
Otto Porter Jr. (20)
Glen Rice Jr. (22)
Kevin Seraphin (23)
Chris Singleton (23)
Jan Vesely (23)
John Wall (22)
Your Rankings
1.

2.

3.

4.

5.

6.

7.

8.

9.

10.

11.

12.

13.

14.

15.

16.

17.

18.

19.

20.

21.

22.

23.

24.

25.

26.

27.

28.

29.

30.

Tags:
SportsNation Rank, NBA, NBA, Atlanta Hawks, Boston Celtics, Brooklyn Nets, Charlotte Bobcats, Chicago Bulls, Cleveland Cavaliers, Dallas Mavericks, Denver Nuggets, Detroit Pistons, Golden State Warriors, Indiana Pacers, Los Angeles Clippers, Memphis Grizzlies, Miami Heat, Minnesota Timberwolves, New Orleans Hornets, New Orleans Pelicans, New York Knicks, Oklahoma City Thunder, Orlando Magic, Philadelphia 76ers, Phoenix Suns, Portland Trail Blazers, Sacramento Kings, San Antonio Spurs, Toronto Raptors, Utah Jazz, Washington Wizards, Milwaukee Bucks, Los Angeles Lakers
Lakers eye LeBron and Melo in 2014
According to sources, the Lakers are looking to make a big splash during the 2014 free-agency period by going after both LeBron James and Carmelo Anthony. Do you think the Lakers would have a real shot at landing both superstars? And if they did, could Kobe Bryant handle a diminished role on the team? Cast your vote now!
Smith out 3-4 months after surgery

One step forward, one step back. Knicks sharpshooter J.R. Smith will be out until the start of the NBA season as he recovers from left knee surgery to repair a tear in his lateral meniscus, team officials announced Tuesday. The reigning Sixth Man of the Year averaged a team second-best and career-high 18.1 points per game in the regular season. Will his health hinder him from doing more of the same this season?

Getty Images

NBA Free Agency

The NBA's free-agency period is underway, and although deals cannot be made official until July 10 there's already been plenty of wheeling and dealing. Which teams have helped themselves and which have flopped this offseason? Tell us what you think. Vote now!