SportsNation Blog Archives

Atlanta Hawks
Josh Smith has a strained tendon in his left knee, and may miss Game 3 against the Celtics. Can the Hawks win without him?
Thats_How_I_Troll: "If Boston can do it without Ray and Rajon, then Atlanta can be competitive without Smith. "
Reague5122: "Celtics were going to win that game even if Smith finished the game, they have outplayed the Hawks in 6 out of 8 qaurters, won without Rondo and Ray Ray, C's get to rest until Friday."
PP Owns Rondo: "Not good for Atlanta. They're already in bad shape without Al and Zaza. No way do they win this series without Josh. I think Boston wins in 5 anyway with Josh or not."
Delta_Hedge: "no big deal---he's not that good anyway. He just jacks up 3s."
b00chtron: "the hawks were not winning this series anyways"
fee.forbin: "With Josh Smith out the C's might get some rest before the next round."



Join the conversation or respond by signing in or creating a profile and blogging.
We can understand if you don't want to take the time to grade your tech-support help on the other end of the telephone, but when we're talking about the dollars and emotion you've invested in sports, we think it's worth the effort. It's time for ESPN The Magazine's Ultimate Standings, in which SportsNation grades organizations on everything from ticket prices and stadium experience to the talent on the field, court or rink. Which team will end up on top this year? It depends on what you say.
Take part in the 2011 MLB survey
2010 MLB Ultimate Standings
1. Los Angeles Angels (Overall: No. 3)
2. Tampa Bay Rays (Overall: No. 6)
3. Colorado Rockies (Overall: No. 13)
4. Minnesota Twins (Overall: No. 14)
5. Atlanta Braves (Overall: No. 15)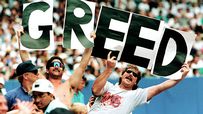 Take part in the 2011 NFL survey
2010 NFL Ultimate Standings
1. New Orleans Saints (Overall: No. 1)
2. Indianapolis Colts (Overall: No. 4)
3. Green Bay Packers (Overall: No. 9)
4. Arizona Cardinals (Overall: No. 19)
5. Baltimore Ravens (Overall: No. 20)
Take part in the 2011 NBA survey
2010 NBA Ultimate Standings
1. Orlando Magic (Overall: No. 2)
2. San Antonio Spurs (Overall: No. 7)
3. Cleveland Cavaliers (Overall: No. 10)
4. Dallas Mavericks (Overall: No. 24)
5. Oklahoma City Thunder (Overall: No. 25)
Take part in the 2011 NHL survey
2010 NHL Ultimate Standings
1. Pittsburgh Penguins (Overall: No. 5)
2. Detroit Red Wings (Overall: No. 8)
3. Washington Capitals (Overall: No. 11)
4. San Jose Sharks (Overall: No. 12)
5. Chicago Blackhawks (Overall: No. 16)
It appears Tyreke Evans will be the NBA's Rookie of the Year. After Brandon Jennings scored 25 points to lead the Bucks to a 3-2 series lead against the Hawks, it also appears he might be the most significant rookie playing in May. Possibly deep into May.
Which is to say, the debate about this year's rookie class isn't nearly over. Well, other than Hasheem Thabeet. We can all agree that isn't working out so well.
Evans isn't a controversial pick as rookie of the year. ESPN's TrueHoop Network went that way in overwhelming fashion when it handed out awards. After siding with Jennings early and Stephen Curry in March, SportsNation concurred at the close of the regular season. But when it comes to looking beyond rookie season? That is another story ...
Ben (NYC)
Who makes their teammates better the best? Jennings, Evans, Curry, Rose, Rondo, Westbrook??? I say Curry.
David Thorpe
Today Rondo, tomorrow probably Curry or Jennings. Full transcript
Sometimes you're the dog, and sometimes you're the hydrant. Or in the language of the NBA playoffs, sometimes you're Michael Jordan against anyone. And sometimes you're Charles Smith against the Bulls.
The postseason has arrived, and for the first time in his career, Kevin Durant gets a shot (or more likely, 20-plus shots per game) to forge his own primetime reputation on the big stage. You know it's the big stage because Phil Jackson is already taking subtle swipes at Durant and either getting in his head or poking the bear, depending on your perspective.
In all honesty, the No. 1 seed's first-round series is usually only slightly more interesting than Duke playing Arkansas-Pine Bluff in the first round of the NCAA tournament, but thanks to Durant's expected duel with Kobe Bryant, it appears all eyes this year will be on the Lakers and Thunder.
Not that every SportsNation blogger expects the series to be all that close.
"Okay, lets be realistic here. Everybody thank the Thunder for showing up, but Kobe will not allow the Lakers to get booted out of the first round. The only way Oklahoma City will sneak by and pull 1 game off is if Kevin Durant puts up 50. Even though the Lakers have been slumping as of late, they are a whole different beast when it comes to the playoffs." -- Read wwechamp69's full post.
Mikeyho (Taiwan)
Hey Chris. Just heard several analyst label the Cavs as "much better" than the Magic. This year's additions put them over the top. I feel like I'm watching last years comments. I'm not saying the Magic should even win. Just want to know if you think it'll be really competitive (around 50/50), or slightly competitve (Cavs's clear favorites)?
Chris Sheridan

Right now I would pick the Cavs in 7 in that series, but I would not label them heavy favorites. Both teams are so much different than they were a year ago (Jamison, Shaq, Vince, Barnes) that it makes comparisons between last year's series and this year's somewhat irrelevant. What's relevant is whether Shaq will be able to contain Dwight and whether the Magic will still find the individual matchup they can exploit. And Stan Van Gundy is good at that. Full transcript
It's just like the census, only this one is fun and doesn't come in the mail. And nobody from FOX News or MSNBC will yell at you about it. It's time for ESPN The Magazine's Ultimate Standings, in which SportsNation grades organizations on everything from ticket prices and stadium experience to the talent on the field, court or rink. Which team will end up on top this year? It depends on what you say.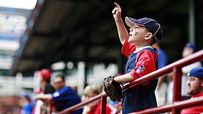 Take part in the 2010 MLB survey
2009 MLB Ultimate Standings
1. Los Angeles Angels (Overall: No. 1)
2. Milwaukee Brewers (Overall: No. 7)
3. Tampa Bay Rays (Overall: No. 16)
4. Minnesota Twins (Overall: No. 23)
5. Philadelphia Phillies (Overall: No. 24)
Take part in the 2010 NFL survey
2009 NFL Ultimate Standings
1. Pittsburgh Steelers (Overall: No. 3)
2. Green Bay Packers (Overall: No. 13)
3. Indianapolis Colts (Overall: No. 14)
4. Tennessee Titans (Overall: No. 15)
5. New England Patriots (Overall: No. 19)
Take part in the 2010 NBA survey
2009 NBA Ultimate Standings
1. Cleveland Cavaliers (Overall: No. 5)
2. San Antonio Spurs (Overall: No. 9)
3. New Orleans Hornets (Overall: No. 12)
4. Houston Rockets (Overall: No. 17)
5. Orlando Magic (Overall: No. 18)
Take part in the 2010 NHL survey
2009 NHL Ultimate Standings
1. Carolina Hurricanes (Overall: No. 2)
2. Detroit Red Wings (Overall: No. 4)
3. Washington Capitals (Overall: No. 6)
4. Pittsburgh Penguins (Overall: No. 8)
5. St. Louis Blues (Overall: No. 10)