SportsNation Blog Archives

Detroit Pistons
It's just like the census, only this one is fun and doesn't come in the mail. And nobody from FOX News or MSNBC will yell at you about it. It's time for ESPN The Magazine's Ultimate Standings, in which SportsNation grades organizations on everything from ticket prices and stadium experience to the talent on the field, court or rink. Which team will end up on top this year? It depends on what you say.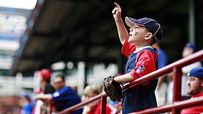 Take part in the 2010 MLB survey
2009 MLB Ultimate Standings
1. Los Angeles Angels (Overall: No. 1)
2. Milwaukee Brewers (Overall: No. 7)
3. Tampa Bay Rays (Overall: No. 16)
4. Minnesota Twins (Overall: No. 23)
5. Philadelphia Phillies (Overall: No. 24)
Take part in the 2010 NFL survey
2009 NFL Ultimate Standings
1. Pittsburgh Steelers (Overall: No. 3)
2. Green Bay Packers (Overall: No. 13)
3. Indianapolis Colts (Overall: No. 14)
4. Tennessee Titans (Overall: No. 15)
5. New England Patriots (Overall: No. 19)
Take part in the 2010 NBA survey
2009 NBA Ultimate Standings
1. Cleveland Cavaliers (Overall: No. 5)
2. San Antonio Spurs (Overall: No. 9)
3. New Orleans Hornets (Overall: No. 12)
4. Houston Rockets (Overall: No. 17)
5. Orlando Magic (Overall: No. 18)
Take part in the 2010 NHL survey
2009 NHL Ultimate Standings
1. Carolina Hurricanes (Overall: No. 2)
2. Detroit Red Wings (Overall: No. 4)
3. Washington Capitals (Overall: No. 6)
4. Pittsburgh Penguins (Overall: No. 8)
5. St. Louis Blues (Overall: No. 10)
Realizing that life with an icon of the American sports landscape worth more than a billion dollars isn't all it's cracked up to be, a European with plenty of name recognition and few public appearances is heading home. That's right; Darko Milicic is leaving the NBA. Who did you think we were talking about?
Showing a knack for brutal honesty, if nothing else, Milicic told the New York Post, "I'm not going to get it done in the NBA." So closes one of the worst stories in NBA draft history, considering the Pistons picked one spot ahead of Carmelo Anthony in 2003.
But was that even the worst No. 2 pick a Detroit team made that year? A few months before the Pistons took Milicic, the Lions took Charles Rogers one spot ahead of Andre Johnson. At least Joe Dumars eventually got a first-round pick from the Magic for Milicic.
Darko Milicic (the Big Apple)
Why haven't things worked out in the NBA for me? When I get time, I generally play pretty well, right? That being the case, why don't I get more time!?
John Hollinger
Are we sure this isn't Chad posting under an alias? Sorry, Darko hasn't played well even when he's had the time. He looked terrible in the limited burn I saw him get with New York. He's been given about a hundred more chances than most other players and he's failed in all of them. Maybe KK Zadar or Buducnost Podgorica can get a better year out him next season and he'll become a useful backup in the Adriatic League. Full transcript
Blake (Los Angeles)
"As for Turkoglu ... he's really turned the Raptors around, hasn't he." Do I detect some sarcasm here from you, Mr. Ford?
Chad Ford
You know that the apocalypse is upon us when Bill Simmons of all people is arguing for teams to overpay a 30 year old soft European ... and Chad Ford, of all people, doesn't agree. Full transcript
Lakers fans are understandably excited about the new season, and the defending champs are a popular choice to repeat among bloggers in the ESPN.com community.
"I've never been more excited for the opening of any season, any sport," blogs kurtnaphansen. "The combination of being on the heels of the Lakers winning the NBA championship, of all the trash talk from Cavs, Celtics, Magic, Spurs and even Blazers fans, and of a very new interesting development with the addition of Sheed to Boston, Shaq to Cleveland and Artest to LA."
Below are fan blogs and predictions about the season, which tipped off this week. Click through to respond. If you don't already have an ESPN profile, create one now and start blogging.
More fan blogs
Bulls preview
|
Cavaliers preview
|
Celtics-Cavaliers
|
Cuban best owner in sports
|
Eastern Conference predictions
|
Jordan among untouchables
|
Jordan memories
|
Letter to LeBron
|
Magic preview
|
NBA questions
|
No worries in Lakerland
|
Remember the Bulls?
|
Teams to watch
|
Traveling rule
|
Western Conference predictions
|
Wizards' issues
Fan pictures
Doug Collins doesn't want it. Avery Johnson might, and Bill Laimbeer may or may not even be a candidate. But is Jim Calhoun the name Pistons fans really ought to be talking about for their coaching vacancy? There may not be a pizza joint on every corner or a motorcycle at every stoplight, but Auburn Hills, Mich. is starting to look like Storrs, Conn.
Just days into the search to replace Michael Curry, the Pistons have reportedly agreed in principle on free-agent deals for Ben Gordon (five years, $55 million) and Charlie Villanueva (five years, $40 million). Jake Voskuhl's whereabouts remain unclear.
Gordon is an undersized offensive juggernaut, which sounds suspiciously like Allen Iverson. But if managing Iverson and Richard Hamilton proved part of Curry's undoing, voters are convinced Gordon and Hamilton can coexist on the roster.
That said, if signing Gordon means eventually moving Hamilton, it appears the Pistons made the popular choice in getting the guy who nearly carried the Bulls past the Celtics.
"

Stop justifying poor moves with the mantra "Dumars has something up his sleeve." I heard that all last year after the Iverson trade and nothing materialized. Joe D brought us a championship, but he's made absolutely no good moves since 2004. Particularly regarding coaches.

"

-- drackoe28
"

Trading Rip makes the most sense but maybe Joe D wants a solid 3 guard line up. They cannot trade Prince...he's staying there's no doubt in my mind but from what Broussard says they are willing to listen to offers on anyone. Trading prince makes no sense and opens up a huge hole where one didn't really exist

"

-- MexDomer
Last week, Chad Ford had to interrupt his SportsNation chat to break the news of the Spurs acquiring Richard Jefferson from the Bucks. This week he was in chat when he got word the Pistons had fired Michael Curry.
Clearly, we need to book Ford every day to get through the doldrums of July.
Aaron (Richmond, VA)
Wow. About the Pistons firing Curry. Wow. Who do you think they should target as a coach and as free agents with their available cash?
Chad Ford
I think Curry had a tough time making the transition to player and confidant to head coach. I especially think he had a difficult relationship with Richard Hamilton after benching Hamilton in favor of Allen Iverson.I can tell you the Pistons are going to go with someone with more head coaching experience ... but I don't know who it will be.
Mike (Detroit)
For all the good work Dumars did in putting the Pistons team together, he sure has crumbled it (starting with the infamous Darko pick). Where do they go from here? Overhaul entire team?
Chad Ford
I'm not sure crumbled is the right word. Teams don't last forever and they had a fantastic run ... longer than most teams have had. But they are clearly rebuilding now ... and apparently the Pistons felt like Curry wasn't a great fit. Full transcript.