SportsNation Blog Archives

Indiana Pacers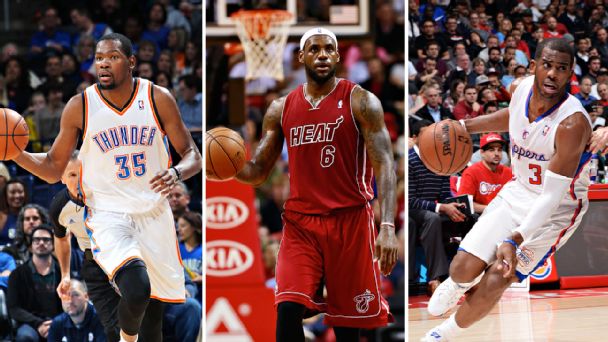 Getty Images
Predictions for NBA second round?
The second round is well underway. Which team will win each series? What will happen in the later rounds? Cast your votes below!
Game 7 drama for NBA playoffs
The first round of the 2014 NBA playoffs have been unpredictable and exciting. So it's fitting that five of the eight opening series will come down to the ultimate sports drama this weekend: a win-or-go-home Game 7. On Saturday, the Pacers, Thunder and Clippers all advanced to the conference semifinals. Still ahead on Sunday: the Spurs will both be looking to stave off an unexpected early exit at the hands of the Mavericks, whle fhe Nets and Raptors play for the right to face the Heat in the next round.
Scott Cunningham/NBAE/Getty Images
Will Pacers survive the Hawks?
The Indiana Pacers aren't done yet. Despite trailing late in the fourth quarter of Game 6, Frank Vogel's beleaguered team fought back to beat the Atlanta Hawks 95-88 and force a Game 7 in Indianapolis. Will the East's No. 1 seed finally fight off the pesky Hawks? Or can Atlanta win for a third time in the Hoosier State?
NBA mulls expanding replay

The Pacers wouldn't necessarily have won on Thursday night if Jeff Teague's 3-pointer had been disallowed due to his stepping out of bounds, but it certainly couldn't have hurt. Referees were unable to overturn their original call, however, as the play's not on the list of what can be overturned under review. NBA commissioner Adam Silver said that call, and one in which a foul on Chris Paul was missed, might end up being reviewable if and when the NBA expands its replay rules.

Frank Vogel on hot seat?

Indiana Pacers GM Kevin Pritchard tweeted about coach Frank Vogel Thursday -- saying his job is safe -- but that was before the East's No. 1 seed lost Game 3 quite limply to the Atlanta Hawks. The Pacers now trail the series 2-1, which itself is a precipitous fall from their midseason standing as title near-favorites. Is Vogel in trouble? Will the Pacers come back?