SportsNation Blog Archives

Indiana Pacers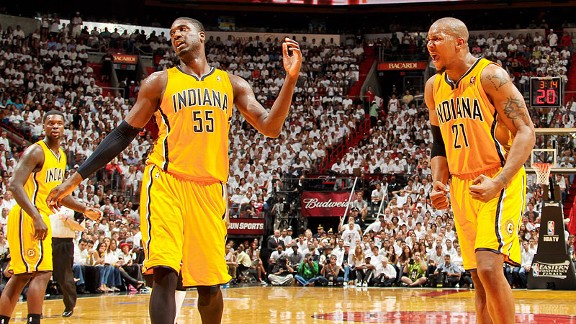 Issac Baldizon/NBAE/Getty Images
What's in store for the Pacers?
Taking the Miami Heat to seven games is nothing to be ashamed of, but there's a sense with the Pacers that they could have done more, especially considering their disastrous Game 7. That being said, the team is in good shape for next season, especially if they manage to retain David West and get back a healthy Danny Granger. Frank Vogel's squad showed it could hang with the NBA's elite teams -- this offseason, it'll have to prove that it can beat them.
Will the Heat's Big Three step up?

The Miami Heat's most potent weapons struggled in Game 4 of the Eastern Conference finals. LeBron James put up an unusually quiet 24 points, but Dwyane Wade and Chris Bosh were even less effective -- they combined for 23 points on 6-of-16 shooting, with only five rebounds and seven assists between them. Even with James playing at the top of his game, it's tough to win when the next best players on your team aren't pulling their weight. It'll be interesting to see which of the Heat's core players are able to refocus when Game 5 tips off.

Roy Hibbert's week has been ... well, not bad, exactly. Not great either. Strange? Eventful? He's already in the news for not being put in the game to guard LeBron James in the final seconds of Game 1, a decision which SportNation found to be pretty questionable. On Thursday night, Hibber took to his Twitter account to call out the Heat's Shane Battier for his alleged dirty play earlier in the game:

U can knee or kick me every time u drive 2the rim. Ill be there 2protect the rim. That wasn't inadvertent. Battier knew what he was doing

— Roy Hibbert (@Hoya2aPacer) May 23, 2013

Battier himself has not responded, although his own Twitter account has been dark since early April. Maybe if Hibbert had used "@ShaneBattier" in his message, we'd have a real Twitter fight on our hands; for now, it's disappointingly one-sided.

The Dynamic Uno: "shane battier is not a dirty player, but he had an uncharacteristic game."
OhioFan82: "If you watched the game, you saw MULTIPLE replays where Battier was engaged in dirty play. MULTIPLE! Don't oust Hibbert for saying what everyone saw."
SmallFry9211: "Elevating your knee on a lay up is proper form, ask any coach in the country. Don't know if he's dirty or not but that in and of itself is not a dirty play."
vpolite: "Usually stuff like that is self-regulating, but with all the cameras, you have to hope the refs do their job. Hibbert needs to concentrate on giving his team the best chance to win by doing his job while he's on the floor. Any time he's spending on Twitter is time wasted."
as-tw: "So what if Battier plays dirty? All it proves to me is the dude wants to win, if the Pacers wanted to win as badly they'd have put Battier on his back to protect their teammates. "
iOdime: "He should have gotten a flagrant for the knee. Everyone knows had that been a Pacer kneeing Lebron like that, it would easily be a flagrant."

What do you think? Leave your comments below.

LeBron James hits Game 1 winner

LeBron James did it again -- this time, putting up a triple-double before hitting a game-winning layup in overtime of Game 1. Strangely enough, Pacers coach Frank Vogel kept Roy Hibbert, his best defender, on the bench in the final seconds, leaving only an overmatched Paul George to guard LeBron. Would the outcome of this game have been different if Hibbert was left in?

LeBron James drove to the basket and made a layup at the buzzer to give the Heat a 103-102 win over the Pacers in Game 1 of the Eastern Conference finals. NBA players immediately took to Twitter to react to James' basket and the Pacers' decision to keep rim-protector Roy Hibbert on the bench for the final play.

Right when Bron saw them take Hibbert out everybody in the arena knew he was going straight to the rim.

— Kendall Marshall (@KButter5) May 23, 2013

Wow.Lebron

— Mike Conley (@mconley11) May 23, 2013

How did he get a wide open layup? Lol. Great play call or TURRIBLE defense? Both? Lol

— Anthony Tolliver (@ATolliver44) May 23, 2013

Remember when bron wasn't clutch? Can't say that anymore #NBAplayoffs

— Patrick Ewing Jr (@pewingjr6) May 23, 2013

Lebron, triple double with 30pts!What a game!!

— Kris Humphries (@KrisHumphries) May 23, 2013

Got to have big fella in there with 2.2 seconds left. "Shot blocking"! got to love the NBA playoffs because its filled with excitement!

— Jermaine O'Neal (@jermaineoneal) May 23, 2013

Paul george and sam young let him go in for a layup like its the 1st quarter #foulhim

— chuck hayes (@c_hayes44) May 23, 2013

And that's why he is the best in the game.

— Austin Rivers (@AustinRivers25) May 23, 2013

Join the conversation and follow us on Twitter @ESPN.