SportsNation Blog Archives

Denver Nuggets
Andre Iguodala got a standing ovation during a video tribute played Wednesday night in his return to Philadelphia. And with that courtesy out of the way, Philly fans went back to booing Iguodala every time he touched the ball. The former 76er, traded to Denver during the offseason, joins the large club of Philly boo-bird targets, including Mike Schmidt, Kobe Bryant and Santa Claus. Did Iguodala, who led the Sixers' surprising playoff run last season, deserve the serenade? Or was it just a case of Sixers fans trying to get under the skin of the opposition's best player? Comment and vote!
RRM40: "The fans cheered him at the beginning but booed him during the game. Guess what, they got into his head and made him play horribly, which helped the sixers win. Would you rather have "nice" fans that wont help their own team?"
Psyluk: "Embarrassing performance by Philly fans yesterday, even for them. I can't wait to see them turn on Bynum, which you know they will."
Kobe 62 Mavs 61: "Those who did boo him are idiots. The dude has been nothing but classy for years."
Sennis89: "So if you know you could get into a guys head and hurt his feelings during a game to give your team a better chance at winning people wouldnt do that? Nah, lets give Iguodala his moment and let the Nuggs win and potentially miss out in a playoff race by one game... Anybody whos watched the Sixers over the last decade knows that Iggy would get flustered if the boos came raining down on him. He wants too much to be accepted and liked. Nobody in the stadium had legitimately ill feelings towards him, just a tactic to help the team win. get over it."
ACT1v1: "Are you a fan of him or a fan of your team? I'd boo Iverson, Barkley, Iguodala etc.. When they no longer play for the Sixers. If you were at the game last night you would have known that during an early timeout during the 1st QT, there was a video montage dedicated to Andre. It was showing the game winning Free Throws he made against Chicago. From last seasons playoffs that sent us to the divisional Finals. The entire stadium gave Andre a standing ovation. As soon as that was over and as soon as he touched the ball we booed. I see absolutely nothing wrong with that."


Join the conversation or respond by signing in or creating a profile and blogging.
Kobe Bryant's attempt to pull a Michael Jordan came up short Thursday night, as the Nuggets blew out the suddenly struggling Lakers in Game 6. Bryant put up an admirable effort, with 31 points on 13-of-23 shooting, but his teammates were largely absent, which Bryant pointed out in his postgame comments. Given what's at stake in Game 7, he might have been better served by getting some rest. One thing's for sure: Lakers fans can't be happy with the latest developments.
---
Panic mode?
The Nuggets are no pushovers, but it's fair to say that fans didn't see this lasting seven games after the Lakers took a 3-1 series lead.

---
Should Kobe have played?
Kobe Bryant can always be counted on to step up in big games, but his effort while running on fumes could be a detriment in Game 7.

---
Metta's impact?
Metta World Peace will return to the Lakers' lineup after serving a seven-game suspension for elbowing James Harden. How much of a help will he be?

---
Which team wins?
The Nuggets seem to have momentum on their side going into Saturday's Game 7, but the Lakers will have home-court advantage as the series returns to L.A

The NBA playoffs so far have been characterized by significant injuries to big-time players. Dwight Howard was out before the postseason began, Derrick Rose went down in the waning minutes of Game 1, and several other players (Baron Davis, Amare Stoudemire, etc.) have fallen victim to on- and off-court maladies. Consequently, we're seeing a lot of series that definitely will not go the distance -- there are six 3-1 series in play right now, along with two that have already been decided. The Nuggets in particular have had fits dealing with the new-look Kobe Bryant -- he's been more of a distributor late in games than he has in the past, where the game plan was simply "give it to Kobe."
---
Kobe's role?
Kobe Bryant's role in the fourth quarter is usually that of a force of nature, but these playoffs have seen him rely more on his teammates.

---
Thunder or Spurs?
The Spurs and Thunder have already taken care of their two opponents, but it's still a long way to go before either team makes it to the finals.

---
Comeback chance?
The Bulls and Magic find themselves in the same 3-1 hole as the Nuggets and Hawks, although Denver and Atlanta didn't lose their franchise players early on.

We can understand if you don't want to take the time to grade your tech-support help on the other end of the telephone, but when we're talking about the dollars and emotion you've invested in sports, we think it's worth the effort. It's time for ESPN The Magazine's Ultimate Standings, in which SportsNation grades organizations on everything from ticket prices and stadium experience to the talent on the field, court or rink. Which team will end up on top this year? It depends on what you say.
Take part in the 2011 MLB survey
2010 MLB Ultimate Standings
1. Los Angeles Angels (Overall: No. 3)
2. Tampa Bay Rays (Overall: No. 6)
3. Colorado Rockies (Overall: No. 13)
4. Minnesota Twins (Overall: No. 14)
5. Atlanta Braves (Overall: No. 15)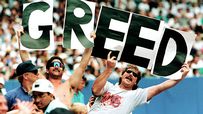 Take part in the 2011 NFL survey
2010 NFL Ultimate Standings
1. New Orleans Saints (Overall: No. 1)
2. Indianapolis Colts (Overall: No. 4)
3. Green Bay Packers (Overall: No. 9)
4. Arizona Cardinals (Overall: No. 19)
5. Baltimore Ravens (Overall: No. 20)
Take part in the 2011 NBA survey
2010 NBA Ultimate Standings
1. Orlando Magic (Overall: No. 2)
2. San Antonio Spurs (Overall: No. 7)
3. Cleveland Cavaliers (Overall: No. 10)
4. Dallas Mavericks (Overall: No. 24)
5. Oklahoma City Thunder (Overall: No. 25)
Take part in the 2011 NHL survey
2010 NHL Ultimate Standings
1. Pittsburgh Penguins (Overall: No. 5)
2. Detroit Red Wings (Overall: No. 8)
3. Washington Capitals (Overall: No. 11)
4. San Jose Sharks (Overall: No. 12)
5. Chicago Blackhawks (Overall: No. 16)
Do you realize how hard it was for us to resist the temptation to make a "Nyets" joke here? We were all primed and ready to go, in the event that this Carmelo Anthony trade fell through. It was going to be perfect, really. But hey, Chris Sheridan got to it first, so we'll cede this round of cleverness to him.
Anyway, for the time being, Carmelo to the Nets is a no-go. The Nuggets seem to have an awful lot of trouble trading him, although it seems to have less to do with Carmelo himself than the package they'd like to get for him. The Knicks would be a good fit, but they don't seem to have the pieces in place. Will any team pony up enough to take Carmelo off the Nuggets' hands?
Emanuel (MI)
When can we expect the end to this Carmelo-Drama?
Chad Ford
I'm thinking around 2015. Really it's tough to say and even the teams involved don't seem to have a great handle on it. One source told me yesterday that it's looking more and more likely that this thing drags out all the way to the deadline ... but trade talks are fluid. There has been a couple of times when the Nets thought it was close to happening. But as it stood late yesterday ... we may be hearing about this for a few more weeks.Full transcript
Matt (Indy)
One thing I don't get in all this Melo trade talk is why the whole issue of signing an extension right now is so important...? I know it's not set in stone yet, but I thought the new CBA was going to reduce/adjust the current contracts to fit the new parameters of whatever agreement they come to...Am I wrong or is everybody just overlooking this in an effort to conjure up more twists and turns to this plot?
Chad Ford
It's true owners are looking at that ... but even most league execs think it's farfetched that owners will get a rollback in salaries and years on existing contracts. However, we are very likely to see max thresholds and the number of years a player can sign a contract for reduced. It's hard to fathom any way Carmelo gets a better deal next summer than he's getting right now. But I think there's a bigger worry in Carmelo's camp. Two league execs told me on Tuesday that they believe the owners are going to push hard for an NFL-style franchise tag system that allows teams to prohibit one player on their team from moving ... basically in an effort to avoid all of these high-profile players from colluding together. If that happens, Denver can just slap a franchise tag on Carmelo and keep him. With so much uncertainty going on right now ... you can understand the desire to get a deal done. Full transcript