SportsNation Blog Archives

Golden State Warriors
Hitting a 3-pointer is among one of the more difficult tasks in sports, but the Rockets didn't seem to have any trouble doing so in their 140-109 win over the Warriors on Tuesday. They tied the NBA record for a game with 23 and probably would have broken it had the Warriors not intentionally fouled their shooters several times near the end of the game. Were the Warriors playing fairly?
Vega_2012: "Don't want 3s made on you? Play some defense then"
airsuzuki: "When you rookie guard dunks the ball, celebrates, and taunts the opposing bench when up by 30 with a minute left in the game, it becomes personal."
bobbydagreat: "Committing flagrant fouls because your team doesn't know how to play defense is pretty terrible sportsmanship."
boomsoon155: "I lost a ton of respect for Mark Jackson. That is absolutely embarrassing to do that at the end of the game."
JariusHawkinss: "I can see camping out on the 3-point line, but the fouling was unnecessary. It was like saying 'We have no chance at all to stop you.' They should have been embarrassed."
The Seventh Seal: "It is classless to run up the score not to get scored on."
Join the conversation or respond by signing in or creating a profile and blogging.
Flip Saunders joined SportsCenter this morning to discuss whether some teams in the middle of the Eastern and Western Conference playoff standings were contenders or pretenders. Now it's your turn to weigh in. Where do you think the Bulls, Nets, Pacers, Grizzlies and Warriors stand in relation to the elite teams at the top of the standings? Are any of them a real threat to go deep in the playoffs or even win the title?
---
Running of the Bulls?
All-Stars Joakim Noah and Luol Deng have kept the Bulls afloat until they get Derrick Rose back.

---
Where Brooklyn at?
Since the Nets replaced Avery Johnson, P.J. Carlesimo has had the team rolling, going 11-3 in January.

---
Right on pace?
The Pacers have been without Danny Granger all year, but Paul George has stepped up.

---
Walking out of Memphis?
The Grizzlies are all smiles now, but will they still be winners if they trade Rudy Gay?

---
Golden State of mind?
Andrew Bogut's return could be just the thing to take the Warriors to the next level.

The Lakers' season-long struggles have made headlines. But look beyond the plot twists and turns of the "Showtime" soap opera and you'll see the West has produced some surprising success stories. The Clippers were expected to be improved, but 12 straight wins and the division lead have fans giddy in Lob City. Meanwhile, the Grizzlies are showing that perhaps last season's playoff success was no fluke. The Warriors have been boosted by the emergence of young stars. And the Timberwolves have stayed in the race despite early injuries. Which team will be left standing when the dust settles?
---
Making history
The Clippers have won 12 straight games, breaking a franchise record set in Bob McAdoo's glory days with the Buffalo Braves. Is this team finally a contender after years of misfortune?

---
Z-Bo Knows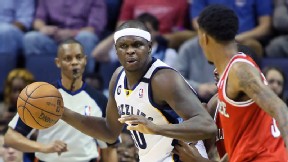 The Grizzlies are leading the league in defense (89.5 ppg allowed) and Zach Randolph is a double-double machine. Is this the team no one wants to face in the playoffs?

---
Rebirth by The Bay
Stephen Curry, David Lee and a slew of young stars have the Warriors out to their strongest start in years. Will Golden State stay in the race?

---
Call of the Wild
Now that the Wolves have both Ricky Rubio and Kevin Love in the lineup, does Minnesota have legit hopes of ending its long playoff drought?

You have to go back to 1991-92 to find a Warriors team that came out to play like this year's squad at the start of an NBA season. Golden State's two-point win at Miami was its fifth straight victory -- and all have come on the road. Klay Thompson has emerged as a scorer, Stephen Curry is healthy and David Lee has five consecutive 20-point, 10-rebound games. But the Warriors' biggest advantage might be their ability to make key plays late, as ESPN Stats & Information explains. Is Golden State riding a hot streak that's bound to level out, or is this a team to be reckoned with in the West?
mrink1074a: "I'm a Bulls fan, but the Warriors are a fun team to watch. It's like watching an updated version of Run TMC."
lutch57: "A lot of talent on the Warriors. They move the ball and play team Defense like the Spurs. And if Bogut ever gets healthy they'll have a top 5 center as well."
neighbordave22: "miami DID play their A game last night and still lost on their home court, because the warriors are THAT good."
Sasa Jelisavac: "Way to go Warriors.... Lee really showing what a quality player he is, and my only question here will be: Are Lakers watching this?"
BayAreaSportsFan16: "This was a huge win for the warriors. As impressive as starting a road trip 4-0 was I think there were still some doubters since it was against 3 bad teams (detroit, washington, charlotte) and 1 winning team that's starting to slide (New Jersey). But now that they've beaten the World Champs in their own house I think we can say the Warriors are now a legitimate quality team."


Join the conversation or respond by signing in or creating a profile and blogging.
According to sources, quarterback Alex Smith has agreed to a three-year deal with the 49ers. Will Smith have a repeat performance of his 2011 campaign this season?
R0bDC: "I dont care what anyone says, Im happy Smith is back!!! YEa Go Niners!!!"
cgun1: "This was never in doubt. Hats off to Baalke (again) for a great job. A13-3 team is coming back with 2 new receivers, and loads of cap room to get O-line help. Bring it on."
sac33486: "We all saw what Alex Smith did with Vernon Davis in the playoffs. Now he has two more deep threats. Get your popcorn ready!"
mrm87: "Alex returns to San Fran knowing that he was the alternate option. That's got to be a confidence killer."
steve_437: "With or without Smith the 49ers will come crashing back to reality next season. They played above their talent level and luck only lasts so long in this league. They are an 8-8 team at best."
QB Sack Lunch: "Like any of this mattered. 49ers Defense is what made them good last year. Alex Smith was just along for the ride."



Join the conversation or respond by signing in or creating a profile and start blogging.