SportsNation Blog Archives

Phoenix Suns
It's just like the census, only this one is fun and doesn't come in the mail. And nobody from FOX News or MSNBC will yell at you about it. It's time for ESPN The Magazine's Ultimate Standings, in which SportsNation grades organizations on everything from ticket prices and stadium experience to the talent on the field, court or rink. Which team will end up on top this year? It depends on what you say.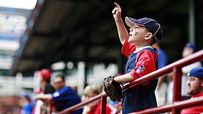 Take part in the 2010 MLB survey
2009 MLB Ultimate Standings
1. Los Angeles Angels (Overall: No. 1)
2. Milwaukee Brewers (Overall: No. 7)
3. Tampa Bay Rays (Overall: No. 16)
4. Minnesota Twins (Overall: No. 23)
5. Philadelphia Phillies (Overall: No. 24)
Take part in the 2010 NFL survey
2009 NFL Ultimate Standings
1. Pittsburgh Steelers (Overall: No. 3)
2. Green Bay Packers (Overall: No. 13)
3. Indianapolis Colts (Overall: No. 14)
4. Tennessee Titans (Overall: No. 15)
5. New England Patriots (Overall: No. 19)
Take part in the 2010 NBA survey
2009 NBA Ultimate Standings
1. Cleveland Cavaliers (Overall: No. 5)
2. San Antonio Spurs (Overall: No. 9)
3. New Orleans Hornets (Overall: No. 12)
4. Houston Rockets (Overall: No. 17)
5. Orlando Magic (Overall: No. 18)
Take part in the 2010 NHL survey
2009 NHL Ultimate Standings
1. Carolina Hurricanes (Overall: No. 2)
2. Detroit Red Wings (Overall: No. 4)
3. Washington Capitals (Overall: No. 6)
4. Pittsburgh Penguins (Overall: No. 8)
5. St. Louis Blues (Overall: No. 10)
Tuesday was a busy day and night in the NBA. The Trail Blazers landed Marcus Camby in the afternoon and then got Brandon Roy back (briefly) for the evening's win against the Camby-less Clippers. The Thunder proved still having Kevin Durant may beat having Caron Butler and Brendan Haywood for the first time. And the Lakers won again without Kobe Bryant. All good stuff. But the focus in the NBA remains squarely on Thursday's trade deadline. The Daily Dime took the pulse of J.A. Adande, Tim Legler and Jalen Rose on five key questions, and now we're posing the same questions to you.
mucha (cp)
Do you believe Hinrich is a Bull after the 18th?
Chris Broussard

That's a great question. A lot of people around the league would be shocked if the Bulls don't do something. Hinrich is the guy that has the most trade value among the players they'd be willing to give up. I wouldn't be stunned if he is not, because I understand how difficult it is to make moves in the league. I think he's traded. The Lakers have interest, the Celtics have some. Any team that doesn't have a great PG is looking at him to try and step in. Full transcript
Greg (Syracuse)
What options do the Celtics have right now? Do you think Ray Allen is moved by the trade deadline?
Chad Ford

Danny Ainge continues to maintain that a trade is unlikely. He's willing to move Ray Allen to get a young player back, but the guys he's pursuing -- Monta Ellis, Kevin Martin, Andre Iguodala, etc -- aren't available for just an expiring deal (at least not yet). And I don't think the Celtics want to take on a horrific contract like Corey Maggette or Richard Hamilton. That's the problem. I know some GMs around the league think Boston is desperate. But after making some calls yesterday, I think they are content with just doing something small. Full transcript
Michael (Chicago)
There's many opinions on what exactly T-MAC has left in the tank. Do you think he can still play or is he just an expiring contract?
Chris Sheridan

What's important in the McGrady situation is that there are some members of the Knicks organization who think McGrady can still play, others who want to go to Tim Grover's gym and take a closer look. As of last week, the Rockets hadn't granted anyone permission to inspect T-Mac in Chicago. Full transcript
SportsNation wants to see Amare Stoudemire play with both LeBron James and Dwyane Wade when it comes to Team USA's entry in this year's FIBA World Championship and the 2012 Olympics. But the more pressing question is whether or not he'll be playing with either of them by Friday.
Forget the points, rebounds, blocked shots and monster dunks. As Stephen Colbert might put it, we know Stoudemire is back to superstar status after microfracture knee surgery because the market tells us he is. Stoudemire is the biggest prize widely rumored to be on the move before Thursday's trade deadline, and both the Cavaliers and Heat are reportedly among the teams in pursuit.
Temporarily shifting our superhero focus from the Superman imbroglio, would Stoudemire be a better sidekick for LeBron or D-Wade?
Aron (Jacksonville, FL)
Please enlighten me as to why the Suns would want to trade Amare for J.J. Hickson and cap relief. Hickson's production is nothing special, and Lebron makes him look better than he really is (which is true of everybody on the Cavs). Are the Suns this desperate? Surely not ...
Chad Ford

I've been wondering the same thing. Especially since we know Miami is in the mix. The best the Cavs can offer right now is Hickson plus their first round pick (which should be about No. 29 or No. 30). The Heat can offer the same cap relief as the Cavs plus they have Michael Beasley and they have two mid first round picks. How is that not a better deal for Phoenix? Even if they don't want Beasley, two first round picks from Miami is a better deal than Hickson. That's why I'm skeptical Cleveland makes this happen unless Steve Kerr is more interested in just helping out a friend or he's still bitter about the whole Shaq deal two February's ago. Full transcript
Greg (Syracuse)
Can Amare and Shaq co-exist? Is Bron good enough to do that when Nash couldn't?
Chris Sheridan

Amare would step into Hickson's starting role and slide over to center when Varejao comes off the bench, so in effect he'd be replacing both Hickson and Ilgauskas. That's why the trade makes so much sense for Cleveland and why the Cavs are trying to make it happen. There's a lot of talk around the league that if the Cavs stand pat, it'll impact LeBron's decision on whether he'll stay or go. So the Cavs have reason to be proactive this week. Full transcript
The Eastern Conference will be at a disadvantage against the Western Conference in the All-Star Game as long as Allen Iverson and Kevin Garnett are starting and there aren't any DeLoreans involved. But did the East's best team just throw the West up for grabs?
Almost exactly a month ago, the talk was about the Lakers challenging Michael Jordan's Bulls record for most wins in a season. All right, actually we were talking about that; you were a little more realistic in saying the Lakers would win between 66-69 games. Then again, a month ago, Conan O'Brien still had a show. And after dropping a 93-87 decision against a Cavaliers team that didn't have Mo Williams, the Lakers would need to close 34-6 just to reach 66 wins.
So here we are. The Lakers still lead all challengers in the West by four games. But between Kobe's finger, Pau Gasol and Ron Artest's intermittent frailty and the sweep by the Cavaliers, are the Lakers vulnerable? Here's how SportsNation sized up their challengers.
mike (ca)
Loved you on the sports guys podcast, got to do it again, any moves by the lakers??
Chad Ford

I think there is one big move for the Lakers ... Bynum for Bosh. If they don't make that happen then I don't think they make a deal. Full transcript
Stephen (Glendora, CA)
what about the bosh for bynum (and others) trade - might not have any stock, but you guys think it would be worth doin for us in LA? Bosh can be pretty beastly.
ESPN Los Angeles' Andy Kamenetzky

Stephen,Were that deal was a true possibility (and I don't think it really is, for what that's worth), the Lakers would obviously have to consider it, because Bosh is too good a player not to. The key is how confident they are in Drew and Pau meshing. It's easy to forget the two haven't played together a lot because of injuries, and getting two seven-footers like that on the same page takes time. If they think it won't happen, you make the deal. If they think it will, you stand pat with what's still a frontcourt most teams would kill for. Full transcript
joe (toronto)
John...I keep hearing these Bosh for Bynum trade proposals, but wouldn't the Lakers want to make sure they can re-sign Bosh to a long term deal before giving up a promising young center?
John Hollinger

Yes, they would want to be sure, but I've heard that wouldn't be an impediment -- Bosh, like most players, would happily re-up with L.A. Full transcript
Lakers fans are understandably excited about the new season, and the defending champs are a popular choice to repeat among bloggers in the ESPN.com community.
"I've never been more excited for the opening of any season, any sport," blogs kurtnaphansen. "The combination of being on the heels of the Lakers winning the NBA championship, of all the trash talk from Cavs, Celtics, Magic, Spurs and even Blazers fans, and of a very new interesting development with the addition of Sheed to Boston, Shaq to Cleveland and Artest to LA."
Below are fan blogs and predictions about the season, which tipped off this week. Click through to respond. If you don't already have an ESPN profile, create one now and start blogging.
More fan blogs
Bulls preview
|
Cavaliers preview
|
Celtics-Cavaliers
|
Cuban best owner in sports
|
Eastern Conference predictions
|
Jordan among untouchables
|
Jordan memories
|
Letter to LeBron
|
Magic preview
|
NBA questions
|
No worries in Lakerland
|
Remember the Bulls?
|
Teams to watch
|
Traveling rule
|
Western Conference predictions
|
Wizards' issues
Fan pictures