SportsNation Blog Archives

Phoenix Suns
How do you know the Suns and Spurs have a real honest-to-goodness rivalry? It has its own Wikipedia page. Or you could just watch the games, but come on, we all know which of those is the real judge.
The Suns made a statement Wednesday by donning their "Los Suns" jerseys in what owner Robert Tarver made clear was a protest against the new Arizona immigration law. Then they made a statement of the basketball variety by seizing a 2-0 lead in the latest series against the Spurs. It's the fourth playoff meeting between the teams since Steve Nash arrived in Phoenix, but it's the first time the Suns have enjoyed a 2-0 lead.
The 2006-07 team won 61 games with Nash, Amare Stoudemire, Shawn Marion, Raja Bell and Boris Diaw running Mike D'Antoni's system to perfection. But with a new cast of characters around older versions of Nash and Stoudemire, are these Suns better?
Dan (AZ)
Are we watching the best Steve Nash Suns team? Watching them recover from the two second half runs from the Spurs makes me think that this version is a better basketball team than the previous incarnations.
John Hollinger
Still would like to see what the first team would have done if Johnson had been healthy, and I still think the '07 team with the nose-bleed/suspensions was the best of them all ... but the West isn't quite as strong at the top as it used to be, so this could be the one that breaks through as a conference champion. Full transcript
Sometimes you're the dog, and sometimes you're the hydrant. Or in the language of the NBA playoffs, sometimes you're Michael Jordan against anyone. And sometimes you're Charles Smith against the Bulls.
The postseason has arrived, and for the first time in his career, Kevin Durant gets a shot (or more likely, 20-plus shots per game) to forge his own primetime reputation on the big stage. You know it's the big stage because Phil Jackson is already taking subtle swipes at Durant and either getting in his head or poking the bear, depending on your perspective.
In all honesty, the No. 1 seed's first-round series is usually only slightly more interesting than Duke playing Arkansas-Pine Bluff in the first round of the NCAA tournament, but thanks to Durant's expected duel with Kobe Bryant, it appears all eyes this year will be on the Lakers and Thunder.
Not that every SportsNation blogger expects the series to be all that close.
"Okay, lets be realistic here. Everybody thank the Thunder for showing up, but Kobe will not allow the Lakers to get booted out of the first round. The only way Oklahoma City will sneak by and pull 1 game off is if Kevin Durant puts up 50. Even though the Lakers have been slumping as of late, they are a whole different beast when it comes to the playoffs." -- Read wwechamp69's full post.
Mikeyho (Taiwan)
Hey Chris. Just heard several analyst label the Cavs as "much better" than the Magic. This year's additions put them over the top. I feel like I'm watching last years comments. I'm not saying the Magic should even win. Just want to know if you think it'll be really competitive (around 50/50), or slightly competitve (Cavs's clear favorites)?
Chris Sheridan

Right now I would pick the Cavs in 7 in that series, but I would not label them heavy favorites. Both teams are so much different than they were a year ago (Jamison, Shaq, Vince, Barnes) that it makes comparisons between last year's series and this year's somewhat irrelevant. What's relevant is whether Shaq will be able to contain Dwight and whether the Magic will still find the individual matchup they can exploit. And Stan Van Gundy is good at that. Full transcript
It's just like the census, only this one is fun and doesn't come in the mail. And nobody from FOX News or MSNBC will yell at you about it. It's time for ESPN The Magazine's Ultimate Standings, in which SportsNation grades organizations on everything from ticket prices and stadium experience to the talent on the field, court or rink. Which team will end up on top this year? It depends on what you say.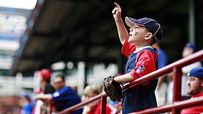 Take part in the 2010 MLB survey
2009 MLB Ultimate Standings
1. Los Angeles Angels (Overall: No. 1)
2. Milwaukee Brewers (Overall: No. 7)
3. Tampa Bay Rays (Overall: No. 16)
4. Minnesota Twins (Overall: No. 23)
5. Philadelphia Phillies (Overall: No. 24)
Take part in the 2010 NFL survey
2009 NFL Ultimate Standings
1. Pittsburgh Steelers (Overall: No. 3)
2. Green Bay Packers (Overall: No. 13)
3. Indianapolis Colts (Overall: No. 14)
4. Tennessee Titans (Overall: No. 15)
5. New England Patriots (Overall: No. 19)
Take part in the 2010 NBA survey
2009 NBA Ultimate Standings
1. Cleveland Cavaliers (Overall: No. 5)
2. San Antonio Spurs (Overall: No. 9)
3. New Orleans Hornets (Overall: No. 12)
4. Houston Rockets (Overall: No. 17)
5. Orlando Magic (Overall: No. 18)
Take part in the 2010 NHL survey
2009 NHL Ultimate Standings
1. Carolina Hurricanes (Overall: No. 2)
2. Detroit Red Wings (Overall: No. 4)
3. Washington Capitals (Overall: No. 6)
4. Pittsburgh Penguins (Overall: No. 8)
5. St. Louis Blues (Overall: No. 10)
Tuesday was a busy day and night in the NBA. The Trail Blazers landed Marcus Camby in the afternoon and then got Brandon Roy back (briefly) for the evening's win against the Camby-less Clippers. The Thunder proved still having Kevin Durant may beat having Caron Butler and Brendan Haywood for the first time. And the Lakers won again without Kobe Bryant. All good stuff. But the focus in the NBA remains squarely on Thursday's trade deadline. The Daily Dime took the pulse of J.A. Adande, Tim Legler and Jalen Rose on five key questions, and now we're posing the same questions to you.
mucha (cp)
Do you believe Hinrich is a Bull after the 18th?
Chris Broussard

That's a great question. A lot of people around the league would be shocked if the Bulls don't do something. Hinrich is the guy that has the most trade value among the players they'd be willing to give up. I wouldn't be stunned if he is not, because I understand how difficult it is to make moves in the league. I think he's traded. The Lakers have interest, the Celtics have some. Any team that doesn't have a great PG is looking at him to try and step in. Full transcript
Greg (Syracuse)
What options do the Celtics have right now? Do you think Ray Allen is moved by the trade deadline?
Chad Ford

Danny Ainge continues to maintain that a trade is unlikely. He's willing to move Ray Allen to get a young player back, but the guys he's pursuing -- Monta Ellis, Kevin Martin, Andre Iguodala, etc -- aren't available for just an expiring deal (at least not yet). And I don't think the Celtics want to take on a horrific contract like Corey Maggette or Richard Hamilton. That's the problem. I know some GMs around the league think Boston is desperate. But after making some calls yesterday, I think they are content with just doing something small. Full transcript
Michael (Chicago)
There's many opinions on what exactly T-MAC has left in the tank. Do you think he can still play or is he just an expiring contract?
Chris Sheridan

What's important in the McGrady situation is that there are some members of the Knicks organization who think McGrady can still play, others who want to go to Tim Grover's gym and take a closer look. As of last week, the Rockets hadn't granted anyone permission to inspect T-Mac in Chicago. Full transcript
SportsNation wants to see Amare Stoudemire play with both LeBron James and Dwyane Wade when it comes to Team USA's entry in this year's FIBA World Championship and the 2012 Olympics. But the more pressing question is whether or not he'll be playing with either of them by Friday.
Forget the points, rebounds, blocked shots and monster dunks. As Stephen Colbert might put it, we know Stoudemire is back to superstar status after microfracture knee surgery because the market tells us he is. Stoudemire is the biggest prize widely rumored to be on the move before Thursday's trade deadline, and both the Cavaliers and Heat are reportedly among the teams in pursuit.
Temporarily shifting our superhero focus from the Superman imbroglio, would Stoudemire be a better sidekick for LeBron or D-Wade?
Aron (Jacksonville, FL)
Please enlighten me as to why the Suns would want to trade Amare for J.J. Hickson and cap relief. Hickson's production is nothing special, and Lebron makes him look better than he really is (which is true of everybody on the Cavs). Are the Suns this desperate? Surely not ...
Chad Ford

I've been wondering the same thing. Especially since we know Miami is in the mix. The best the Cavs can offer right now is Hickson plus their first round pick (which should be about No. 29 or No. 30). The Heat can offer the same cap relief as the Cavs plus they have Michael Beasley and they have two mid first round picks. How is that not a better deal for Phoenix? Even if they don't want Beasley, two first round picks from Miami is a better deal than Hickson. That's why I'm skeptical Cleveland makes this happen unless Steve Kerr is more interested in just helping out a friend or he's still bitter about the whole Shaq deal two February's ago. Full transcript
Greg (Syracuse)
Can Amare and Shaq co-exist? Is Bron good enough to do that when Nash couldn't?
Chris Sheridan

Amare would step into Hickson's starting role and slide over to center when Varejao comes off the bench, so in effect he'd be replacing both Hickson and Ilgauskas. That's why the trade makes so much sense for Cleveland and why the Cavs are trying to make it happen. There's a lot of talk around the league that if the Cavs stand pat, it'll impact LeBron's decision on whether he'll stay or go. So the Cavs have reason to be proactive this week. Full transcript