SportsNation Blog Archives

Oklahoma City Thunder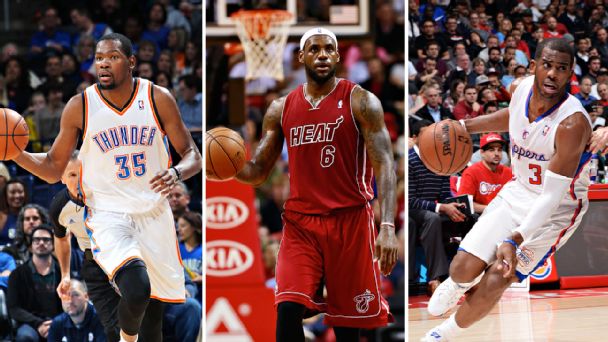 Getty Images
Predictions for NBA second round?
The second round is well underway. Which team will win each series? What will happen in the later rounds? Cast your votes below!
Game 7 drama for NBA playoffs
The first round of the 2014 NBA playoffs have been unpredictable and exciting. So it's fitting that five of the eight opening series will come down to the ultimate sports drama this weekend: a win-or-go-home Game 7. On Saturday, the Pacers, Thunder and Clippers all advanced to the conference semifinals. Still ahead on Sunday: the Spurs will both be looking to stave off an unexpected early exit at the hands of the Mavericks, whle fhe Nets and Raptors play for the right to face the Heat in the next round.
Joe Robbins/Getty Images
Durant, Thunder roll in Game 6
"Mr. Unreliable"? Kevin Durant sure didn't look like it on Thursday, as the Oklahoma City Thunder star poured in 36 points (on 23 shots) and added 10 rebounds in a 104-84 road win against the Memphis Grizzlies in Game 6 of their first-round series. On the brink of elimination, OKC now heads back home for Game 7. Will the West's No. 2 seed get it done? How much did the aforementioned controversial headline fuel Durant and the Thunder?
Getty Images

West's top seeds in early trouble

While the East's No. 1 team continues its late-season slide, things aren't looking rosy for the West's best, either. A night after the eighth-seeded Dallas Mavericks thumped the No. 1 San Antonio Spurs in Game 2, the second-seeded Oklahoma City Thunder lost to the Memphis Grizzlies to fall behind 2-1. Could either actually be upset?

Getty Images

Your NBA playoff predictions?

The NBA playoffs are underway, and they're even more competitive than expected. Which teams will go on to win their first-round series? Cast your votes below!

More: Rank the playoff teams!