SportsNation Blog Archives

Philadelphia Phillies
We're going to go into some numbers here: Roy Halladay's career ERA+ (a measure of ERA relative to the league, with 100 being the league average) is 134. That's really good! It's 25th all time among pitchers. Last year, however? 89. That's pretty bad. If his 3 1/3-inning, five-run performance in Wednesday's 9-2 loss to the Braves is any indication, Halladay might be in for another tough year. And to think -- he's only a few seasons removed from winning a Cy Young Award and throwing a perfect game.
Charlie DeSando: "He may have a good outing here and there, because you don't lose talent overnight, but his days as an elite pitcher are over. He may be able to summon the ghosts of Glory Days now and then, but I would expect more average or bad outings than good ones this year."
Joshua Lewis: "He saw 10 outs, 9 of which he k'd but allowed 5 runs and 6 hits. I think we are going to be seeing a lot of pitchers who are able to rack up a good amount of strikeouts but have bad games against the Braves due to the high power, high strikeout type hitters the Braves have."
Grace Thomas: "Halladay would have probably gotten away with better results had he not been facing one of the best hitting teams in baseball. The Braves even roughed up Cole Hamels on Monday night.....and I KNOW he isn't done."
Steven DePuy: "3-1/3 innings pitched, struck out 9, gave up 6 hits and walked 4. The guy is pressing too hard cause of who he is. If he was "done", how did he strike out 9 batters in 3-1/3 innings. Wish everyone would just shut up and leave the man alone and let him see if he can calm down and get his confidence back."
Kevin Jackson: "It's just a sign that the Phillies are in for a LOOOOONG SEASON..batlling the Marlins for 4th Place."
Greg Chow: "Any optimism in the fact that all 9 of Doc's Ks were swinging?"
Join the conversation or respond by signing in or creating a profile and blogging.
The Phillies have begun trading off some of their component parts, sending Hunter Pence to the Giants and Shane Victorino to the Dodgers before the trade deadline. Which outfielder will have a bigger effect on the National League West pennant race?
dm_schulte: "Love this move by the Dodgers. Gives us a lot of versatility in our lineup. Also liked getting League from the Mariners. Another hard throwing righty to shorten the game."
mrbez27: "I'm staying in my seat when they introduce Victorino. He needs to make an impact to ease my hatred for him. He was the only player I felt the urge to boo at ballgames."
RonTuna: "Victorino will ROCK with the winning Dodgers. Pence won't hit squat in huge Giants yard vs. Philly short porches and short right field."
There is no crying in ESPN: "finally someone to get the Giants over the offensive hump. Pennant anyone?"
KB358: "Pence has 17 home runs in 400 at bats, which means he averages about 1 home run a week, the Giants need a lot more power than that."



Join the conversation or respond by signing in or creating a profile and blogging.
The Phillies are in last place in the NL East due in part to ace pitcher Roy Halladay who hasn't exactly been himself lately. This is Philadlephia we're talking about, where sports pessimism runs high, so how are Phils fans coping with the latest developments and what should the team do?
larryworgoisgod: "So much for a good Halladay weekend."
Will88088: "Extreme overreaction is pretty common when good players aren't 100% healthy. It's not black-white when a guy gets sore.. it doesn't mean his career is over. If I remember correctly.. he battled a bit of soreness last season too and quietly had one of the best seasons of his career."
daphins23: "It seems like just yesterday that the Phils were bragging about their dream starting rotation. Their window of opportunity has already closed."
Celler Dweller42 "The Doc is no slouch when it comes to staying fit, diet, getting prepared for every season as well as every start, so I am thinking this shoulder issue is not going away with a tube of A5 -35. Depending on what the cause and treatment is Phillies may still get something for him. "
98TAWS698: "I think you can stick a phork in the Phillies this year."
vedere: "The MRI will be ugly, folks. Doc is a beast and has clearly been pitching through a bad shoulder. If his shoulder has gotten so bad that he had to stop pitching mid-game, it's BAD."
ddabull88: We philly fans should not be surprised. Dude has logged a TON of innings over his career. They will obv cut down on his CG attempts. But just give him some time and he'll be solid again."



Join the conversation or respond by signing in or creating a profile and blogging.
Phillies pitcher Cole Hamels will serve a five-game suspension for intentionally throwing at Nationals left fielder Bryce Harper. Does Hamels deserve to be punished for his actions?
---
Good intention?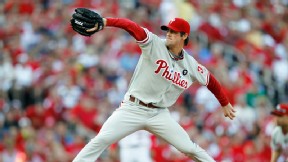 Cole Hamels used an old school way of welcoming 19-year old rookie Bryce Harper to Major League Baseball by purposely throwing at him.

Fans' take on Cole's suspension:
rustyburg: "Haha...5 game suspension for Cole...that's MLB knowing they had to do something, but doing nothing at the same time. 5 games essentially means the Phils push back Hamels next start one day."
Jaysfan724: "Suspension was deserved, only gets his start pushed back one day...no big deal all around, that's baseball, lets move on. "
evilgom: "I can't believe he's suspended for admitting it. So zimmerman gets away with it because he didn't admit? What a great way to teach our children. Go MLB."
RG3s Socks cannot be banned: "i dont think he was suspended for hitting him on purpose. he was suspended because of his stupidity"
tempdaddy05: "Lesson learned for anyone who wants to play in the MLB. The truth gets you suspended and lying puts in you in record books."



Join the conversation or respond by signing in or creating a profile and blogging.
Opening Day -- well, Opening Night, really, and we technically already had one of those in Japan, but who's counting? -- is finally here, as the Cardinals will take on the Marlins tonight in the first stateside regular-season MLB game. It's bound to be an exciting season with so many players having changed teams, but has the power structure been altered significantly?
Vote: Pick each division and pennant, and the winner of the World Series
Rank: Baseball's best teams? | Top players in the game?
---
World Series repeat?
The Cardinals prevailed over the Rangers in the 2011 World Series, but St. Louis lost its biggest gun this past offseason ...

---
Best player?
... which is a pretty big loss, considering he might be one of the best players of all time.

---
Odd one out?
The Red Sox missed the playoffs last season after an epic September collapse. Will they be on the outside looking in once again?

---
AL's best?
Prince Fielder and Albert Pujols were probably the two biggest additions to teams in the American League, meaning the balance of power could shift.

---
NL's best?
Likewise, the addition of Jose Reyes to the Marlins could give the team a huge upgrade -- offensively with new third baseman Hanley Ramirez, and defensively at shortstop.