SportsNation Blog Archives

Montreal Canadiens
What says postseason hockey like Phoenix and the Potomac? All right, maybe the Game 7 settings are slightly off, especially considering teams from traditional hockey holy sites Detroit and Montreal are involved, but we've got a pair of decisive games to savor in the span of 24 hours. Tuesday night brings the Red Wings visiting the Coyotes, and the Canadiens take on the Capitals a night later.
Given how littered the NHL's postseason history is with No. 1 and No. 2 seeds going down to defeat in the first round (you have to look all the way back to, oh, last season for the eighth-seeded Ducks knocking off the top-seeded Sharks), a loss at home by the Capitals might not be historic. But it would be a colossal collapse from a team that held a 3-1 lead against the Canadiens and further evidence that there may be no force in sports quite so powerful as a red-hot goalie, in this case Jaroslav Halak.
"

Can't believe this series is going to a 7th game. ... The Coyotes were on a mission from the start, but the short-handed goal really got things going. I'll be there, I've always wanted to go to a playoff 7th game.

"

-- LeoPolk
"

Gonna be interesting to see if the Russians show up for this one. I think the Habs will win because of Halak.

"

-- itsfeedingtime
It's just like the census, only this one is fun and doesn't come in the mail. And nobody from FOX News or MSNBC will yell at you about it. It's time for ESPN The Magazine's Ultimate Standings, in which SportsNation grades organizations on everything from ticket prices and stadium experience to the talent on the field, court or rink. Which team will end up on top this year? It depends on what you say.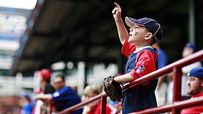 Take part in the 2010 MLB survey
2009 MLB Ultimate Standings
1. Los Angeles Angels (Overall: No. 1)
2. Milwaukee Brewers (Overall: No. 7)
3. Tampa Bay Rays (Overall: No. 16)
4. Minnesota Twins (Overall: No. 23)
5. Philadelphia Phillies (Overall: No. 24)
Take part in the 2010 NFL survey
2009 NFL Ultimate Standings
1. Pittsburgh Steelers (Overall: No. 3)
2. Green Bay Packers (Overall: No. 13)
3. Indianapolis Colts (Overall: No. 14)
4. Tennessee Titans (Overall: No. 15)
5. New England Patriots (Overall: No. 19)
Take part in the 2010 NBA survey
2009 NBA Ultimate Standings
1. Cleveland Cavaliers (Overall: No. 5)
2. San Antonio Spurs (Overall: No. 9)
3. New Orleans Hornets (Overall: No. 12)
4. Houston Rockets (Overall: No. 17)
5. Orlando Magic (Overall: No. 18)
Take part in the 2010 NHL survey
2009 NHL Ultimate Standings
1. Carolina Hurricanes (Overall: No. 2)
2. Detroit Red Wings (Overall: No. 4)
3. Washington Capitals (Overall: No. 6)
4. Pittsburgh Penguins (Overall: No. 8)
5. St. Louis Blues (Overall: No. 10)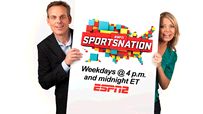 Neither Michelle Beadle nor Colin Cowherd will be traded by the "SportsNation" TV producers before next week's deadline.
Argue the hot topics of the day and vote on the biggest stories from the world of sports. The show airs on ESPN2 at 4 p.m. and midnight ET.
Note: Broadcast voting results as of this afternoon (ET).

Is there any downside to Adrian Peterson saying he wants "all the records"?
It's not like defenses don't have his number circled. The Vikings RB already has 481 yards and seven TDs this season (3,582 and 29 for his career).
Is Jimmy Clausen a legitimate Heisman candidate?
The Notre Dame quarterback has thrown for more than 300 yards in all but one game this season and 12 TDs to only two interceptions.
If all were interested, which coach would you most want to hire?
Bill Cowher, Tony Dungy, Jon Gruden and Mike Shanahan all have rings. Would one of them turn around your woeful franchise or take your team to a title?

Are you offended by ads featuring scantily clad women?
Montreal Canadiens enforcer Georges Laraque has apologized for an alcohol ad in which he appears playing street hockey.
Should the Bears have gotten more out of Kyle Orton and Cedric Benson?
The ex-Bears quarterback is 5-0 in Denver. The ex-Bears RB leads the league in rushing. Does their success reflect poorly on their former team?
What is "SportsNation" TV, and how do you make your voice heard? Read about the new ESPN show that features fan opinions with calls, tweets, polls, rankers and more.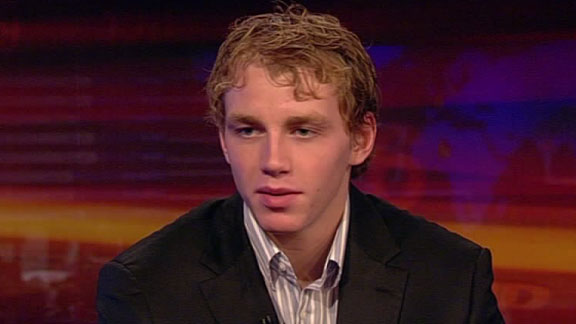 Believe it or not, the start of the NHL regular season is just about a week away. No, seriously, we're not kidding. We know the leaves haven't turned and summer doesn't actually end until today, but what the heck, it's been, what, at least three or four weeks since the Penguins won the Stanley Cup, right?
Then again, maybe that short offseason helps keep the NHL fresh in SportsNation's mind. A year ago, voters correctly predicted the Red Wings to win the Western Conference and made the Penguins their second choice, behind the Red Wings, to win it all.
Blackhawks star Patrick Kane and ESPN.com writer Scott Burnside stopped by chat Monday to help SportsNation get its ice legs before jetting off to Europe (Burnside to Stockholm for the Red Wings and Blues and Kane to Helsinki for the Blackhawks and Panthers).
Jason (Ellicott City, MD)
You are only rated an 86 in NHL. What is up with that?
Patrick Kane

I think an 86 is pretty good to be honest with you. I think the highest are Crosby and 94 and Ovechkin at 92. I thought I'd be better than Teows, but I am still on the cover. I got him by that. Full transcript
AJ (Champaign, Ill.)
How do the Blackhawks avoid a lull in their performance after they return from Finland?
Scott Burnside

AJ; Good question. The European experiment has been decidedly mixed in terms of how it affects teams. All four coaches who went last year got fired although the Pens did end up winning a Cup. I think the 'Hawks' youth and the nice steady hand of head coach Joel Quenneville will keep them from going off the rails when they get back from Finland. Full transcript
Like watching a shark documentary on the eve of an island vacation, the Rangers and Canadiens offered the rest of the NHL a sober reminder of the perils of free agency on the eve of this summer's spending season.
A year ago, SportsNation voters pegged Scott Gomez as the fifth-best forward in the Atlantic. But after another disappointing statistical season from the former free-agent prize, only 25 percent of voters think he'll be worth the $33.5 million remaining on his contract to the Canadiens, who traded for him this week.
Perhaps that's why the 'Nation is split on whether his old team or new team will fare better next season (although the Alaskan seems to have some pull in his home state).
"

Vancouver is quickly building a team that could contend for the cup in the next 2-3 years. With the US to Canada Dollar spread starting to move toward Canada, they will be able to sign many free agents and build around the twins. Vancouver is a beautiful and growing city that will get a lot of publicity in February with the Winter Olympics. Looks like management is getting ready to capitalize on the window of opportunity.

"

-- tcco007
"

Gomez has never been the same since he broke his pelvis during the lockout playing in Alaska. Class guy with lots of playmaking ability but one of his biggest weapons with the Devils was his speed which he has all but lost. He's an asset to any team, but not the "impact" player he used to be.

"

-- giggums