SportsNation Blog Archives

New York Yankees
The year-long Derek Jeter retirement tour kicked off Wednesday night in Houston, where the Astros -- and several Houston-connected athletes -- feted the New York Yankees superstar on the field at Minute Maid Park.
And what would be a retirement party without gifts? Take a look at Jeter's haul: a pair of Yankees-themed cowboy boots, a cowboy hat and a set of golf clubs (presented below alongside two-time major champion Mark O'Meara):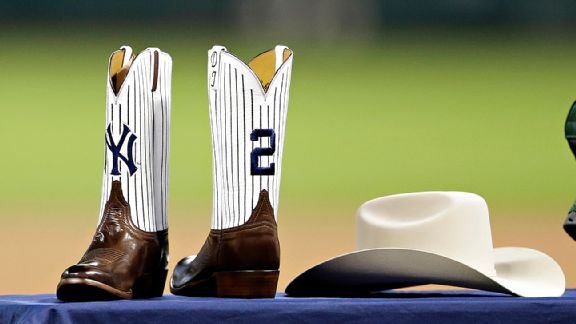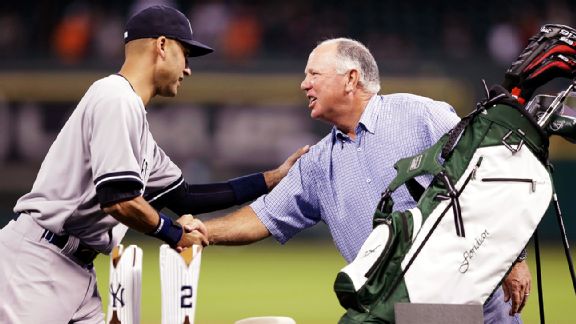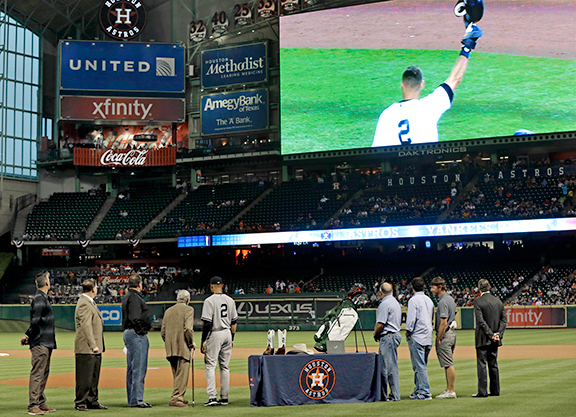 Images: Pat Sullivan/AP Photo
USA TODAY Sports
Dodgers' payroll higher than NYY
Many never thought this day would come. But it has. Long considered the "Evil Empire" because of their massive payroll, the New York Yankees have been passed by the Los Angeles Dodgers on Major League Baseball's list of highest combined player salaries. L.A.'s figure: $235 million. New York's? A "mere" $204 million. Does this change your view of the Yankees? Does baseball need a salary cap? Does money limit your enjoyment of winning?
Robinson Cano lacks hustle?

Robinson Cano is across the country now, a New York Yankee-turned-Seattle Mariner. But that hasn't kept memories of the star second baseman out of New York hitting coach Kevin Long's mind -- and they're not all good. Long still recalls calling Cano out for his lack of hustle to first base on grounders, saying he "chose not to" fix that part of his game. That's not to say Cano was lazy all around; Long credits the 31-year-old for improving his swing, his body and much more. It's also hard to argue with Cano's production while in the Bronx. Does that make all this hustle talk just talk?

Jeter to retire after 2014

Derek Jeter's long and storied career is coming to an end. The legendary Yankees shortstop posted a note on his Facebook page saying that the 2014 season will be his last. Jeter started off the lengthy post thanking fans for their support and said that his recent injuries and struggles made baseball start to feel like a job, and that feeling made him sure that it was about time to stop playing. He capped it off by promising fans he'd try to help the team win a World Series championship this season -- if he did manage to pull that off, it'd be his sixth title with the team.