SportsNation Blog Archives

Houston Astros
We can understand if you don't want to take the time to grade your tech-support help on the other end of the telephone, but when we're talking about the dollars and emotion you've invested in sports, we think it's worth the effort. It's time for ESPN The Magazine's Ultimate Standings, in which SportsNation grades organizations on everything from ticket prices and stadium experience to the talent on the field, court or rink. Which team will end up on top this year? It depends on what you say.
Take part in the 2011 MLB survey
2010 MLB Ultimate Standings
1. Los Angeles Angels (Overall: No. 3)
2. Tampa Bay Rays (Overall: No. 6)
3. Colorado Rockies (Overall: No. 13)
4. Minnesota Twins (Overall: No. 14)
5. Atlanta Braves (Overall: No. 15)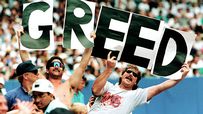 Take part in the 2011 NFL survey
2010 NFL Ultimate Standings
1. New Orleans Saints (Overall: No. 1)
2. Indianapolis Colts (Overall: No. 4)
3. Green Bay Packers (Overall: No. 9)
4. Arizona Cardinals (Overall: No. 19)
5. Baltimore Ravens (Overall: No. 20)
Take part in the 2011 NBA survey
2010 NBA Ultimate Standings
1. Orlando Magic (Overall: No. 2)
2. San Antonio Spurs (Overall: No. 7)
3. Cleveland Cavaliers (Overall: No. 10)
4. Dallas Mavericks (Overall: No. 24)
5. Oklahoma City Thunder (Overall: No. 25)
Take part in the 2011 NHL survey
2010 NHL Ultimate Standings
1. Pittsburgh Penguins (Overall: No. 5)
2. Detroit Red Wings (Overall: No. 8)
3. Washington Capitals (Overall: No. 11)
4. San Jose Sharks (Overall: No. 12)
5. Chicago Blackhawks (Overall: No. 16)
It's official: Roy Oswalt will no longer have to try to win games with a team that's putting up a .299 OBP. Oswalt waived his no-trade clause, clearing the way for him to join the Philadelphia Phillies (currently in a knockdown, drag-out pennant race).
Oswalt's been one of the finest pitchers in the majors for much of his career, although he's rarely gotten the attention he deserves. Recent years have dragged on Oswalt's winning percentage -- his 12 losses this season actually lead the league -- but he still gives up few hits and keeps the ball in the park. He's joining Roy Halladay and Cole Hamels in the rotation, giving the Phillies an intimidating trio of aces (especially in a short playoff series). Could he be the missing piece Philadelphia needs to make the playoffs?
"

He signed his deal when things were good and as soon as things start going bad he wants out. Typical athlete. I don't blame the Astros for trading him, rebuilding has been a long time coming for that team, but I love when guys sign a deal and when things start to go bad they want out.

"

-- brewerfan54
"

We are only 3.5 out with Utley, Rollins, Victorino, Happ and Polanco all out for parts of this year. That's 4 starters, all of whom are former all-stars, and the rookie-of-the-year runner up and our No. 3 starter. So yeah the Phillies of the first half are not the team that went to back to back WS. But by the end of August, everyone will be healthy and now we have the best front three in baseball. Phils-Yanks again in the series, sorry but there is no debate that the Phils are tops in the NL talentwise and with Oswalt and health, goodnight and thanks for trying Atlanta. I will miss Happ, but you can't pass on one of the best pitchers in the game.

"

-- cjmfour
The reason why Roy Oswalt is seeking to leave the Astros, the only team he's ever known? Fortunately, we have developed a complex mathematical equation that answers the question quite succinctly:
3.12 ERA plus 117 strikeouts minus 33 walks divided by a 1.07 WHIP should not equal a 6-11 record.
Now you see what Keith Law is talking about when he harps on win-loss records being next-to-useless. Oswalt is one of the best pitchers in the league right now (and has been for a long time), but he's just not getting the run support he needs in Houston. Therefore, he's seeking to be traded to a contender, such as the Phillies. Oswalt's salary demands may kill a deal, but he could be just the extra piece that a good team needs to become great.
"

Oswalt would be a great fit in any rotation. I hate to see him go, but HOU needs to start from scratch (build around Pence, Bourn, Castro). Berkman, Oswalt and even Myers or anyone with value. One thing that HOU hasn't done, is build a solid minor league foundation. That has to be a priority.

"

-- irishpat183
"

As healthy as Oswalt has been, doesn't seem like a stretch to guarantee next year at $16 million.

"

-- jdoublej77
There may be plenty of shopping days left until Christmas (163 if you're counting), but time is running out for baseball teams hoping to find that special something for the pennant race. The end of the month brings the non-waiver trade deadline and the opportunity for general managers to make the kind of mark Phillies GM Ruben Amaro Jr. did last summer in trading for Cliff Lee -- or, you know, the kind of impression the Cubs made in trading Lou Brock for Ernie Broglio in 1964.
Perhaps hoping lightning strikes twice, the Rangers made a big splash by landing Lee before the All-Star break, while the Braves used the pause to trade for slugging shortstop Alex Gonzalez. But could a player like Prince Fielder or Roy Oswalt tilt the scales enough in favor of another team willing to make a move?
Kevin Larson (Oak Lawn)
What kind of players are available for Kenny Williams to grab before the trade deadline? What about Adam Dunn coming to Chicago?
ESPN Chicago's Bruce Levine

I have talked about Dunn for a month. the problem is his defense is poor and his baserunning is plodding. That's not exaclty Ozzie Ball type material. The part that Kenny Williams likes is the home run power from the left side. The Sox have lacked offensive balance all season long. When Quentin hits the team seems to score. Full transcript
Brandon (Springfield)
Should the Braves make a move for Corey Hart? Do you believe he is having a fluke season so far?
Rob Neyer
A little bit, maybe. But I think last season was the bigger fluke. Hart's a legitimate power hitter and could help a lot of clubs. Full transcript
J.B. (Dunmore, PA)
Can you see either Matt Kemp or Josh Willingham going to the Braves for the stretch run?
Jayson Stark
I don't. I keep hearing that the Nationals are telling teams interested in Willingham that they prefer to move Adam Dunn if they move either of them. And it's very unlikely Matt Kemp gets traded. If he does, he'll be very expensive. Also, the Braves can't add much payroll. Full transcript
So the baseball classifieds suggest there is a future Hall of Famer looking for an exit from the team whose cap would adorn his plaque in Cooperstown? And it's not Ken Griffey Jr.? Where do we sign up?
Well, maybe more like a possible future Hall of Famer. A fixer-upper Hall of Famer, if you will.
Roy Oswalt would like
out of Houston
, as Rob Neyer discussed on ESPN Radio's "All Night" via the link to the left. And unlike the rest of his teammates who probably feel much the same way about a team buried in the NL Central cellar -- no easy task with the Pirates around, Oswalt has the stature and contract that might lead to his wish being granted. But would teams be trading for a guy with Cooperstown potential?
Still just 32, Oswalt is No. 11 in wins among active pitchers. Baseball-Reference.com's list of the 10 most similar pitchers through age 31 includes just one Hall of Famer in Dizzy Dean, but Mike Mussina, Don Newcombe and Andy Pettittee isn't bad company to keep. So with a 139-76 record and 3.21 ERA in 10 seasons, is he on pace for the Hall of Fame?
Nick (LA)
Do the dodgers make a deal for Roy Oswalt or any other "ace" at the deadline? Something will need to be done to have any chance in the playoffs!
Jayson Stark
I'm not sure if you've heard this, but Divorce Court is in session out there. And it's still unclear whether the Dodgers are going to be able to add anybody, especially a guy making serious change like Oswalt. They're a top-of-the-rotation starter away from being a team that could do some serious damage in October. But it's tough to bet on them being able to get that kind of pitcher. Full transcript
"

Send him to ATL for Kawakami and Escobar. Heck, we might even throw in a couple of minor leaguers too. Think of the rotation he'd be entering---Huddy, Lowe, Hanson, Medlen/Jurjjens(when he heals). That rotation would be nearly untouchable as long as the bats stay hot like they are. The Frolicking Fillies wouldn't have the east locked up after all.

"

-- jeff-burgess
"

Ed Wade LOVES to deal with his old team... the Phillies....I wouldnt be surprised if thats where he ends up. I am pretty sure they would have to include Hamels and/or top prospect Dominick Brown.... but I would LOVE to have Roy and Roy in Philly for 2 years!

"

-- JORtenzi