SportsNation Blog Archives

Colorado Rockies
Jamie Moyer has become the oldest pitcher ever to record a win in Major League Baseball. Will he still pitch when he's 50 next season?
Mercenary1177: "Congrats to Jamie Moyer... very few people actually make a living doing something that they really love... and NOBODY has done this at his age... hopefully he will not just hang around... and will know when to stop, before he gets to the point that too many athletes do these days."
StrongIsland06: "How this guy is still pitching in the majors is beyond me. But kudos for still playing baseball at his age."
jgreene382: "Jamie Moyer has faced 8% of all hitters in MLB history according to Olney/Elias... Anyone else having difficulty comprehending that one?"
Heim618: "I seem to recall thinking Moyer would never last when he came up with the Cubs in 1986. Shows why I've never been a good GM in any sort of baseball. Congrats to Moyer on the record."
TML954: "The amazing thing is he will take the ball again for his next start. I would need a month to recover from an effort like that."
AsphaltAbuse: "I hope he gets one at 50 "



Join the conversation or respond by signing in or creating a profile and blogging.
Opening Day -- well, Opening Night, really, and we technically already had one of those in Japan, but who's counting? -- is finally here, as the Cardinals will take on the Marlins tonight in the first stateside regular-season MLB game. It's bound to be an exciting season with so many players having changed teams, but has the power structure been altered significantly?
Vote: Pick each division and pennant, and the winner of the World Series
Rank: Baseball's best teams? | Top players in the game?
---
World Series repeat?
The Cardinals prevailed over the Rangers in the 2011 World Series, but St. Louis lost its biggest gun this past offseason ...

---
Best player?
... which is a pretty big loss, considering he might be one of the best players of all time.

---
Odd one out?
The Red Sox missed the playoffs last season after an epic September collapse. Will they be on the outside looking in once again?

---
AL's best?
Prince Fielder and Albert Pujols were probably the two biggest additions to teams in the American League, meaning the balance of power could shift.

---
NL's best?
Likewise, the addition of Jose Reyes to the Marlins could give the team a huge upgrade -- offensively with new third baseman Hanley Ramirez, and defensively at shortstop.

People get hit all the time in baseball, but in the case of Ubaldo Jimenez hitting Troy Tulowitzki, it seemed like it was personal. Do you think Jimenez hit Tulowitzki on purpose? Did Major League Baseball get it right by handing him a five-game suspension?
John1644466: "As a Rockies fan, I'm extremely disappointed in Ubaldo's actions. What a classless move."
dubsworth9993: "Oh come on, that totally slipped out of his hand"
buckeyekurt: "Tulowitzki shouldn't have made a move towards the mound and Tracy should be suspended for sounding and acting like a mental patient."
redfan73: "I find it hard to believe that you immediately stepped off the mound toward the plate when you hit Tulo, but also didn't mean to hit him. Give me a break."
coloradoxplant: No where near enough of a suspension. He targeted him. That is intent to harm. He needs to miss 5 starts.....not just five days."
mcwellman: "Ridiculous - shouldn't have been suspended at all. People get hit in baseball all the time - no one can prove that he intentionally hit Troy. This is pathetic..."



Join the conversation or respond by signing in or creating a profile and blogging.
We can understand if you don't want to take the time to grade your tech-support help on the other end of the telephone, but when we're talking about the dollars and emotion you've invested in sports, we think it's worth the effort. It's time for ESPN The Magazine's Ultimate Standings, in which SportsNation grades organizations on everything from ticket prices and stadium experience to the talent on the field, court or rink. Which team will end up on top this year? It depends on what you say.
Take part in the 2011 MLB survey
2010 MLB Ultimate Standings
1. Los Angeles Angels (Overall: No. 3)
2. Tampa Bay Rays (Overall: No. 6)
3. Colorado Rockies (Overall: No. 13)
4. Minnesota Twins (Overall: No. 14)
5. Atlanta Braves (Overall: No. 15)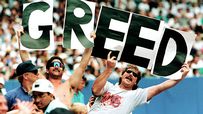 Take part in the 2011 NFL survey
2010 NFL Ultimate Standings
1. New Orleans Saints (Overall: No. 1)
2. Indianapolis Colts (Overall: No. 4)
3. Green Bay Packers (Overall: No. 9)
4. Arizona Cardinals (Overall: No. 19)
5. Baltimore Ravens (Overall: No. 20)
Take part in the 2011 NBA survey
2010 NBA Ultimate Standings
1. Orlando Magic (Overall: No. 2)
2. San Antonio Spurs (Overall: No. 7)
3. Cleveland Cavaliers (Overall: No. 10)
4. Dallas Mavericks (Overall: No. 24)
5. Oklahoma City Thunder (Overall: No. 25)
Take part in the 2011 NHL survey
2010 NHL Ultimate Standings
1. Pittsburgh Penguins (Overall: No. 5)
2. Detroit Red Wings (Overall: No. 8)
3. Washington Capitals (Overall: No. 11)
4. San Jose Sharks (Overall: No. 12)
5. Chicago Blackhawks (Overall: No. 16)
First it was Ndamukong Suh coming up on the outside (or right through the guard and center, as the case may be) to nearly swipe last season's Heisman Trophy. Now we've got Troy Tulowitzki making a late run in the NL MVP race. We don't know if the two things are related, but the Steelers might want to get in touch with Chris Fuamatu Ma'afala, just in case there's something afoot with the 21st letter of the alphabet.
Tulowitzki and the Rockies finally cooled off, sort of, Sunday against the Dodgers. Tulowitzku had only one RBI and struck out three times in a 7-6 loss in 11 innings. Nonetheless, the Rockies are just 1.5 games out in the NL West and Tulowitzki is hitting .371 with 14 home runs this month. But before we get to Tulowitzki's place in the NL MVP race, what is his place in Colorado's MVP race?
"

Tulowitzki is an absolute beast! If he could just stay healthy over a full season, he could win multiple MVPs. Hopefully, he picks up a Gold Glove and a Silver Slugger Award this year, which he rightly deserves.

"

-- jtrms45