SportsNation Blog Archives

Toronto Blue Jays
Knuckleballers are strange. They throw a pitch that looks like it defies physics, but the reality is far worse; it obeys laws of physics that are probably too complex for you (or us!) to understand. When the knuckler is really moving, it's practically a cheat code; when it's not, well, you only have to look as far as R.A. Dickey's disaster of a season to see what happens. Dickey has been roughed up a number of times this season, possibly because of an inability to throw his formerly dominant hard knuckler. A late-career rejuvenation isn't unusual for a knuckleballer, but neither is a sudden loss of effectiveness, which should make Blue Jays fans nervous.
Steven Seidman: "Dickey was very good for three years for the Mets, but Alderson sold high on him, getting a great return in D'Arnaud, Syndergaard, Buck, and Becerra."
T.J. Koonce: "How is anyone surprised that Dickey is struggling? Look at his career stats. He's had mediocre stats every season except last year. Most overrated pitcher since Barry Zito."
D.J. Van Tassel: "He pretty much always had the knuckleball even with the twins, but it wasn't like it is now. The unastounding thing is that he's struggling in a division with the reigning strenghts of the Orioles, a rejuvinated Redsox team, an overachieving yankee squad, and padding some hope for the always enigmic rays. The Bluejays don't have the coaching staff for a guy like dickey, nor a proper catcher for him."
Antoine Black: "Just another in the long list of pitchers who can be successful in the NL, yet pummeled in the AL. The offensive difference between leagues is larger than a lot of people think."
Darryn Carman: "As a Blue Jays fan I'm not going to deny his season has not been good so far, but if people are going to use the career stats excuse, it's pretty irrelevant to include the years where he wasn't a knuckleballer."
What do you think? Leave your comments below.
---
All about location?
Moving from the NL to the AL has been held as the downfall of many a pitcher, but again, a pitcher who throws a knuckleball may defy conventional explanations.

There's an awful quarter of a second right before a batted ball hits a pitcher in the head when everyone realizes what's about to happen and no one -- not even the pitcher himself -- can do anything about it. J.A. Happ experienced that worst-case scenario in Tuesday night's game against the Rays, when a line drive by Desmond Jennings sent him to the hospital. Happ is in stable condition, fortunately, and is likely to be discharged from the hospital Wednesday, but something like this inevitably brings the issue of pitcher safety to the forefront. Helmets or other protective gear may be a tough sell, but it could be worth it the next time a line drive hisses toward a defenseless pitcher.
Michael Sexton: "What happened to facing the hitter when you are done with your windup? What happened to not following through off balanced? If he faces the hitter straight up and has his glove ready to defend himself, he doesn't take it to the dome. That is something we should teach our kids, not how to pitch with helmets on."
Andy Stewart: "Why aren't pitchers required to wear protective helmets? They are in just as much danger as the batter."
Bob Lasher: "with all the gear and new technology available, there has to be sort of head protection for a pitcher. It sure was awful to see that injury and we hope and pray he (Happ) will recover and show no long time effect."
Matthew Culley: "Any kind of helmet or protection device should be focused on the neck. a normal helmet won't do much to protect against whiplash."
Derek W. West: "They have been playing baseball for, what 200+ years and now all of sudden pitchers need helmets? Better late than never I guess, but if you take all the risk out it, what would differentiate going to a ballpark to say, watching grass grow? Is there a difference now? Most people now adays will say there is little difference."
Join the conversation or respond by signing in or creating a profile and blogging.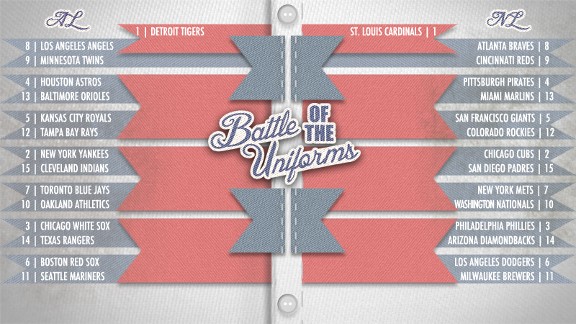 Jerry Seinfeld famously said that because of the way players constantly change teams and teams occasionally change cities, sports fans are actually rooting for clothes.
"You are standing and cheering and yelling for your clothes to beat the clothes from another city," he said. "Fans will be so in love with a player, but if he goes to another team, they boo him. This is the same human being in a different shirt, but they hate him now. 'Booo!!! It's a different shirt! Booo!!!!'"
Well, he's right about that. We do root for clothes. And against clothes. As well we should. If Yankees pinstripes or red socks or Dodger blue or, worst of all, those powder blue alternate Royals tops don't get your blood boiling, then you're not a true fan.

Which is why we're holding our Battle of the Uniforms. As Seinfeld said, what is most important is not the player but what the player is wearing. And no, we're not just talking about Kevin Youkilis, but that's a good example.
It's the uniform that is most important. After all, your team may stink. It may not have had a winning record in 20 years. It may not have reached the postseason in your lifetime. It may not have reached the World Series in your grandparents' lifetimes. But chances are your closet is still overflowing with your team's replica jerseys that you proudly wear to the ballpark, the office or the nightclub.
We can look at the standings and know which teams are on top, but which teams have the best uniforms? Which designs have stood the test of time, and which are as dated as the grunge look? Do you prefer the classic look of Detroit's old English "D" on the chest and the Yankees pinstripes? Or do you appreciate the South Beach neon look of the Marlins' jerseys? Should the bill of a cap be as profoundly curved as Christina Hendricks or as flat as the Marlins' offense? Should socks be visible to midcalf, to the knee, or tucked under baggy pants legs?
All this is for you to decide. We've seeded all 30 teams based on their standard home and road uniforms and placed them in a bracket. Throughout the week, you'll have new matchups to vote on each day until only one uniform is left standing. We'll announce the winner next Monday.
Until then, we'll also provide stories and lists about such things as what caused the god-awful '70s look, the rules for when and how to wear replica jerseys, and the good, the bad and the ugly of uniforms throughout the decades.
So check out the bracket. Read our style analysis. Vote for your favorite uniforms. Vote against the ones you hate. And keep checking back each day to see which teams advance and who ultimately tops your best-dressed list.
One request: We know people can get pretty passionate about uniforms, but please keep things civil. If the fashion police can't maintain order, we may have to call in the security in those Padres camouflage jerseys.
--Jim Caple
Note: Detroit Tigers and St. Louis Cardinals have first-round byes; first-round polls close at
9 a.m. Tuesday, and the next round begins shortly thereafter.
Mobile users: To vote, click here.
Jim Caple bracket: American League
---
(2) Yankees vs. (15) Indians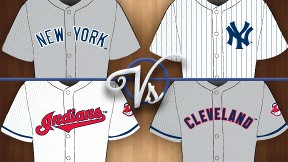 With one of sports' greatest logos (the Tiffany-designed NY) pitted against one of the worst (Chief Wahoo), this battle should be as lopsided as the trade that sent Graig Nettles from Cleveland to New York.

---
(3) White Sox vs. (14) Rangers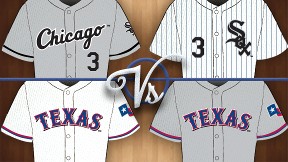 With that great SOX design across the chest, this should be a much more favorable matchup for Robin Ventura against Texas than when he charged Nolan Ryan.

---
(4) Astros vs. (13) Orioles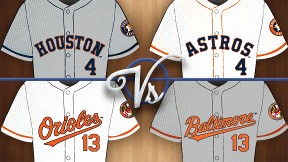 The Orioles would stand a much better chance if this were the late 1970s and early '80s when their white-front cap style was in fashion and the Astros were wearing rainbows.

---
(5) Royals vs. (12) Rays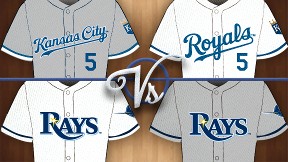 K.C. should win this matchup … unless the Royals wear their powder blue alternate tops or Joe Maddon comes up with another great road-inspired costume theme for his players to wear.

---
(6) Red Sox vs. (11) Mariners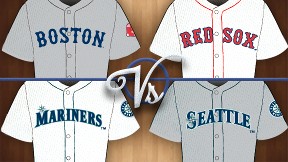 Have to favor the old classic Red Sox look in this matchup, unless Seattle's King Felix shows up wearing his crown and velvet robe.

---
(7) Blue Jays vs. (10) Athletics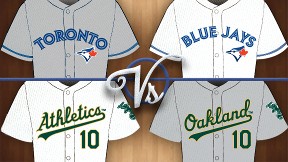 The Jays should win this matchup. Then again, the Jays should look a lot better in their uniforms this year than they have so far. But never underestimate the power of an elephant.

---
(8) Twins vs. (9) Angels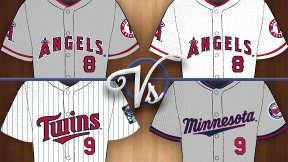 In the logo battle between TC and the haloed A, the Twin Cities of Minnesota get a slight edge over the Los Angeles Angels of Anaheim.

Paul Lukas bracket: National League
---
(2) Cubs vs. (15) Padres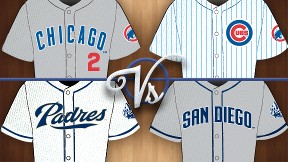 A gorgeous, time-tested look versus a generic slate of blandness. Feels like a mismatch, right? But hey, upsets are always possible.

---
(3) Phillies vs. (14) Diamondbacks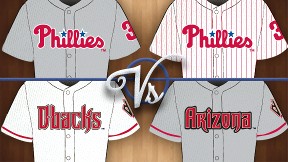 Old-school versus new-school: The Phillies have had only two different uni templates since 1950; the Diamondbacks had two different uni templates within their first decade of existence.

---
(4) Pirates vs. (13) Marlins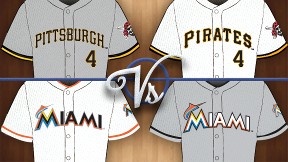 Let's say you're a baseball player, and you can be drafted by the Pirates or the Marlins. Either way, you're gonna lose a lot of games. But wouldn't you rather lose them in that nice Pirates uni?

---
(5) Giants vs. (12) Rockies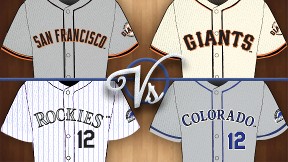 Fun fact: The Rockies are the only MLB team that currently wears purple. But it may take more than that to defeat the classic look of the defending World Series champs.

---
(6) Dodgers vs. (11) Brewers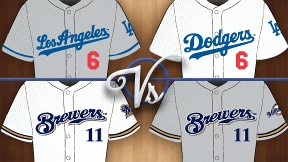 Say this much for the Brewers: They sure have a lot of uniforms (home, road, home alternate, road alternate, throwback, Spanish, Polish, Negro League, etc.). But does quantity equal quality?

---
(7) Mets vs. (10) Nationals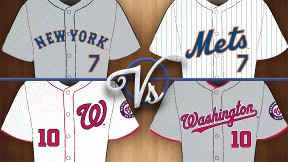 Granted, any uniform looks better when Stephen Strasburg or Bryce Harper is wearing it. But the Mets' look still feels more natural, while the Nats' feels forced.

---
(8) Braves vs. (9) Reds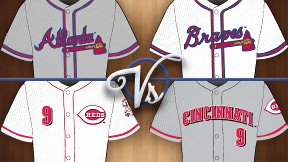 Subtlest uni change of this season: The Braves changed the belt tunnel piping on their alternate road pants from red to blue. Will that garner any additional votes?

Battle of the Uniforms seedings
For a second consecutive start, reigning NL Cy Young Award winner R.A. Dickey failed to find his elite form from a year ago, getting lit up for eight runs (seven earned) Sunday against the Red Sox. Dickey is pitching in the American League for the first time since 2009 and working with a catcher who is unfamiliar with fielding his trademark hard knuckleball. But an 8.44 ERA wasn't what the Blue Jays were expecting when they signed Dickey to a two-year, $25 million extension this offseason. So are Dickey's troubles just early-season jitters, or a sign of things to come in Toronto?
Just_Rad: "Let this be a lesson. Signing people from the New York Mets is the worse thing you can do in baseball...after signing Chicago Cubs"
Chris B72: "Can the Jays use the warrantee on Dickey? Tell the Mets i think Dickey is broken we want our money back."
ktyas310: "if you look at dickeys wins... he beat poor teams like arizona, houston, san diego, mami several time. a win is a win... but thats not exactly the greatest opponents. hes playing better teams now and its not going to be quite as easy"
Runwithit21327: "That's just baseball. Some days you just don't have it."
American League Championship Series 2004: "I am actually starting to agree, last year may have been a fluke year for Dickey... I mean he's almost 40...and no one cared about him before."
Join the conversation or respond by signing in or creating a profile and blogging.
Brett Lawrie was ejected after his helmet hit umpire Bill Miller in the hip after Lawrie slammed it to the ground. Should he be punished further?
ericwingard: "'passion' plus stupidity = suspension. "
ibanez77: "Two terrible calls, and the ump will not be disciplined or otherwise held accountable for them, but the player will be held responsible for his reaction. Throwing the helmet was over the top, but I'd be pissed too. "
joebud258: "Lawrie deserves to be suspended for throwing his helmet--that's the reality. But that is the sort of thing that can happen when an ump makes one bad call then intentionally makes an even more obviously horrendous call so he can teach the player a lesson. "
70champs "I think both of those pitches were balls, but showing up an umpire is never going to help your cause. And while I doubt Lawrie intended to hit him with his helmet, he deliberately spiked it in his direction. Pete Rose got a 30 day suspension for bumping an umpire. Lawrie should get 10 games, minimum. "
rponulak24: "While Lawrie was definitely out of line, that ball was nowhere close to a strike. Funny that a player will get suspended for doing something wrong, but nothing will happen to the ump whose WRONG call caused Lawrie's outburst."
Jareddspence: "Lawrie was completely justified in his actions. Terrible calls should be challenged. He threw his helmet at the ground, not at the ump, it happened to hit the ump. He was going to be ejected immediately for challenging strike three, so why not make a good argument and yell and make your point. "



Join the conversation or respond by signing in or creating a profile and blogging.