SportsNation Blog Archives

Washington Redskins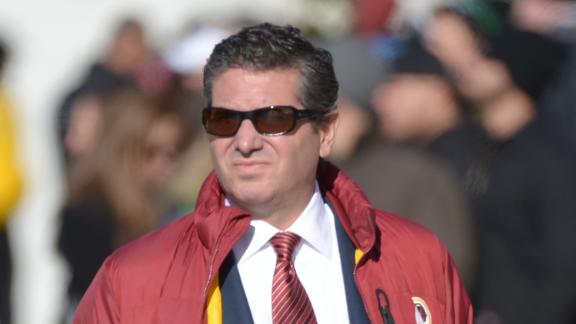 Pressure has been mounting on the Redskins to change their name. Representatives of the Oneida Indian Nation had a meeting with NFL executives to request that the league sanction Redskins owner Daniel Snyder for conduct detrimental to the league. Snyder reportedly told commissioner Roger Goodell in a recent meeting that he had no plans to change the name, but given the amount of pressure both the league and team are under, things might come to a head fairly soon.
---
Name change?
In addition to their request to sanction Snyder, Oneida representatives asked league executives to amend the league's bylaws with a rule prohibiting teams from using "dictionary-defined racial slurs" in their names.

Getty Images
NFL Week 8 -- Redskins at Broncos
The Denver Broncos finally lost, but the world kept turning, as there's no doubt Peyton Manning's team remains one of the best -- if not the best -- squads in the league. Of course, this view could be shifted if Robert Griffin III & Co. win their third in four games on Sunday to pull back into the NFC East race.
Cowboys clear NFC East favorites?

It's just one game, and it's only Week 7, but the Dallas Cowboys sure made a statement -- and helped their divisional positioning -- with a 17-3 win at the Philadelphia Eagles on Sunday. That moves Dallas to 4-3, one game ahead of Philly in the NFC East. Is Dallas a lock? What will happen in the rest of the NFC playoff race?

Rodger Mallison/Fort Worth Star-Telegram/Getty Images

NFL Week 6 -- Wash. at Dallas

It might be 1-3 vs. 2-3, but this Sunday night game carries a little more weight, considering the names of the teams involved. But there's more than just history between the Washington Redskins and Dallas Cowboys; the NFC East title is up for grabs, with Dallas tied atop the division and Washington half a game back. The teams also enter in different places mentally, with the Cowboys losing a heartbreaker against Denver on Sunday and Washington coming off a win and a bye.

Power shift in the NFC East?

Before the season, experts and voters alike liked either the Washington Redskins or New York Giants to claim the NFC East title. Three weeks in, neither has won a game. Washington fell 27-20 to the Detroit Lions at home Sunday. The Giants were embarrassed by the Carolina Panthers 38-0. Meanwhile, the Dallas Cowboys hammered the St. Louis Rams 31-7, meaning America's Team owns twice as many victories as the rest of its division combined. Will the current standings hold?