SportsNation Blog Archives

Seattle Seahawks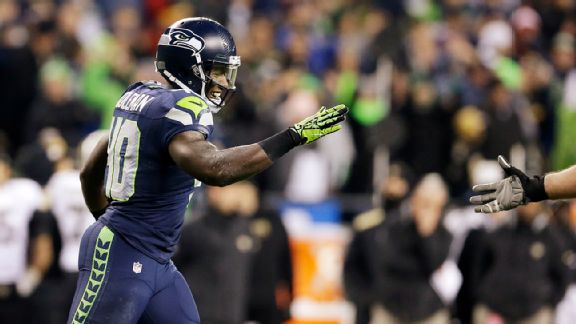 AP Photo/Elaine ThompsonDerrick Coleman has helped the Seahawks on the field, and inspired numerous fans off of it.
Sherman slams Crabtree
Richard Sherman delivered an epic post-game rant after the Seattle Seahawks won the NFC Championship Game on Sunday, calling out San Francisco 49ers wide receiver Michael Crabtree. Sherman, who deflected a Colin Kaepernick pass that led to the game-clinching interception, also got in Crabtree's face in the games closing seconds. Sherman on Monday apologized in a text message to ESPN's Ed Werder and addressed the issue on ESPN Radio. Did you like Sherman's post-game tirade? Was his apology sincere? Do you expect more trash talk ahead of the Super Bowl?
AP Photo/Julio Cortez

A cold-weather Super Bowl?

In just two weeks, the potentially frigid MetLife Stadium will play host to Super Bowl XLVIII. And so, when not assessing the merits of the Denver Broncos and Seattle Seahawks, one might also wonder about the weather. As in, how big a part will it play? What kind do you want to see? Which team will be at an advantage? Cast your votes below!

More Super Bowl: Who will win? | Quiz: Past 30 S.B. teams? | Rank the top players!

Joe Nicholson/USA TODAY Sports

Which team wins the Super Bowl?

The Denver Broncos cruised. The Seattle Seahawks stepped up. Now the No. 1 seeds in their respective conferences will meet with everything on the line on Feb. 2 for Super Bowl XLVIII at MetLife Stadium. Which team will carry the day: the powerful offense or the staunch defense? Which team do you want to win? Cast your votes below!

More Super Bowl: Quiz: Past 30 S.B. teams? | Rank the top players! | MetLife weather?

We know who will take the MetLife Stadium field for Super Bowl XLVIII, with the Denver Broncos winning the AFC championship on Sunday and the Seattle Seahawks taking the NFC. But how well do you know your Super Bowl past -- as in, how easily can you rattle off the participants in the 15 most recent big games? Needless to say, not all 32 franchises have had the privilege. Take our quiz to see if you know which teams have!

More Super Bowl: Who will win? | Rank the top players! | MetLife weather?

More games from ESPN Arcade »