SportsNation Blog Archives

Los Angeles Angels
Miguel Cabrera is closing in on baseball's first Triple Crown in 44 seasons. Most years, that would be more than enough to justify a vote for the AL Most Valuable Player award. But Mike Trout's phenomenal rookie season has made the MVP a two-horse race. We looked to history for guidance, and the last three Triple Crown winners -- Carl Yastrzemski (1967), Frank Robinson (1966) and Mickey Mantle (1956) -- all won the MVP. But Ted Williams' Triple Crown seasons weren't enough for MVP voters in 1947 or 1942, when the Yankees' Joe DiMaggio and Joe Gordon won the award, respectively. Should winning a Triple Crown be an all-but-automatic MVP? Or is it just one factor to consider?
spartygreen44:"Trout is a great player, but was slumping for the most important 2 months of the season. His team needed him, but he couldn't deliver - does that sound like an MVP? Plus, pitchers have figured him out now - these are the same pitchers that have had 10 years to figure out Cabrera, and still haven't - 10 YEARS!! Miggy carried his team all year, and was clutch down the stretch - which is what an MVP is supposed to do."
I_Like_Lamp:"This is why common sense is lacking with sooooo many people. The numbers don't lie. There is no way you can more than likely win the triple crown and not win the MVP. Trout is an amzing defender and batter and can steal a heap load of bases but with what Cabby has done this year is by far more special. What he has done at third base has far exceeded mine and everyone elses expectations. There is noone like Cabrera and never will be."
Prague_2_Istanbul:"Mike Trout is the true MVP!!! Angels have a better record then Detroit and they are in the toughest division in baseball. Angels were in last place with one of the worst records in the majors when Mike Trout was called up."
The Knowledge12:"Assuming, hypothetically, cabrerra doesn't get the triple crown. Not talking about who should win MVP, but if you're voting, does Trout get a bit of extra credit for doing it as a rookie, or does Miggy get a bit of an edge b/c trout has more future years to win an MVP?"
goblue42452:"I find it puzzling that Trout is still being touted as a legitimate threat to Miguel Cabrera for the MVP. Check out how his second half is going. Cabrera is by FAR the more deserving player. No one has won the Triple Crown in 45 years, and it looks as though Miggy will win it. He carried the Tigers on his back, offensively, during the last couple of months (with some help from A.J and Prince). He's also played in all but one game this year for Tigers at a position he hasn't played in 6 years. Plus, he's done all this with the enthusiasm of a little leaguer. Nobody deserves the MVP more than Cabrera."
Frank19872:"Trout gets it because he's a better all around player!"
tehleetfan:"If Miggy gets the triple crown and Trout gets MVP over him it will be a travesty. A 30/50 season is great but a triple crown is even better imo. Go miggy and go Tigers."


Join the conversation or respond by signing in or creating a profile and blogging.
On Wednesday, "First Take" brought in special guest Tony La Russa to discuss long-term deals in baseball. The Rangers have a decision to make about Josh Hamilton, and potentially could lock him up for many years to come. La Russa said he wouldn't give more than a five- or six-year deal to a player of any caliber, citing the Angels' 10-year deal with Albert Pujols as one that was not worth the risk. Both Stephen A. Smith and Skip Bayless agreed. What's your take?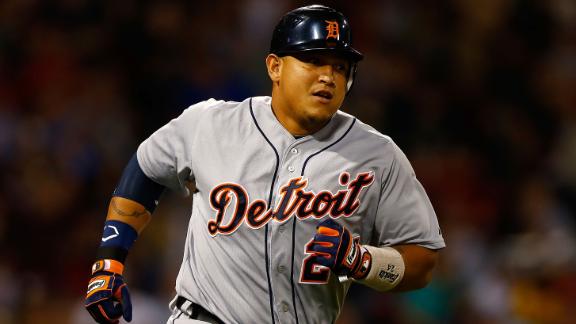 Mike Trout is only in his second year in MLB, but already he's making it seem like he's trying to be promoted to a league above the one he's currently in. Trout is rocking a 1.005 OPS, 20 homers, 36 stolen bases (against only three caught stealing, which is really, really good) , and he's playing a stellar center field. That's not enough for Jim Leyland, who thinks Miguel Cabrera (.967 OPS, 29 homers, plays a decent third base) is a better choice for AL MVP than Trout. Now, Leyland is expected to say that ('cause Cabrera is on his team and all), but is he really all that far off base?
One of the best things about baseball is how well it keeps track of its records. Players are always accomplishing rare and strange feats, and thanks to our obsession with stats, we're able to point it out almost immediately when this happens. Take Kendrys Morales homering from both sides of the plate in a single inning -- it's only the third time that has happened in history; talk about something you don't see every day -- you might go a whole half-century without witnessing someone pull off what Morales did Monday night. It's even more interesting that he did it against the Rangers, whose Josh Hamilton had his own rare home run feat earlier in the season. Did Morales' switch-hitting prowess trump Hamilton's raw power?
The Brewers are shopping Zack Greinke around the league, as a likely short-term rental for a competitor. Jayson Stark thinks the Angels, Rangers, Braves and White Sox have the best chance of getting him. What do you think?
gsa817: "If the Rangers really want him, they can get him. They have the best pieces. Doubt it will happen though. Greinke isn't exactly King Felix or Verlander, so Texas would be dumb to trade their future stars for him. He'll probably end up on the Angels."
dirkfanman81: "rangers please do not give up prospects for a half year rental. id rather tough it out then basically just throw out good young prospects for him."
zelts3: "Greinke would be fine in a big market....he's had so many articles and eyes on him lately and his last start vs the Phillies shows he can pitch well with that environment. Greinke is shut-down."
thesonicbrew: "As a Braves fan I keep thinking back to about 5 years ago when I read one of these rumor articles about Greinke to Atlanta for, a then up-and-coming Jeff Francouer.....and the Braves passed. Ah the irony."
Big-E28: "The Braves need to get Greinke now. We have the prospects that Milwaukee is looking for. They need a shortstop, then we'll give them Pastornicky. They need a good young arm, then we give them Delgado. Obviously the Braves are willing to trade Delgado as he was going to the Cubs, so what is the problem?"



Join the conversation or respond by signing in or creating a profile and blogging.