SportsNation Blog Archives

Toronto Blue Jays
Opening Day -- well, Opening Night, really, and we technically already had one of those in Japan, but who's counting? -- is finally here, as the Cardinals will take on the Marlins tonight in the first stateside regular-season MLB game. It's bound to be an exciting season with so many players having changed teams, but has the power structure been altered significantly?
Vote: Pick each division and pennant, and the winner of the World Series
Rank: Baseball's best teams? | Top players in the game?
---
World Series repeat?
The Cardinals prevailed over the Rangers in the 2011 World Series, but St. Louis lost its biggest gun this past offseason ...

---
Best player?
... which is a pretty big loss, considering he might be one of the best players of all time.

---
Odd one out?
The Red Sox missed the playoffs last season after an epic September collapse. Will they be on the outside looking in once again?

---
AL's best?
Prince Fielder and Albert Pujols were probably the two biggest additions to teams in the American League, meaning the balance of power could shift.

---
NL's best?
Likewise, the addition of Jose Reyes to the Marlins could give the team a huge upgrade -- offensively with new third baseman Hanley Ramirez, and defensively at shortstop.

We can understand if you don't want to take the time to grade your tech-support help on the other end of the telephone, but when we're talking about the dollars and emotion you've invested in sports, we think it's worth the effort. It's time for ESPN The Magazine's Ultimate Standings, in which SportsNation grades organizations on everything from ticket prices and stadium experience to the talent on the field, court or rink. Which team will end up on top this year? It depends on what you say.
Take part in the 2011 MLB survey
2010 MLB Ultimate Standings
1. Los Angeles Angels (Overall: No. 3)
2. Tampa Bay Rays (Overall: No. 6)
3. Colorado Rockies (Overall: No. 13)
4. Minnesota Twins (Overall: No. 14)
5. Atlanta Braves (Overall: No. 15)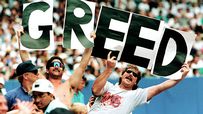 Take part in the 2011 NFL survey
2010 NFL Ultimate Standings
1. New Orleans Saints (Overall: No. 1)
2. Indianapolis Colts (Overall: No. 4)
3. Green Bay Packers (Overall: No. 9)
4. Arizona Cardinals (Overall: No. 19)
5. Baltimore Ravens (Overall: No. 20)
Take part in the 2011 NBA survey
2010 NBA Ultimate Standings
1. Orlando Magic (Overall: No. 2)
2. San Antonio Spurs (Overall: No. 7)
3. Cleveland Cavaliers (Overall: No. 10)
4. Dallas Mavericks (Overall: No. 24)
5. Oklahoma City Thunder (Overall: No. 25)
Take part in the 2011 NHL survey
2010 NHL Ultimate Standings
1. Pittsburgh Penguins (Overall: No. 5)
2. Detroit Red Wings (Overall: No. 8)
3. Washington Capitals (Overall: No. 11)
4. San Jose Sharks (Overall: No. 12)
5. Chicago Blackhawks (Overall: No. 16)
Didn't Aaron Hill learn anything from watching Vernon Wells? When a no-hitter is on the line, you run through the metaphorical and literal wall to make a play. All right, maybe that's being a little harsh on Hill, the second baseman who couldn't quite come up with a hard grounder in short right field that would have been the final out of Brandon Morrow's no-hitter. Instead, Morrow had to settle for a one-hit, 17-strikeout shutout.
On "Mike and Mike" Monday morning, Buster Olney said more than a few official scorers might have tried to rule the play an error to preserve the no-hitter. An error might be harsh, but SportsNation is far from unanimous in thinking it was a clean hit.
"Hill should have been able to field the ball. The angle that he approached the ball tells me that he did not want the ball hit to him. That is why the no-hitter was lost. In that situation the fielder MUST want the ball hit to him. Hill appeared to circle the ball and in doing so maybe subconsciously he gave himself a bailout for not getting to it. He should have at least fielded it. If he could not throw him out, it would have stood as a hit. Most other 2b in the league get to that ball. Cano definitely gets there and makes the throw for the out." -- SN commenter JosephMcGreal700
Toronto fans weren't as ready to fault Hill. Then again, he at least got a little leather on the ball. That's more than they're used to seeing out of Maples Leafs goalies.
"Anyone who thinks that hit wasn't a hit is an idiot. Hill did everything he could. To score it any other way is an insult to everyone on the field. Morrow even knows that was a hit. Great game/great series Jays. Plenty to be excited for as a Jays fan. Tough division, but the Jays are doing pretty damn well. As a Toronto resident, I'm thrilled." -- SN commenter CorruptCamel
There may be plenty of shopping days left until Christmas (163 if you're counting), but time is running out for baseball teams hoping to find that special something for the pennant race. The end of the month brings the non-waiver trade deadline and the opportunity for general managers to make the kind of mark Phillies GM Ruben Amaro Jr. did last summer in trading for Cliff Lee -- or, you know, the kind of impression the Cubs made in trading Lou Brock for Ernie Broglio in 1964.
Perhaps hoping lightning strikes twice, the Rangers made a big splash by landing Lee before the All-Star break, while the Braves used the pause to trade for slugging shortstop Alex Gonzalez. But could a player like Prince Fielder or Roy Oswalt tilt the scales enough in favor of another team willing to make a move?
Kevin Larson (Oak Lawn)
What kind of players are available for Kenny Williams to grab before the trade deadline? What about Adam Dunn coming to Chicago?
ESPN Chicago's Bruce Levine

I have talked about Dunn for a month. the problem is his defense is poor and his baserunning is plodding. That's not exaclty Ozzie Ball type material. The part that Kenny Williams likes is the home run power from the left side. The Sox have lacked offensive balance all season long. When Quentin hits the team seems to score. Full transcript
Brandon (Springfield)
Should the Braves make a move for Corey Hart? Do you believe he is having a fluke season so far?
Rob Neyer
A little bit, maybe. But I think last season was the bigger fluke. Hart's a legitimate power hitter and could help a lot of clubs. Full transcript
J.B. (Dunmore, PA)
Can you see either Matt Kemp or Josh Willingham going to the Braves for the stretch run?
Jayson Stark
I don't. I keep hearing that the Nationals are telling teams interested in Willingham that they prefer to move Adam Dunn if they move either of them. And it's very unlikely Matt Kemp gets traded. If he does, he'll be very expensive. Also, the Braves can't add much payroll. Full transcript
Let's just say SportsNation wasn't bullish on the Padres when the season began. If voters could have slipped some Pacific Coast League teams ahead of the team from San Diego, well, the Fresno Grizzlies look pretty good this season. As it was, voters ranked the Padres behind every team but the Royals, Pirates and Nationals.
Yet here we are with Memorial Day approaching and Bud Black's team is in first in the NL West. In looking at some of the season's biggest surprises, Jerry Crasnick suggests Adrian Gonzalez needs more help but does find some reasons for continued optimism.
"Two positive signs: The Padres have a run differential of plus-45, second best in the National League. They're also 14-9 on the road, so their staff isn't just a Petco Park mirage. Young Mat Latos, in particular, is earning rave reviews throughout the league." -- Read Crasnick's Starting 9.
It's not just the Padres. Check out the upward mobility of some of the season's biggest surprises through the lens of SportsNation's Power Rankings.
trevor (ca)
which of your top three surprises is most likely to keep surprising?
Jerry Crasnick
Trevor, The only reason I think San Diego can hang around longer than Toronto is that the Padres play in the NL West. But they really need someone to step up and take the pressure off Adrian Gonzalez. Remember, Toronto started off quickly last year, then faded in June and July. That AL East is a bear. Full transcript