SportsNation Blog Archives

Washington Redskins
September 19, 2013
Sep
19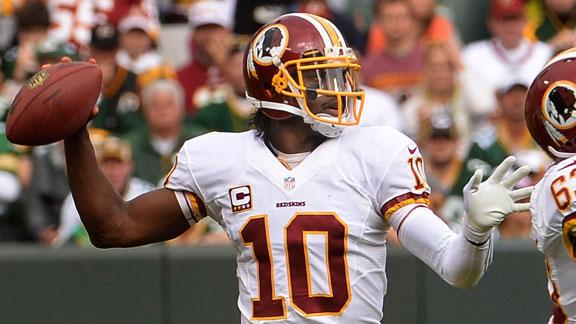 The Redskins are looking for answers to stop their losing streak, and Robert Griffin III thinks he's got one. Griffin said that he could run more, and considering the team hasn't called any designed runs for him this season, he may have a point. The risk, of course, is that his surgically-repaired knee might not yet be up to the burden of taking on more offensive responsibility, but part of Griffin's greatness is the fact he can make plays both in the air and on the ground. Take one of those elements away from him, and opposing teams have a much easier time keeping him contained.
---
Risk versus reward?
Griffin's running game is a weapon, but his long-term health could be at risk if he puts himself out there more than he already does.

Here's a sampling of what readers had to say in our Facebook conversation on the story:
Karim Glasgow: "I'm thinking defenses are better prepared to defend the zone read, and it's that simple. Griffin was going to have to pass more often going forward regardless of the safety risks associated with scrambling. He's proficient enough as a passer as it is, and figures to get better, so I don't see this being a problem."
Leonard Clay: "He runs more and he is done, Knee maybe healed but his mind is not and watching him play it's obvious he needs to focus on being a pocket QB not saying he can't run at times but what he did last year i think is over."
Mike Dixon: "The 'Skins defense is a much bigger concern than RGIII at this point. Granted, converting on 3rd will help keep the defense off the field, but the last thing you want is to expose your still-recovering franchise QB"
Prince Habibu: "The comeback was rushed, and this was unneccesary. But the bigger problem is the lack of trust between him and his coach which makes it very unlikely for him to suceed here so it would be worth his time to at minimum have an exist strategy in mind. Or work on building trust with his coach, but I think the latter is unlikely."
Sheryl Snider: "RGIII is a great athlete but he didn't make it through the season last year and more running will lead to more injuries in all likelihood."
What's wrong with the Redskins?
Don't be fooled by that score -- the Washington Redskins were downright dominated in the Green Bay Packers' 38-20 home win Sunday. The Wisconsiners led 31-0 midway through the third quarter, and they took a 38-7 lead into the final 15 minutes. Aaron Rodgers threw for 480 yards and four touchdowns, while James Starks ran for 132 yards and a score. Robert Griffin III, meanwhile, got hot late, but that couldn't make up for his first-half blahs (6-for-13, 107 yards). Washington now is 0-2 with a pair of awful opening halves. Needless to say, this is a worrisome development for a team many expected to win the NFC East.
Getty Images

NFL Week 2: Redskins at Packers

Week 1 did not go according to plan for this pair of playoff contenders. The Green Bay Packers lost -- rather controversially -- to the defending NFC champion San Francisco 49ers. The Washington Redskins trailed the Philadelphia Eagles 33-7 before mounting a comeback, but one that came up short. Which team will drop into an 0-2 hole?

Eagles start fast, hold on

Fast? That word was often associated with the Chip Kelly's new Philadelphia Eagles offense before Monday night's game against the Washington Redskins, and it certainly didn't disappear early on. That's because the Eagles jumped to a 33-7 lead thanks to LeSean McCoy's running, Michael Vick's throwing and the defense's dominance of the Robert Griffin III-led team (whose first score came on a fumble return). Washington didn't roll over; it was an onside kick away from having a chance to win. But so far, so good for the new-look Eagles. As for RG III? He might need some time to get un-rusty.

Redskins' use of Robert Griffin III?

Dr. James Andrews has cleared Robert Griffin III to play, but he's expressed concern about the way the Redskins plan on using him. Griffin ran 120 times in 2012, a strategy that produced major yards for the rookie phenom but also exposed him to more punishing hits in the midfield. Andrews didn't condemn the Redskins, but when the world's foremost athletic surgeon makes a suggestion, it'd be a good idea to hear him out.