SportsNation Blog Archives

Boston Celtics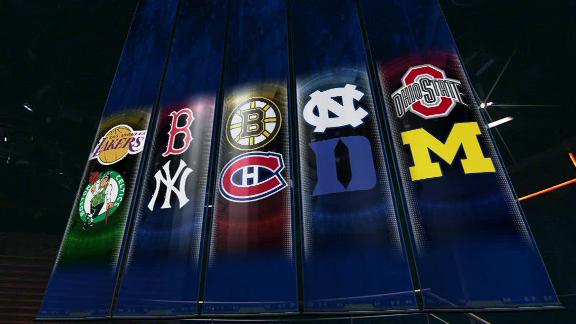 It's usually a big deal whenever the Lakers take on the Celtics. The two teams have battled back and forth across the years in matchups featuring some of the greatest players of all time in their primes. This time around, though, it's a bit of a letdown. The Lakers are struggling, and the Celtics are barely hanging on in the East. Kobe Bryant is frustrated; Paul Pierce doesn't want to be part of a rebuilding process -- it's a fallow time for this rivalry. Is it still an all-time great?
xxSamuelxx123: "It's always Boston vs someone else"
Mr. 81 pts: "Lakers and Celtics = Proven Champs. Rest Of League = Proven Chumps."
allabawab: "the best ever rivalry is NC vs duke. i do not like to watch college sports but when those two team play i make sure to watch them."
woodsdt: "UNC vs Duke hands down."
ImTylerDurden: "Michigan/Ohio State has to be the greatest rivalry if only because it covers multiple sports, be it football or basketball or hockey. You name it. They battle in all of these sports and are competitive in all of these sports and lead their league in all of these sports."
Join the conversation or respond by signing in or creating a profile and blogging.
---
Which team wins?
Both teams need this win badly. The Lakers are dealing with Pau Gasol's injury, while the Celtics have lost Rajon Rondo for the season.

On Friday, ESPN's "First Take" debated Kobe Bryant's responsibility for the Lakers' bad loss to the Celtics on Thursday night. Boston scored 37 points in an explosive third quarter, and the Lakers were generally helpless to stop the Celtics over the course of the whole game. Stephen A. Smith thinks factors outside of Bryant's control were more to blame -- the Celtics were amped-up and emotional -- while Skip Bayless points to Bryant's zero assists as a big reason for the loss.
Reuben Foster has an Auburn tattoo. That's not terribly unusual for a guy who's going to be playing football at Auburn, although it is unusual for a guy who decommitted from Alabama first. It's even more unusual for a guy who's going to be recommitting to Alabama, which Reuben Foster did on Monday. No word on whether or not he's going to be keeping the tattoo, although modern technology offers several options for doing so.
Jbrad24seven113: "Twitter was loaded with angry Auburn fans last night. it was too funny."
tide733: "Can't blame Foster for wanting to be coached by the King and win titles."
dustbowlin_daddy: "And he learned a valuable lesson about tats. What you think is cool right now will probably seem lame and embarrassing in 10 years ... you can throw out parachute pants and stop dancing Gangnam Style, but ink is forever."
Keith53866: "Let me see go to Alabama and win a National Tittle or Go to Auburn and hope we win one in 57 years."
clowneyed: "This kid and Saban will get along great. They both know how to jump ship with the best of them."
Brett11192: "Why would Alabama want a recruit this flakey? aren't these a bunch of red flags?"
Join the conversation or respond by signing in or creating a profile and blogging.
The Celtics have won four straight since Rajon Rondo went down for the season, but several sources suggest that they might be ready to start the painful process of rebuilding -- possibly by trading Kevin Garnett to the Los Angeles Clippers. The potential deal could involve Eric Bledsoe and Caron Butler. Would Garnett help put the Clippers over the top?
Alan Moore: "It don't matter if the Clippers want KG or if Celtics GM wants to trade KG. All that matters is if KG wants to go to the clippers. He's got a no trade clause so it's his choice. Given his history I don't see it happening. Remember he was so loyal that he had to be dragged kicking and screaming to leave Minnesota. And he loves Doc, Rondo and Pierce. He's too loyal to all those guys to leave and he already has a ring."
fdantes: "Garnett could definitely help LAC. He is still an elite defender and now that he is primarily a jump shooter offensively, it would open up the lane for Blake Griffin. Bledsoe and Butler would obviously help Boston, but are the worth giving up the interior defense of KG. This trade could benefit both teams, but giving up interior defense in the playoffs may hurt Boston."
ajc9387: "I wouldn't mind the C's dumping some cap (even if it's a player I really like) to get into the Josh Smith sweepstakes this summer. I like the way he plays, he and rondo are friends, and he's repeatedly said he wants to play in Boston."
aequitask: "If you're boston, you absolutely take this deal."
That_Dude_Dre: "Eric Bledsoe and Butler aren't game changers like KG is. Dude single handed changed the whole culture of Boston."
Dribbrd.: "It's not numbers KG brings to a team. It's a completely different mentality he brings. The Clippers would become a much tougher team. It you mix that with their athleticism, they could be dangerous."
Join the conversation or respond by signing in or creating a profile and blogging.
Boston Celtics guard Rajon Rondo will miss the remainder of the NBA season after suffering a torn ACL in Friday's loss to the Atlanta Hawks. With their floor general on the court, the Celtics have a 99.2 offensive efficiency rating and a 100.4 rating without him. Does this give Boston hope that they will be a playoff team without their starting point guard?
welldone2013: "Sad day for all sheltic!! fans. I love to see this guy play. With the engine down, i doubt if the cast can push for the playoffs. Get well soon Rondo."
LetsGoBraves2012: "celtics offense will suck without rondo"
tanti311: "I think we will be better off without him. I know he is a triple-double threat every night but you watch what happens without him. He makes a lot of mental mistakes and I think he is inconsistent. Go ahead and let the shots fly."
UnbeataBULL8: "I don't like the guy but as a Bulls fan I know how tough it is when your PG goes down because of this. Hope the C's will be all right without him! Wish Rondo all the best and a speedy recovery!"
JWB-1979: "Well this sucks, best of luck Rondo. Speaking of toughness, the dude didn't leave the game after he tore his ACL and put a triple-double up on a torn ACL!!!"
Laangels5824: "Doesnt matter what team you are a fan of. This is terrible news for the NBA and it's sad to see one of the NBA's best PGs go down for the season. Its absolutely disgusting to see so many people happy by this news."
Join the conversation or respond by signing in or creating a profile and blogging.