SportsNation Blog Archives

Miami Heat
The one variable NFL coaches can't control is also the one that can have the biggest impact on a team's season: Losing key players to injury. The Bears, Rams, Eagles and Colts know that all too well, as all four teams lost key performers for weeks or for the season. The Rams will have to replace QB Sam Bradford, while the Colts lost lost Reggie Wayne. The Eagles' QB situation was muddled when Nick Foles' concussion reopened questions about who should start in Philly. And the Bears, already fighting injury losses on defense, will be without quarterback Jay Cutler and linebacker Lance Briggs for weeks. Which of these teams was dealt the lousiest cards?
---
The hits keep on coming
Josh McCown will step in at QB while Jay Cutler recovers from a groin tear.

---
Tough break for Indy
With leading WR Reggie Wayne out for the season, the Colts will be counting on T.Y. Hilton and Darius Heyward-Bey.

---
Help wanted?
With Sam Bradford lost for the season, the Rams must decide if they'll turn the team over to backup Kellen Clemens.

---
Who gets the start?
Nick Foles' concussion could put Michael Vick back in as starter in Philly. Should it?

Whether you think Colts owner Jim Irsay was taking a swipe at Broncos QB Peyton Manning's postseason record with the Colts or just being honest about his frustration at winning only one Super Bowl with Manning, this much is true: It sure got people's attention. Irsay is in a back-and-forth with Broncos coach John Fox over whether it was an "unneccesary shot" at Manning, or whether Fox "misperceived" the comments. Former Colts coach Tony Dungy said Irsay was "getting personal" in an effort to throw off Manning's game. Manning, for his part, chose silence. What's more, all this followed Irsay pumping up the Welcome Back Peyton tribute the Colts are throwing their former QB on Sunday.
---
Fair game?
Jim Irsay's Colts won a lot of games with Peyton Manning at quarterback, but just one Super Bowl.

---
What does the Fox say?
John Fox believes Irsay's comments about Manning's postseason record weren't needed.

And you thought you knew everything about LeBron James. In an interview with ESPN's Chris Broussard for an upcoming issue of ESPN The Magazine, LeBron opens up about his appreciation for Michael Jordan (we knew that) and Allen Iverson (we didn't know that). What's interesting is he hails both players for their fearlessness and then discusses how he has worked to overcome his own fear of failure. He also talks about whether he could or should become a "flat-out scorer" and his leadership role on the Heat. Is James on his way to becoming the greatest player in NBA history?
---
Surprise Answer?
LeBron James says Allen Iverson was second only to Michael Jordan among his favorite players growing up.

---
No fear
LeBron says he had to work to overcome his fear of falling short in big moments.

---
Skill set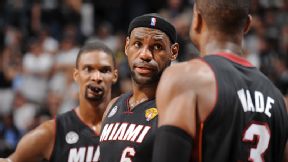 If LeBron says he's not a "flat-out scorer" and has other skills, like being a team leader.

---
Ancient history?
"The Decision" and its aftermath left many fans with a negative impression of LeBron, but that was four years ago.

Garrett Ellwood/NBAE/Getty Images
NBA 5-on-5: Miami Heat
The Heat added Greg Oden and Michael Beasley to their roster, but were they A-worthy offseason moves? Which is the biggest question facing the two-time defending champs? Will they become the first team since the 1999-02 Lakers to three-peat? The NBA 5-on-5 guys had their say and now it's time for SportsNation to weigh in.
Joe Cavaretta/Sun Sentinel/Getty Images

LeBron James to keep quiet on 2014

Take a good listen, LeBron James prospectors. This might be the last you hear from the King about his impending (possible) free agency. At Miami Heat media day Monday, the four-time MVP and two-time defending NBA champion said he no longer will talk about next summer, when he can opt out of his six-year deal. In other words, prepare for a near-repeat of the summer of 2010, when James' dithering led to his infamous -- and famous, in South Florida -- Decision. Should Heat fans be nervous?