SportsNation Blog Archives

Orlando Magic
---
Will "Hack-a-Howard" catch on?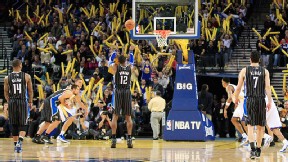 Dwight Howard broke one of Wilt Chamberlain's records by taking 39 free throws against the Warriors. The Magic won, but considering Howard hit just 21 free throws, is it good strategy?

---
Why do big men struggle at the line?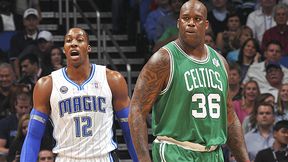 It's not universal -- Yao Ming shot 83 percent from the line -- but giants like Chamberlain and Shaquille O'Neal were just as bad from the charity stripe as Howard.

---
Will the Magic trade Howard?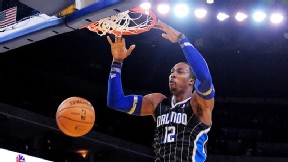 Free throws aside, Howard finished with 45 points, 23 rebounds, four steals and two blocks. With that kind of production, will the 8-3 Magic take their chances and keep Howard?

---
Are the Magic contenders with him?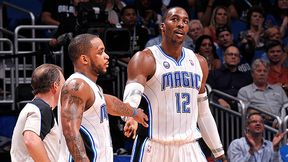 With that 8-3 record, the Magic are tied for first in the Southeast Division with the mighty Heat and just 1.5 games behind the Bulls for the East lead.

How could the Nets best make a big splash as they prepare for an eventual move from New Jersey to Brooklyn? Well, adding the NBA's best big man would be a start. The Nets are reportedly ready to offer Brook Lopez and two first-round picks for Dwight Howard and the financial anvil that is Hedo Turkoglu's contract. There is some skepticism about the Magic's willingness to abandon all hope of keeping Howard, but should this offer convince them?
"The Magic would be CRAZY not to do this. Two first round picks from the Nets of all teams and Brook Lopez, who is an up and coming center? I'd do it in a heartbeat." -- SN commenter Bostonsportzfan4life
"If Dwight wanted or intended to stay in Orlando he would have signed the contract extension. I am (or was before the strike) a Magic fan and Orlando resident, and I say trade him now! Get something for him before he walks." -- SN commenter Catman726188
---
Will the Magic trade Howard?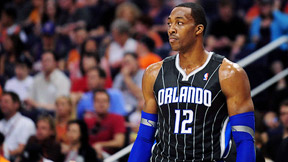 The Cavaliers waited out LeBron James and lost big. The Nuggets eventually bailed on Carmelo Anthony. What path will the Magic take?

---
Should Magic listen to Nets?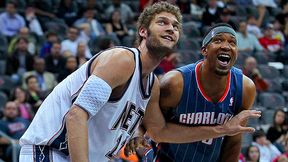 Brook Lopez averaged 20.4 points per game last season for the Nets, while Hedo Turkoglu is still owed $35 million. Sound like a deal?

---
Which duo would rule the Big Apple?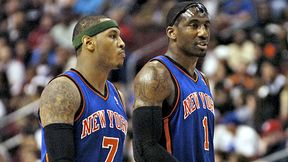 The Knicks made bold moves to acquire Amare Stoudemire and Carmelo Anthony, but would Deron Williams (if he signs an extension) and Howard trump them?

---
What most motivates Howard?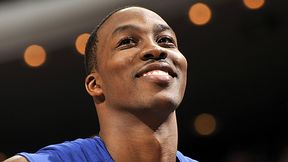 The superstar center who preceded Howard in Orlando, Shaquille O'Neal, proved you can have all three, but what motivates Howard?

We can understand if you don't want to take the time to grade your tech-support help on the other end of the telephone, but when we're talking about the dollars and emotion you've invested in sports, we think it's worth the effort. It's time for ESPN The Magazine's Ultimate Standings, in which SportsNation grades organizations on everything from ticket prices and stadium experience to the talent on the field, court or rink. Which team will end up on top this year? It depends on what you say.
Take part in the 2011 MLB survey
2010 MLB Ultimate Standings
1. Los Angeles Angels (Overall: No. 3)
2. Tampa Bay Rays (Overall: No. 6)
3. Colorado Rockies (Overall: No. 13)
4. Minnesota Twins (Overall: No. 14)
5. Atlanta Braves (Overall: No. 15)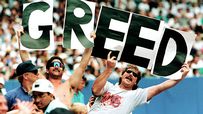 Take part in the 2011 NFL survey
2010 NFL Ultimate Standings
1. New Orleans Saints (Overall: No. 1)
2. Indianapolis Colts (Overall: No. 4)
3. Green Bay Packers (Overall: No. 9)
4. Arizona Cardinals (Overall: No. 19)
5. Baltimore Ravens (Overall: No. 20)
Take part in the 2011 NBA survey
2010 NBA Ultimate Standings
1. Orlando Magic (Overall: No. 2)
2. San Antonio Spurs (Overall: No. 7)
3. Cleveland Cavaliers (Overall: No. 10)
4. Dallas Mavericks (Overall: No. 24)
5. Oklahoma City Thunder (Overall: No. 25)
Take part in the 2011 NHL survey
2010 NHL Ultimate Standings
1. Pittsburgh Penguins (Overall: No. 5)
2. Detroit Red Wings (Overall: No. 8)
3. Washington Capitals (Overall: No. 11)
4. San Jose Sharks (Overall: No. 12)
5. Chicago Blackhawks (Overall: No. 16)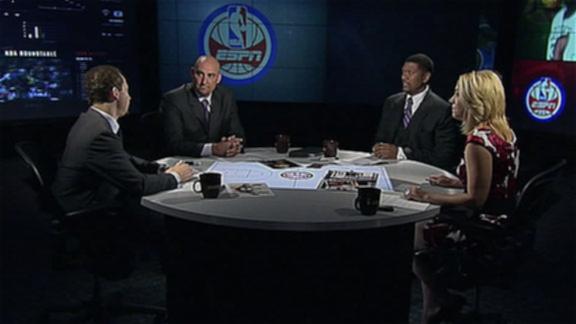 The NBA's regular-season tipoff is barely a week away, which means it's time to talk about LeBron James again!
OK, maybe we've talked about LeBron James a bit too much this offseason -- everything from your preference for where he'd play this season, to how he'll integrate with his new teammates, to whether or not he's still well-liked by the American public. What we're asking now goes beyond LeBron James himself and instead addresses the very reason why he went to the Heat in the first place: Which team holds the power in the NBA?
The Heat might be the obvious answer, but don't sleep on last season's championship matchup. The Lakers still have Kobe Bryant (who is probably less than thrilled about all the attention LeBron and the Heat are getting), and our experts think that the Celtics' Big Three might be better than Miami Thrice, or whatever we're calling James, Wade and Bosh these days. That's not to mention teams like the Magic and Thunder who are both young and hungry for recognition. We'll have a better idea beginning next week, but for now, it's your chance to determine the NBA's pecking order.
"

I believe Lebron does a lot of things at a higher level more naturally than Kobe. Lebron's overall athletic prowess is superior in many ways to that of Kobe. But having said that, Kobe is the better player. Many of us have mistaken Kobe's injuries as him being, "old or a step slow." But what Kobe has done over the last three seasons injured is a testament to his greatness.

"

-- MrMixitup
"

The beauty about the Magic is that they can play so many different ways and play it well. I do think that on most nights we'll be able to win with Shard at the 4 but against teams like the C's and Lakers we're going to need Bass playing big minutes. Hopefully he's learned from last year and buys into the system because there is no denying the dude is a beast.

"

-- kermit_da_toad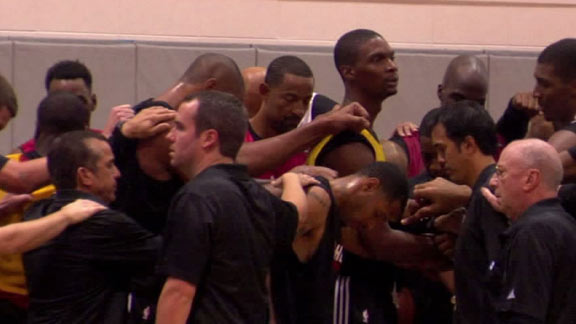 Allen Iverson really wouldn't have liked playing for the Heat, because we are most certainly talking about practice. The opening of Miami Heat training camp has attracted more attention than any actual game the Indiana Pacers or Washington Wizards played last season. Then again, the basketball has probably been better, too.
But is the team SportsNation suddenly finds itself rooting for located elsewhere in Florida?
Consider the evidence. Stan Van Gundy called Chris Bosh a "lapdog" earlier this summer. Dwight Howard can't understand why the media is giving the Heat championships "for the next 12 years." And Magic GM Otis Smith questioned how much of a "competitor" LeBron James was after signing with the Heat.
If you're in the anti-Heat camp, let's face it: You're going to cheer for the Magic. Maybe neither deserves the "America's team" label, but which team is America's Florida team?
"

Mr.Riley, I I'll follow your advice, but be careful what you wish for and hope many people don't grant you that wish. Whenever the Heat are on t.v I think I'll read a book or research something important, maybe call my Mom, maybe straighten up the basement ... you know, get a life and stop caring so much about the NBA.

"

-- xrobologyx
"

People feel so threatened by Miami, that they keep saying the same ol things to comfort themselves... so sad

"

-- heatfan85