SportsNation Blog Archives

Toronto Blue Jays
It's just like the census, only this one is fun and doesn't come in the mail. And nobody from FOX News or MSNBC will yell at you about it. It's time for ESPN The Magazine's Ultimate Standings, in which SportsNation grades organizations on everything from ticket prices and stadium experience to the talent on the field, court or rink. Which team will end up on top this year? It depends on what you say.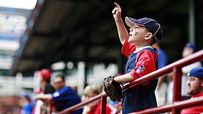 Take part in the 2010 MLB survey
2009 MLB Ultimate Standings
1. Los Angeles Angels (Overall: No. 1)
2. Milwaukee Brewers (Overall: No. 7)
3. Tampa Bay Rays (Overall: No. 16)
4. Minnesota Twins (Overall: No. 23)
5. Philadelphia Phillies (Overall: No. 24)
Take part in the 2010 NFL survey
2009 NFL Ultimate Standings
1. Pittsburgh Steelers (Overall: No. 3)
2. Green Bay Packers (Overall: No. 13)
3. Indianapolis Colts (Overall: No. 14)
4. Tennessee Titans (Overall: No. 15)
5. New England Patriots (Overall: No. 19)
Take part in the 2010 NBA survey
2009 NBA Ultimate Standings
1. Cleveland Cavaliers (Overall: No. 5)
2. San Antonio Spurs (Overall: No. 9)
3. New Orleans Hornets (Overall: No. 12)
4. Houston Rockets (Overall: No. 17)
5. Orlando Magic (Overall: No. 18)
Take part in the 2010 NHL survey
2009 NHL Ultimate Standings
1. Carolina Hurricanes (Overall: No. 2)
2. Detroit Red Wings (Overall: No. 4)
3. Washington Capitals (Overall: No. 6)
4. Pittsburgh Penguins (Overall: No. 8)
5. St. Louis Blues (Overall: No. 10)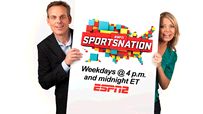 Michelle Beadle and Colin Cowherd call the plays from the sidelines and aren't afraid of audibles during "SportsNation" TV.
Argue the hot topics of the day and vote on the biggest stories from the world of sports. The show airs on ESPN2 at 4 p.m. and midnight ET.
Note: Broadcast voting results as of this afternoon (ET).
How would you rate the Yankees-Jays brawl?
Jorge Posada bumped Toronto reliever Jesse Carlson after crossing home plate. They exchanged words, and the benches cleared.
Could you swim faster than Shaq?
Shaq actually beat Michael Phelps in one of three races (although he swam shorter distances than the Olympian). You get to choose the swimwear.
Will the crowd at the new Cowboys Stadium affect the Giants?
Jerry Jones wants to open his new stadium with more than 100,000 fans. Will they bring the noise or be too busy watching the giant TV?

What do you think of fan vandalism?
The front lawn of a home belonging to cornerback Leodis McKelvin was vandalized following Buffalo's season-opening loss to New England.

Which would you rather wear around your house?
Bill Belichick's hoodie has that casual, day-on-the-sideline appeal, but the Snuggie is warm, cozy and screams, "Home!" with those sleeves.
What is "SportsNation" TV, and how do you make your voice heard? Read about the new ESPN show that features fan opinions with calls, tweets, polls, rankers and more.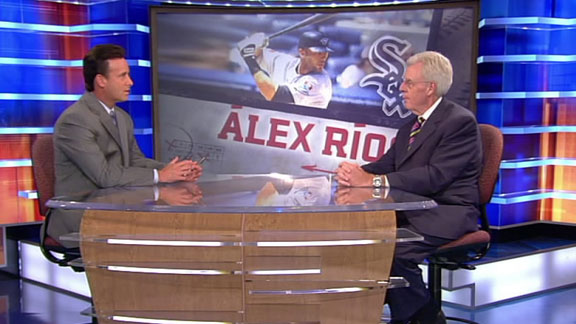 They say you can't get something for nothing, but the White Sox did just that in adding outfielder Alex Rios for the stretch drive. All they had to do was agree to pay a minimum of $61.6 million. Only in baseball, which seems to have roughly the same effect on the laws of economics as black holes have on the laws of physics, could that make some sort of sense.
Taking advantage of the loophole that the trade deadline isn't, in fact, an actual deadline on trades, the White Sox landed the two-time All-Star after claiming him on waivers from the Blue Jays, who were probably looking to trade Rios but willingly handed him over without compensation given the opportunity to escape his contract. Got all that?
The upshot is the White Sox now have another bat, and possibly Jake Peavy's impending return, to chase down the Tigers in the Central or claim the AL wild card.
Of course, with a crowded outfield, Ozzie Guillen just has to find a place to play him. Just what Guillen needs, another mouth to feed and another batter to protect.
"

This is a genius move by Riccardi. Now during the off-season he can afford to sign an all-star outfielder with around a .300 average who has some power and speed. Sweet. Hey, wait a minute...

"

-- daphins23
"

I agree with whoever said Rios might thrive in a change of scenario. Playing meaningful games for the first time in years might result in a drastic improvement in play and attitude.

"

-- NumberThirtyFive
J.P. Ricciardi has another day or two to decide if he wants to keep his ace or be flush with prospects, but for its part, SportsNation isn't sure if the Jays' general manager is Austin Powers or Mike McDermott at the table (come to think of it, among Hollywood card players, John Turturro might be a better fit for the Ricciardi role).
Voters ranked Ricciardi a tepid No. 19 in their GM Power Rankings. That's not Omar Minaya territory or anything quite so disastrous, but it's way down the ladder from the affection SportsNation showed Phillies general manager Ruben Amaro Jr. at No. 6. And Amaro is very much in the high-stakes game of dealing for a stud pitcher at the deadline.
Perhaps it's a bluff designed to make Ricciardi nervous, but the Phillies seemed to have turned their attention to Indians ace Cliff Lee after finding the price for Roy Halladay prohibitive. Voters in Pennsylvania remain convinced the Phillies will land either Lee or Halladay, but the rest of the country isn't so sure a deal will get done. Not that many outside Red Sox Nation are convinced the Phillies can't win without a big addition.
Edit: We knew Amaro was a big SportsNation blog fan, but that was an impressive turnaround. We post; he reportedly trades. We feel heady with power).
"

If the contenders lowball Shapiro, Lee will finish the season in Cleveland. They should have learned their lesson last year. Sabathia's price tag should have included Mat Gamel. The Brewers got away with sending a mediocre LHP with no future in Jackson, damaged goods in Bryson, and two guys that were at least a season away from being big league talent. The Indians will (should) walk away from anyone trying to get Lee at a discount. The worst case scenario is that they deal him at deadline time next year.

"

-- Ghostsof1948
"

I don't understand alot of this talk...the only reason we would trade Lee is because we won't pay him after next year....if he is looking for Sabathia or even Zambrano money i think we should get the most that we can for him...i would hold out like Toronto for the best players teams have! We hold all the cards, lee is signed through next year, so we are in no pressure mode.

"

-- robytooj
"

if were (the phillies) so worried about not getting rid of drabek then why dont we have him in our rotation already? I mean if were so worried about not dealing him then why aren't we using him since our pitching hasn't been great this year and everyone keeps landing on the dl. i say put him in the deal and lets get hallady who we all know will dominate

"

-- mblakes03
Most baseball managers are essentially household names in SportsNation (perhaps only in the greater Pittsburgh area and among Russell family members in the case of Pirates skipper John Russell). Most general managers, like this guy to the right, could show up at your fantasy draft without attracting much attention. Maybe if the latter group just wore uniforms like the former during games …
Whatever the remedy, general managers are mostly a faceless bunch beyond money guys like Brian Cashman and Theo Epstein (or "Moneyball" guy Billy Beane). But even if voters can't tell Jack Zduriencik from Andrew Friedman, they think that those who work phones that dial beyond the bullpen are more important than managers.
That's particularly true this week, as Friday's trade deadline puts general managers like Toronto's J.P. Ricciardi (he's the guy in the polo) and Philadelphia's Ruben Amaro Jr. front and center for a fleeting moment. Ricciardi is trying to work off the negative stigma of signing guys like B.J. Ryan (looking for work), Alex Rios (.747 OPS) and Vernon Wells (.714 OPS) to massive contracts, while Amaro is trying to get out from Pat Gillick's shadow in his first season running the Phillies.
"

Seems like Ricciardi is overcompensating for the bloated contracts he handed out to Wells & Rios which have yielded practically nothing this season...give Ricciardi the boot & bring in John Hart.

"

-- Joba_Rules
"

Theo will prove he is the best GM when he makes another creative deal that might send away a player that may be or once was a fan fave but will prove once again it was the right time to send them packing. Like Manny, Pedro, Nomar, Lowe, Damon and others. I wouldn't be surprised if he gets Hallady and a big bat.

"

-- aaron12580