SportsNation Blog Archives

Robert Griffin III
Football is generally perceived as a sport of tradition, but it's surprisingly adaptable when it comes to the product on the field. Take the quarterback position. It's gone from run-first in the game's early years to pass-first as the game evolved. Now, with a number of quarterbacks starting and succeeding by relying on their feet, it seems like the pendulum is swinging back in the other direction. Robert Griffin III thinks more and more teams will employ mobile quarterbacks or will at least be forced to draft a passer who can run as a last resort.
Here's a sampling of what readers had to say in our Facebook conversation on the story:
Benjamin Howland: "if this is true why am I reading a story here that St Louis contacted Brett Favre to gauge his interest in an NFL return. There are so many QB's in college that have success running the read option. If this is the wave of the future why are teams still going after a 'pass first' QB even though he is 44 years old?"
Cody Cornett: "Big problems with this argument. After only one season of heavy read-option in the NFL last year, none of the read-option QBs are having great success this year. There are ZERO "running" QBs in the Top 10 QBs in yards this year, and only TWO of the top 10 offenses in passing yds per game in college feature a running QB (Manziel and Winston)."
Shaun Presley: "The guy never said pocket passers are going away and mobile quarterbacks are taking over. He just said that you will see more in the league which you will. The bulk of these colleges are going to the spread, which means that what will be coming into the league.i count a handful of the top level college teams that don't run that spread style offense. "
Ryan Murphy: "RG3 set the rookie record for NFL history for passer rating and efficiency. Pretty sure he can throw the ball, and happens to also be able to run. Wilson and Kaep seem to be doing ok too. "
Matt Bollinger: "The reason that these running QBs can affect today's NFL the way that they do is because, on top of having NFL-caliber athleticism, they have the arms to back it up. Much like Aaron Rodgers and Andrew Luck aren't thought of as "running QBs" by any means, but, both guys are surprisingly capable of getting big yards on the ground... guys like Kaep, RG3, Cam Newton and Russell Wilson came into the league with the expectation of being able to get yards on the ground, but have surprised with how well they can sling it through the air."
What do you think? Leave your comments below.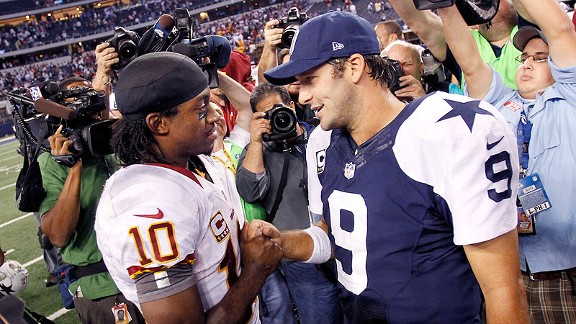 Rodger Mallison/Fort Worth Star-Telegram/Getty Images
NFL Week 6 -- Wash. at Dallas
It might be 1-3 vs. 2-3, but this Sunday night game carries a little more weight, considering the names of the teams involved. But there's more than just history between the Washington Redskins and Dallas Cowboys; the NFC East title is up for grabs, with Dallas tied atop the division and Washington half a game back. The teams also enter in different places mentally, with the Cowboys losing a heartbreaker against Denver on Sunday and Washington coming off a win and a bye.
Power shift in the NFC East?

Before the season, experts and voters alike liked either the Washington Redskins or New York Giants to claim the NFC East title. Three weeks in, neither has won a game. Washington fell 27-20 to the Detroit Lions at home Sunday. The Giants were embarrassed by the Carolina Panthers 38-0. Meanwhile, the Dallas Cowboys hammered the St. Louis Rams 31-7, meaning America's Team owns twice as many victories as the rest of its division combined. Will the current standings hold?

September 19, 2013

Sep

19

The Redskins are looking for answers to stop their losing streak, and Robert Griffin III thinks he's got one. Griffin said that he could run more, and considering the team hasn't called any designed runs for him this season, he may have a point. The risk, of course, is that his surgically-repaired knee might not yet be up to the burden of taking on more offensive responsibility, but part of Griffin's greatness is the fact he can make plays both in the air and on the ground. Take one of those elements away from him, and opposing teams have a much easier time keeping him contained.

---

Risk versus reward?

Griffin's running game is a weapon, but his long-term health could be at risk if he puts himself out there more than he already does.

Here's a sampling of what readers had to say in our Facebook conversation on the story:

Karim Glasgow: "I'm thinking defenses are better prepared to defend the zone read, and it's that simple. Griffin was going to have to pass more often going forward regardless of the safety risks associated with scrambling. He's proficient enough as a passer as it is, and figures to get better, so I don't see this being a problem."
Leonard Clay: "He runs more and he is done, Knee maybe healed but his mind is not and watching him play it's obvious he needs to focus on being a pocket QB not saying he can't run at times but what he did last year i think is over."
Mike Dixon: "The 'Skins defense is a much bigger concern than RGIII at this point. Granted, converting on 3rd will help keep the defense off the field, but the last thing you want is to expose your still-recovering franchise QB"
Prince Habibu: "The comeback was rushed, and this was unneccesary. But the bigger problem is the lack of trust between him and his coach which makes it very unlikely for him to suceed here so it would be worth his time to at minimum have an exist strategy in mind. Or work on building trust with his coach, but I think the latter is unlikely."
Sheryl Snider: "RGIII is a great athlete but he didn't make it through the season last year and more running will lead to more injuries in all likelihood."