SportsNation Blog Archives

Georgia Tech Yellow Jackets
---
Chick-fil-A Bowl
Virginia (8-4, 5-3 ACC)
No. 25 Auburn (7-5, 4-4 SEC)

---
AutoZone Liberty Bowl
Cincinnati (9-3, 5-2 Big East)
Vanderbilt (6-6, 2-6 SEC)

---
Kraft Fight Hunger Bowl
Illinois (6-6, 2-6 Big Ten)
UCLA (6-7, 5-4 Pac-12)

---
Hyundai Sun Bowl
Georgia Tech (8-4, 5-3 ACC)
Utah (7-5, 4-5 Pac-12)

---
Meineke Car Care Bowl of Texas
Texas A&M (6-6, 4-5 Big 12)
Northwestern (6-6, 3-5 Big Ten)

It's not the game of the century, but No. 10 Virginia Tech's visit to No. 21 Georgia Tech on Thursday (ESPN/ESPN3, 8 p.m. ET) is definitely the game of the night in college football. And it might just be the game of the year in the ACC. As ACC blogger Heather Dinich notes, the winner between these two has reached the league's championship game in each of the past six seasons, and the forecast looks good for this year to be seven in a row.
"It will be very good for the conference if Georgia Tech wins Thursday night. Va Tech is not that good, and I hope they don't get lucky breaks to squeak by. ... All this luck of squeaking by teams like Duke 14-10, etc. has to end sometime for this not-so-good Hokies squad." -- SN commenter bmw463848
"Until someone in the ACC can stop the Hokies they will always be the class of this conference." -- SN commenter b-barbz15
---
Frank Beamer or Paul Johnson?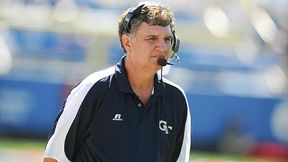 Paul Johnson (above) has the edge in national championships (granted, they came at the FCS level), but Frank Beamer is 49-11 in the ACC.

---
How close is No. 10 to No. 2?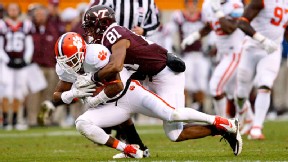 Virginia Tech could take out one team ahead of it in a potential ACC title game rematch against Clemson, but is there any scenario that sends the Hokies to New Orleans?

---
Triple the fun for Yellow Jackets?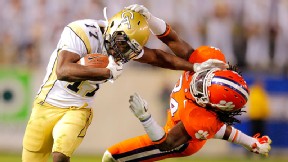 In a world of spread offenses and passes by the dozen, Paul Johnson's triple-option offense is a rare sight. But does uniqueness make it entertaining?

---
Megatron or Michael Vick?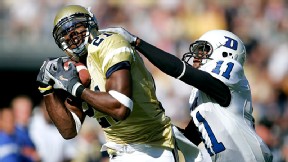 In just three seasons of work, Calvin Johnson piled up the eighth-most receiving yards in ACC history, but was Michael Vick better at Virginia Tech?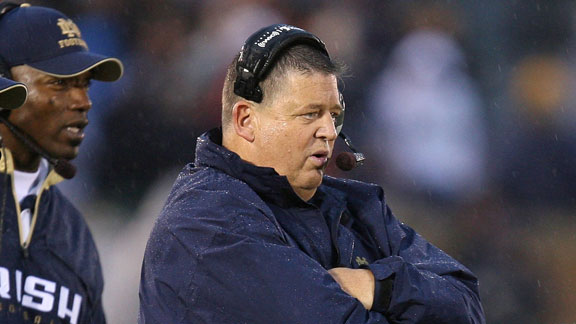 It won't be an easy weekend for BCS Cinderellas, even though they're all playing at home. Cincinnati faces No. 25 West Virginia, TCU gets the pressure of GameDay and No. 16 Utah, and Boise State deals with a surprising 7-3 Idaho (and a visiting AD who doesn't like to fly on planes with Broncos markings).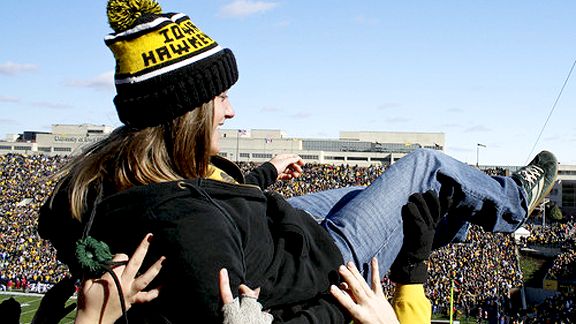 Thanks to chadronhusker for illustrating the crazy ride Iowa fans have been on all season.
These are our favorite photos uploaded this week. If any of the images makes you want to surf the crowd, click it to view a larger picture and to comment. If you have a great picture or saw one you think the world should see, leave a brief description and a link in the Conversation section below.
USC fans still have BCS hope, but know their team can't lose again. Boise State, Cincinnati and Iowa fans wonder what more their teams can do, besides pray for a loss by one of the top 3.
Now that Ohio State has two losses SportsNation thinks Ohio State is using Terrelle Pryor incorrectly. Fans, however, still think Sam Bradford is a first-round pick.
Florida State kicked off Week 8 with a needed win, and Alabama, Florida and Texas face opponents they shouldn't overlook.
"

Mark Ingram is a good reason for [Alabama's] passing to be less of a factor. Wait until next year for any shot of a Vols upset.

"

-- Beano Cook

"

I pick Florida to win this game, but to be seen as legitimately No. 1, the Gators should win convincingly, even more so than against Arkansas.

"

-- IdahoanTyke

"

My ranking: 1. Iowa; 2. Florida; 3. Alabama; 4. Texas; 5. Virginia Tech; 6. TCU; 7. Boise State; 8. USC; 9. Oregon; 10. LSU.

"

-- CheezusCrust