SportsNation Blog Archives

Texas A&M Aggies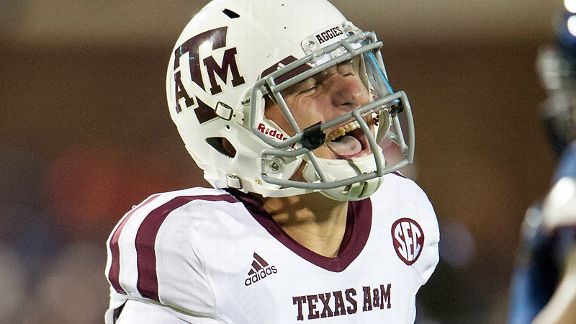 Michael Chang/Getty Images
CFB: (24) Auburn at (7) Texas A&M
Meanwhile, in sleeping giant territory, Johnny Manziel and the Texas A&M Aggies are lying in wait outside the SEC West and BCS National Championship discussions ... for now. But not for long -- if they keep winning. Standing in their way this week is a surprisingly rebuilt Auburn Tigers team, one that has more than bounced back from its dreadful 3-9/0-8 showing a year ago. Will the Aggies remain a lurking force?
Alabama defeats Aggies 49-42

Alabama's quest for a third straight BCS championship is still safely on track after a 49-42 win over Texas A&M and Johnny Manziel in College Station. What now? Will the Crimson Tide run the table? Will AJ McCarron be in New York for the Heisman Trophy presentation? What is the next "must watch" game on the calendar?

CFB: (1) Alabama at (6) Texas A&M

No big deal. Just Week 3 in college football, featuring mismatches, nonconference curiosities and ... an epic SEC battle. Yes, it's Alabama versus Texas A&M. Title versus Heisman. Defense (and some offense) versus offense (and not much defense). Who will emerge victorious? Will they go on to play for the title? Remember: The loser of last season's meeting -- in Tuscaloosa, Ala., no less -- ended up smiling at the end of the season.

Johnny Manziel shows immaturity?

A day later, and he's still the story: reigning Heisman Trophy winner Johnny Manziel, who sat out the first half, then helped power No. 7 Texas A&M to a 52-31 win over Rice ... while also earning an unsportsmanlike conduct penalty for his gestures to Owls players. Some say this is a sign of immaturity, and it'd be hard to argue otherwise if his behavior ends up hurting the Aggies down the line. Still, Johnny's football was pretty electrifying.

The NCAA's decision to suspend Texas A&M quarterback Johnny Manziel for the first half of the Aggies' season opener against Rice didn't meet with much approval from SportsNation.

The Facebook conversation on the discipline centered on the severity of the punishment and why Manziel accepted it if the NCAA acknowledged he did not receive money for signing autographs.

John Zarate: "That's messed up. So if you didn't do anything wrong then..why take any suspension..if you did something wrong and made money you only get a half game suspension...Sounds like a double standard to me."
Brian Barnett: "Is this a joke? If they're suspending him, he did something wrong. If they're suspending him, why is it for a HALF against Rice? This makes the NCAA look pathetic. It really is all about money."
Christopher Ross: "What a joke. They publicly acknowledge that Manziel made no money for the signings, and yet they suspend him for half of a game against Rice of all teams. What a horrible way to delegate. "We have no proof that you actually took the money, but since we think you did... here's a half game suspension."

Others thought the punishment itself -- half a game against a team that's not expected to seriously challenge the Aggies -- was scarcely harsh enough.

Paul Neal: "A half of a game against Rice ... what a harsh and cruel punishment. That surely will deter others. Give me a break."
Tyler Rogoff: "Why even bother? Suspend him a game and a half and make him miss part of the Bama game if you want to send any sort of message. ... I'll gladly take 5 figures for autographs to sit out half a game vs a nobody."
Lesslie Stanford: "This is a bit of a joke. If you are going to suspend someone at least suspend him for a whole game not 30 minutes. Come on now. The rule is absolutely absurd, players should be able to make money for their own merchandise and their autograph. But any way around it he broke the law. He should have to see a real punishment! Come on now."
Larry Nagengast: "A half-game suspension? What a joke. (I'm not saying he deserved more, just that the penalty is stupid.) It's like telling the Yankees they can't use Mariano Rivera before the sixth inning."

Some questioned why Manziel wasn't punished as much as other players and programs that have been found to have violated NCAA rules -- or why a decision was reached so swiftly when other schools have seen investigations drag on for years.

Corey Butler: "Dez Bryant missed his whole season for less. This looks bad America."
Dave Dittmer: "Two Indiana basketball players were suspended for multiple games because, get this, their coach and guardian contributed to an Indiana Booster Club for three years in the 1980's. His total contribution, $450, or the cost of a Johnny Football autograph jersey. I hear there are a lot of them right now."
Tim Newby: "Dear NCAA, Thank you for coming to a quick resolution regarding A&M QB Johnny Manziel. Sincerely, Al Golden and the University of Miami"
Brian Coleman: "This makes no sense to me at all. He either he didn't do it, which means the half game is BS. Or he did do it and deserves the same punishment the Ohio State players and team received for selling trinkets on ebay and getting half priced tatts. 4 games, probation and a vacated bowl win. Am I missing something?"

What do you think? Leave your comments below.