SportsNation Blog Archives

Michigan Wolverines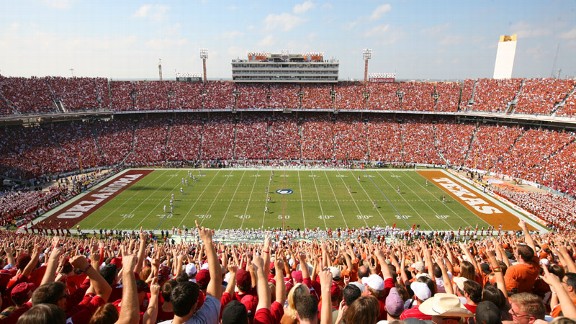 J.P. Wilson/Icon SMI Oklahoma and Texas fans meet each year in Dallas. Is theirs the nation's best rivalry?
Rivalries. They form the backbone of college football. From stadiums filled with 100,000-plus to smaller -- but still intense -- local and/or historic showdowns, these long-standing tradition-rich games anchor fans' fall calendars. But how do today's best rivalries stack up against one another? You tell us, by clicking on the boxes below.


Rank: College football's biggest rivalries
Alabama-Auburn

Alabama-Auburn
Nov. 30, at Auburn
Army-Navy

Army-Navy
Dec. 14, at Lincoln Financial Field
BYU-Utah

California-Stanford

California-Stanford
Nov. 23, at Stanford
Clemson-S. Carolina

Clemson-S. Carolina
Nov. 30, at South Carolina
Florida-Georgia

Florida-Georgia
Nov. 2, at EverBank Field
Florida State-Miami

Florida State-Miami
Nov. 2, at Florida State
Georgia-Georgia Tech

Georgia-Georgia Tech
Nov. 30, at Georgia Tech
Harvard-Yale

Harvard-Yale
Nov. 23, at Yale
Michigan-Ohio State

Michigan-Ohio State
Nov. 30, at Michigan
Notre Dame-USC

Notre Dame-USC
Oct. 19, at Notre Dame
Oklahoma-Texas

Oklahoma-Texas
Oct. 12, at Cotton Bowl
Oregon-Oregon State

Oregon-Oregon State
Nov. 29, at Oregon
UCLA-USC

Your Rankings
1.

2.

3.

4.

5.

6.

7.

8.

9.

10.

11.

12.

13.

14.

Tags:
NCF, NCF, Alabama Crimson Tide, Auburn Tigers, Army Black Knights, Navy Midshipmen, BYU Cougars, Brigham Young Cougars, Utah Utes, California Golden Bears, Stanford Cardinal, Clemson Tigers, South Carolina Gamecocks, Florida Gators, Georgia Bulldogs, Florida State Seminoles, Miami Hurricanes, Miami (FL) Hurricanes, Georgia Tech Yellow Jackets, Harvard Crimson, Yale Bulldogs, Michigan Wolverines, Ohio State Buckeyes, Notre Dame Fighting Irish, USC Trojans, Oklahoma Sooners, Texas Longhorns, Oregon Ducks, Oregon State Beavers, UCLA Bruins, SportsNation Rank
Big Ten football preview
Ohio State finished the 2012 season undefeated but was ineligible for the postseason because of prior violations. That won't be the case this year, as Urban Meyer's squad is prepared to make a run at the national championship. The Big Ten is full of teams that could surprise Ohio State, but can any of them stop the resurgent Buckeyes?
Ohio State finished last season as the lone undefeated team in the final AP Top 25 rankings, and while Michigan and Nebraska weren't perfect, they still ended the season as ranked teams. Will the Buckeyes dominate the competition for a second consecutive season? Do you expect the Wolverines and Cornhuskers to have a better showing? What about perennial powers Penn State and Wisconsin? How will Ben Ten teams stack up in 2013? Click the team logos below to set your rankings!

2013 Big Ten football teams

Illinois

Illinois

2012 overall: 2-10
2012 Big Ten: 0-8


Indiana

Indiana

2012 overall: 4-8
2012 Big Ten: 2-6


Iowa

Iowa

2012 overall: 4-8
2012 Big Ten: 2-6


Michigan

Michigan

2012 overall: 8-5
2012 Big Ten: 6-2


Michigan State

Michigan State

2012 overall: 7-6
2012 Big Ten: 3-5


Minnesota

Minnesota

2012 overall: 6-7
2012 Big Ten: 2-6


Nebraska

Nebraska

2012 overall: 10-4
2012 Big Ten: 7-1


Northwestern

Northwestern

2012 overall: 10-3
2012 Big Ten: 5-3


Ohio State

Ohio State

2012 overall: 12-0
2012 Big Ten: 8-0


Penn State

Penn State

2012 overall: 8-4
2012 Big Ten: 6-2


Purdue

Purdue

2012 overall: 6-7
2012 Big Ten: 3-5


Wisconsin

Wisconsin

2012 overall: 8-6
2012 Big Ten: 4-4


Al Messerschmidt/Getty ImagesJadeveon Clowney's hit vs. Michigan was the play of the year. But was the game the best of 2012?

ESPNU is celebrating the 25 best college football games of the 2012 season and needs your help choosing a top five -- all of which will air in their entirety on ESPNU July 27-28. Click on the logos below to set your rankings. Voting ends Sunday, July 21. Follow the debate using the hashtag #CFBTop25 and follow @ESPNCFB and @ESPNU for more.

See the complete schedule of the Top 25 games countdown on ESPNU.

Rank: Top 5 CFB Games of 2012

Texas A&M at Alabama

Texas A&M at Alabama

Nov. 10. Johnny Manziel and the Aggies took a three-touchdown lead in the first quarter, then held on to hand the Tide their first loss of the year. Texas A&M 29, Alabama 24.

Alabama vs. Georgia

Alabama vs. Georgia

Dec. 1. SEC championship game in Atlanta. With Georgia out of timeouts and driving late, a tipped pass landed in the hands of receiver Chris Conley, who fell at the 5. The Bulldogs did not get off another play. Alabama 32, Georgia 28.

Alabama at LSU

Alabama at LSU

Nov. 3. With the Tide trailing 17-14, QB AJ McCarron hit RB T.J. Yeldon, who went 28 yards for the game-winning TD with 51 seconds left. Alabama 21, LSU 17.

Michigan vs. South Carolina

Michigan vs. South Carolina

Jan. 1. Outback Bowl. Down 28-27 late, South Carolina converted a fourth-and-3 to keep the drive alive, then Dylan Thompson hit Bruce Ellington for a 32-yard score with 11 seconds left. And let's not forget Jadeveon Clowney's legendary hit on Vincent Smith. South Carolina 33, Michigan 28.

Stanford at Oregon

Stanford at Oregon

Nov. 17. With Oregon in position to grab the No. 1 ranking and a likely slot in the BCS title game, Stanford scored a tying TD with 1:35 left, then hit the winning field goal in OT. Stanford 17, Oregon 14 (OT).

Your Rankings

1.

2.

3.

4.

5.

Nebraska and Wisconsin will enter the 2012 season as the favorites to win their respective divisions, but Michigan State and Ohio State will do their best to see that doesn't happen. Which team will play its way to a Big Ten championship? Click on the team logos to set your rankings!

More conference rankings: ACC | Big 12 | Big East | Pac-12 | SEC

Player rankings: ACC | Big 12 | Big East | Big Ten | Pac-12 | SEC

More: SportsNation's top 25 | Your predictions Rank Heisman hopefuls

New-Look Big Ten football teams

Illinois

Illinois

2011 overall: 7-6
2011 Big Ten: 2-6


Indiana

Indiana

2011 overall: 1-11
2011 Big Ten: 0-8


Iowa

Iowa

2011 overall: 7-6
2011 Big Ten: 4-4


Michigan

Michigan

2011 overall: 11-2
2011 Big Ten: 6-2


Michigan State

Michigan State

2011 overall: 11-3
2011 Big Ten: 7-1


Minnesota

Minnesota

2011 overall: 3-9
2011 Big Ten: 2-6


Nebraska

Nebraska

2011 overall: 9-4
2011 Big Ten: 5-3


Northwestern

Northwestern

2011 overall: 6-7
2011 Big Ten: 3-5


Ohio State

Ohio State

2011 overall: 6-7
2011 Big Ten: 3-5


Penn State

Penn State

2011 overall: 9-4
2011 Big Ten: 6-2


Purdue

Purdue

2011 overall: 7-6
2011 Big Ten: 4-4


Wisconsin

Wisconsin

2011 overall: 11-3
2011 Big Ten: 6-2

marcelluswiley

Marcellus Wiley


I am Clipper Darrell http://t.co/LPKTEMeg8m
about 4 hours ago

marcelluswiley

Marcellus Wiley


RT @DodgerHogs: @clipperdarrell yo @marcelluswiley tryin to steal your swag bro! #Clippers #NBA @SportsNation http://t.co/FaIhmRgtAb
about 4 hours ago

Max_Kellerman

Max Kellerman


.@SerenaWinters @marcelluswiley like the crocodile's, it's a strategy so perfect it hasn't needed to evolve in 300,000,000 yrs. #crocodiling
about 7 hours ago

marcelluswiley

Marcellus Wiley


.@KlayThompson going at @blakegriffin32 4 flopping. Blame refs who make calls & not the player who takes advantage of it #LightonLightCrime
about 7 hours ago

Max_Kellerman

Max Kellerman


.@iLEx_006 @joerogan we're going to get it together, but I like to keep it 90. Need a little wiggle room.
about 9 hours ago

Max_Kellerman

Max Kellerman


RT @marcelluswiley: White guy is rapping (explicit) songs playing on the stereo at my gym and is yelling out the "n" word. What should I'v…
about 10 hours ago

marcelluswiley

Marcellus Wiley


White guy is rapping (explicit) songs playing on the stereo at my gym and is yelling out the "n" word. What should I've done? #ESPNLA710
about 10 hours ago

MichelleDBeadle

Michelle Beadle


I am a victim. #leroyjenkins http://t.co/tq3aggbPTR
about 10 hours ago

MichelleDBeadle

Michelle Beadle


And it's not even Friday. #LeroyJenkins https://t.co/62vSfsZAHp
about 10 hours ago

MichelleDBeadle

Michelle Beadle


LA ain't ready for this. #leroyjenkins https://t.co/af0HfkbC67
about 12 hours ago

SportsNation

SportsNation


T-MAC PITCHES! .@Real_T_Mac, the baseball pitcher, makes his pro debut: http://t.co/UXEXITH2HC http://t.co/sIe2eNrOmR
about 13 hours ago

MichelleDBeadle

Michelle Beadle


So smoove RT@Rickafox: "We got one eye watching you" #MajorMinusMe #SportsNation is one #ColdPlay w/ michelledbeadle… http://t.co/JtNcCZyTAr
about 13 hours ago

SportsNation

SportsNation


Duke fans reacted after Jabari Parker declared for the NBA draft. Our show is on now. ESPN2 (via @guzman_tori) - https://t.co/GpVptpbD5e
about 14 hours ago

SportsNation

SportsNation


Jabari Parker has officially declared for the draft! NBA GMs be like.. http://t.co/iUdEOTf19v
about 15 hours ago

MichelleDBeadle

Michelle Beadle


Penny is my mom's puppy. She heads to Italy in a couple weeks. #luckydogs @EdmarkRyan: @MichelleDBeadle hey what happened to penny?
about 15 hours ago

Max_Kellerman

Max Kellerman


.@tpark213 well, it's sometime before the start of next season right now, so this counts as the text.
about 16 hours ago

Max_Kellerman

Max Kellerman


.@Max_Kellerman snspacer31 @KINGSKRIB @AllAboutLuv_ @Yankees not at all. Been saying #Yankees going to pitch.
about 16 hours ago

Max_Kellerman

Max Kellerman


.@AllAboutLuv_ @KINGSKRIB @Yankees yes. Problem is infield production & depth & high leverage relief pitching other than Robertson.
about 16 hours ago

SportsNation

SportsNation


Patrick Beverley of the Rockets has 99 coordination (via @HoustonRockets) - https://t.co/iuwKLimwSY
about 16 hours ago

Max_Kellerman

Max Kellerman


.@Max_Kellerman RicanJuan @KINGSKRIB @AllAboutLuv_ @Yankees unless Kuroda finally gets old, if Nova pitches well, CC is the 5. #realtalk
about 16 hours ago