SportsNation Blog Archives

Yasiel Puig
Yasiel Puig took MLB by storm in 2013 -- and wasn't even voted best rookie in his league. That honor went Monday to Jose Fernandez, the Miami Marlins ace who went 12-6 with a 2.19 ERA and 187 strikeouts, and received 26 of 30 first-place votes. The American League, strangely, saw its top votes more divided, with Tampa Bay Rays outfielder Wil Myers (.293/.354/.478, 13 HR in 88 games) taking 23 of 30 first-place votes to beat out fellow finalists Jose Iglesias and Chris Archer. What do you make of the picks? What does the future hold for these honorees and finalists?
---
Best in NL?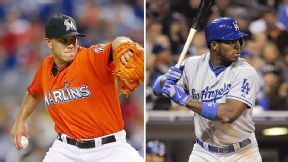 Puig posted a .319/.391/.534 line, but his performance tailed off late in the season.

---
Best in AL?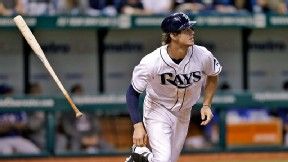 Myers went up against a defensive shortstop (Iglesias) and a starting pitcher (Archer).

---
Brightest future?
Myers and Puig are 22, while Fernandez is just 21. But pitchers aren't always durable ...

Stephen Dunn/Getty Images
Who gets your MLB awards?
All that's left to do in the 2013 MLB season is hand out the hardware. There are some pretty tight races in both the American and National Leagues, which is a good sign as it shows just how many strong performances there were this year. Our experts have given their choices for the American League and National League Rookie of the Year awards. Do you agree? Cast your votes now!
Yasiel Puig hit a triple on Monday night, but he reacted as if it were a home run. He was about a foot short of being right, and had to hustle to make it to third base. Puig is ridiculously fast, so he was able to start celebrating even before stepping on third. Does this sound like something that would annoy you? If so, thanks for reading our blog, Carlos Beltran! The Cardinals outfielder called out Puig after the game, saying that he ''doesn't know [how to act]'' as a player. Dodgers fans probably aren't complaining all that much about Puig breaking out of his slump, but that might only be because he was safe.
Here's a sampling of what readers had to say in our Facebook conversation on the story:
Michael Antonio Gennaro : "The kid was struggling through one of his worst slumps of the year these first 2 games and comes up with a huge hit in a must win game for the Dodgers and celebrates a little and people make a big deal out of it? I guess a lot of people are forgetting that baseball is a great game that is meant to be FUN"
John Daniels : "I would ask Beltran why he has to act with more calm? Because you play as if you are in a trance? Emotion is a powerful tool and he uses it to ignite himself, the crowd and his team. He doesn't have to calm down. He doesn't want to show up the other team, but if you don't like it then stop him from hitting the ball."
Ryan Vanderbeck: "Michael wacha and yadier Molina screaming and fist pumping the air in the middle of the game is very different though...."
Jason Wilson: "There is a big difference between celebrating between innings and admiring a flyball."
Randy Bradley: "How dare someone enjoy their job, and be great at it? This is why baseball struggles, not enough emotion and too much bureaucracy."
Stephen Parsely: "I'd be annoyed as a player if he did this against my team, but as a fan, how I could possibly dislike this? Baseball needs exciting stories, and a rookie who escaped a Communist regime in Cuba and now is tearing it up in MLB is a great one."
What do you think? Leave your comments below.
---
Puig's celebration?
Puig plays with a lot of emotion, which occasionally rubs some of baseball's more traditional players the wrong way.

AP Photo/David J. Phillip
Dodgers stay alive in Game 5
Vintage Zack Greinke didn't show up for the Los Angeles Dodgers, but no matter -- Adrian Gonzalez & Co. finally got to the St. Louis Cardinals' pitchers, tagging them for four home runs in a season-saving 6-4 win. Now the National League Championship Series heads back to St. Louis, where the Cardinals -- haunted by memories of last season's collapse from a 3-1 NLCS lead and the notion of facing Dodgers ace Clayton Kershaw in Game 6 -- need one more win. Will they get it?
Dodgers win division; NL next?

In June, they were in last place. On Thursday, the Los Angeles Dodgers became the first team to clinch first, sealing the NL West with a 7-6 win over the onetime division-leading Arizona Diamondbacks. That's quite a turnaround for a team once thought of as a high-dollar failure. But the Dodgers still have things left to do.