SportsNation Blog Archives

Yasiel Puig
September 19, 2013
Sep
19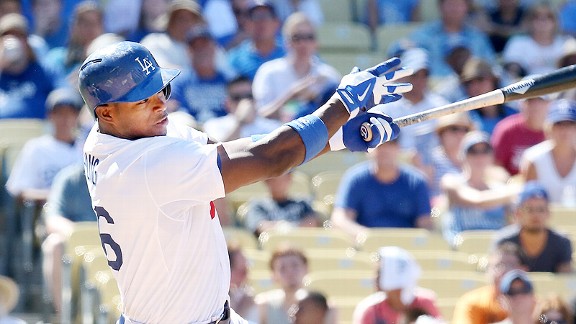 Stephen Dunn/Getty Images
Yasiel Puig's future
Dodgers outfielder Yasiel Puig has authored one of the most remarkable rookie seasons in recent memory since exploding onto the scene in June. He hit some rough spots along the way, thanks to his all-or-nothing style of play and some run-ins over breaking team rules. But he also helped the Dodgers shake off a disappointing start and surge to the NL West lead. What does the future hold for one of baseball's most compelling stories of 2013?
Yasiel Puig pulled by Dodgers

The issues surrounding Yasiel Puig continued Wednesday night, as Los Angeles Dodgers manager Don Mattingly pulled the rookie sensation in the fifth inning of their team's 4-0 win over the Chicago Cubs. Mattingly declined to say why, simply stating that Puig's replacement, Skip Schumaker, gave L.A. "the best chance to win." Meanwhile, Puig said through an interpreter that "I wasn't preparing well for each pitch," and "it was a good decision." Now, this normally wouldn't be the biggest deal, but Puig was benched by Mattingly just one week ago ...

Baseball is the slowest of the major American sports, but only because its excitement comes in very short bursts. There's plenty of action to be had from the moment the pitcher winds up. SweetSpot blogger David Schoenfield has put together a list of the five most exciting players in baseball. How would you rate them? Submit your rankings now!

MLB's most exciting players

Miguel Cabrera

Yu Darvish

Andrew McCutchen

Yasiel Puig

Mike Trout

Your Rankings

1.

2.

3.

4.

5.

A backlash against Yasiel Puig?

Yasiel Puig is exceptionally good at baseball. This much is not in dispute -- the man is hitting .394 and keeps doing the kind of things that would have inspired whispered legends before the days of Internet video. Anyone who's this good this fast is bound to experience a pushback, however, and it appears to have already started for Puig. Miguel Montero (appropos of nothing, currently hitting .219) criticized him for being aloof and said he was creating a bad reputation around the league. Is it all just sour grapes?