SportsNation Blog Archives

Cincinnati Bearcats
Cincinnati was getting so close to the top of the football world, you just knew the city's football karma would find a way to catch up with it.
The Cincinnati Bearcats beat West Virginia Friday to remain perfect on the season, and while Ohio State may be headed for the Rose Bowl, 64 percent of SportsNation thinks the state's best college team resides southwest of Columbus. Add to that the Bengals, who knocked off the Steelers Sunday to complete a season sweep against their AFC North rivals and leave coach Marvin Lewis with a season-best 92 percent approval rating.
So yeah, clearly the perfect guy to add to such gridiron harmony is Larry Johnson. The disgruntled former Chiefs running back is reportedly close to signing with the Bengals as insurance for Cedric Benson, who left the game against the Steelers with a hip injury.
"

all i care about this guy is..can he get 6 yards on 1st down. and can he convert a 3rd and 3. thats it. He has a chance to be the newest castoff among the Bengals. Like the rest of them, he'd be stupid not to make the best of it

"

-- cincinnatiboy23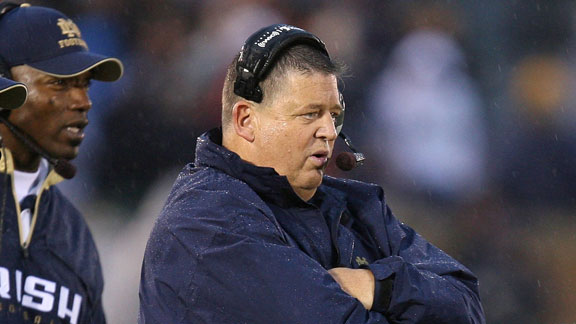 It won't be an easy weekend for BCS Cinderellas, even though they're all playing at home. Cincinnati faces No. 25 West Virginia, TCU gets the pressure of GameDay and No. 16 Utah, and Boise State deals with a surprising 7-3 Idaho (and a visiting AD who doesn't like to fly on planes with Broncos markings).
USC fans still have BCS hope, but know their team can't lose again. Boise State, Cincinnati and Iowa fans wonder what more their teams can do, besides pray for a loss by one of the top 3.
Now that Ohio State has two losses SportsNation thinks Ohio State is using Terrelle Pryor incorrectly. Fans, however, still think Sam Bradford is a first-round pick.
Florida State kicked off Week 8 with a needed win, and Alabama, Florida and Texas face opponents they shouldn't overlook.
"

Mark Ingram is a good reason for [Alabama's] passing to be less of a factor. Wait until next year for any shot of a Vols upset.

"

-- Beano Cook

"

I pick Florida to win this game, but to be seen as legitimately No. 1, the Gators should win convincingly, even more so than against Arkansas.

"

-- IdahoanTyke

"

My ranking: 1. Iowa; 2. Florida; 3. Alabama; 4. Texas; 5. Virginia Tech; 6. TCU; 7. Boise State; 8. USC; 9. Oregon; 10. LSU.

"

-- CheezusCrust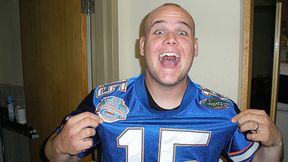 Never mind that games yet to be played will determine who is in the BCS bowl games. The release of the first standings unleashed a torrent of opinions among college football fans.
The biggest complaints came from Iowa fans and those who argue that Boise State, Cincinnati or both are overrated.
"How is Boise State ahead of Iowa with that cupcake schedule?" wrote droste23. "I thought strength of schedule counted. Guess not. Iowa with wins AT Penn State, AT Wisconsin, Michigan. Laughable. If Iowa was Ohio State or Texas, with the exact same schedule, they'd be ranked probably No. 2."
Here's a sampling of opinions from fans of the Top 5 teams.

"

Bama and Florida have more games to play yet, so while we have dueling No. 1s the argument will rage on. I personally don't care for speculation. They'll settle it on the field if things work out.

"

-- u_gator

"

I'm just making my case for Bama here. To me, Florida is clearly No. 2 and I almost believe they should leave No. 3 blank. There is that much of a difference between the next best teams (Iowa and then Texas).

"

-- theballguy

"

Texas-Florida in BCS Championship Game. Colt McCoy doesn't deserve the Heisman. Tim Tebow can have that as an advance consolation prize for losing to Texas on Jan. 7 in Pasadena.

"

-- johnznash

"

Finally some respect. We are No. 4 because we are consistent winners. Look at the facts: Broncos' decade of dominance. ... We can beat any team any given Saturday. Don't hate us; hate the system.

"

-- boisestate42

"

Boise ranked over Cincinnati? You have to be kidding! I guess being in a BCS conference doesn't mean much. ... They limped this week against Tulsa, while Cincinnati dominated a 21st ranked South Florida team even after Tony Pike was injured. P.S. Who is this Brian Kelly guy anyway? Notre Dame doesn't deserve him.

"

-- Bobnance13
To respond with your own blog, sign in or create a profile and start posting.
When we think of the Big East, we still think of images like the one over on the right. And we know we're not alone -- well, we might be the only ones still thinking about Zendon Hamilton. Before the start of football season, SportsNation was somewhat split on whether or not the Big East was even better than the Mountain West. And even when this month began, 57 percent of voters said the Big East would not have more than one ranked team by season's end.
But judging by the buzz in SportsNation, Thursday's showdown in Tampa has the attention of football fans.
nunyabiz81: "It won't be easy, especially with former defensive coordinator Tresey now at USF--and remember how USC-Washington went in a similar situation. But USF's best win has been over an inexplicably sorry Florida State while Cincy has been a bit more battle-tested with wins over Oregon State and Fresno State." -- Read the full post.
Yodaman0420: "As for all those wondering about Cincinnati, I just don't think the Big East has the football talent to keep up with the power conferences. ... If Cincy was to run the table and the voters did give the Bearcats a chance at the national title or even a big-time bowl game, we'd probably see another Hawaii-Georgia game." -- Read the full post.
afjumpman23: "Although it won't have quite the hype of the Red River Shootout, it clearly has greater implications. ... If the Bearcats beat the Bulls they have a very good shot of going undefeated the rest of the way (although West Virginia could be a pitfall), or if South Florida wins (and gets past Miami on 11/28), they would be undefeated and once again, this BCS thing is going to be a huge mess.." -- Read the full post.
"

being realistic, playing against WVU, Pitt, and USF is HARD to win all three in one year. I say UC will lose to one of them. just a dice roll on who gets the upset.

"

-- UCAEROSPACE
"

Upper '80's with high humidity. UC will have most of their team on IV's by halftime. Looks like another easy one for the Bulls.

"

-- kwelch1962
"

Brian Kelly is one of the best coaches in the country, in my opinion. He took D-2 GVSU from nothing to the national championship, and CMU from the basement to being a contender. The bulls are at home, and that's great...but they won't get anywhere against these guys unless they're on their game tonight. USF: 24-23

"

-- raysfan1978