SportsNation Blog Archives

Philadelphia Eagles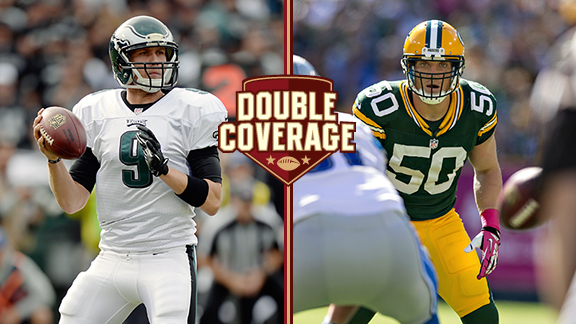 Getty Images
NFL Week 10: Eagles at Packers
Days ago, few deemed the Philadelphia Eagles-Green Bay Packers matchup attention-worthy. Then Nick Foles happened. And Aaron Rodgers happened. All of a sudden, this seems more like a toss-up than a blowout. Will the again-soaring Eagles beat the Seneca Wallace-led Packers?
Thearon W. Henderson/Getty Images

Is Nick Foles the Eagles' answer?

Just when you thought Chip Kelly's offense couldn't get any worse, the Philadelphia Eagles headed to Oakland ... and totally redeemed themselves. This thanks to Nick Foles' otherworldly performance: 22-of-28, 406 yards, no interceptions and an NFL record-tying seven touchdown passes in a 49-20 win. Has Foles ended the Philadelphia quarterback debate? Do the Eagles still have a shot at postseason play?

Lions headed for the playoffs?

For about 59 game minutes Sunday, the Dallas Cowboys seemed destined to extend their NFC East lead, while the Detroit Lions looked destined to stay locked in a tussle for the conference's final playoff spot. Then Matthew Stafford happened. With his team trailing 30-24, he hit Kris Durham on a crucial downfield pass. He linked up with Calvin Johnson -- who finished with 329 receiving yards, second most in NFL history -- to reach the 1. Then, after telling the world he would spike the ball, Stafford decided to leap the line and send his team to 5-3. Will Detroit keep pushing toward the postseason? What does the rest of the NFC look like?

USA TODAY Sports

NFL Week 8 -- Giants at Eagles

After Monday, one thing is for certain: The New York Giants (1-6) aren't going 0-16. Then again, were they ever? Better question: Can they sneak up on the Philadelphia Eagles (3-4), who have lost a staggering nine straight games at home? The winner might just be alive in the playoff chase, especially with the Dallas Cowboys (4-3) within range.

Cowboys clear NFC East favorites?

It's just one game, and it's only Week 7, but the Dallas Cowboys sure made a statement -- and helped their divisional positioning -- with a 17-3 win at the Philadelphia Eagles on Sunday. That moves Dallas to 4-3, one game ahead of Philly in the NFC East. Is Dallas a lock? What will happen in the rest of the NFC playoff race?