SportsNation Blog Archives

Dwight Howard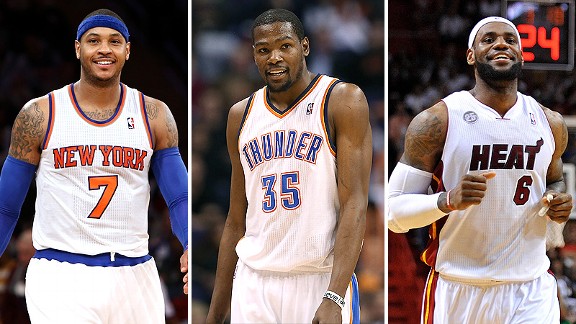 LeBron James has won four of the past five NBA Most Valuable Player awards -- Kevin Durant has placed second in three of those four years. Will this be the season Durant finally takes the crown as the league's best player, or is LeBron the favorite to become just the fourth player in NBA history to win three consecutive MVP awards? Where does the reigning scoring champion Carmelo Anthony fit in? Is young Kyrie Irving on your radar?
The NBA ESPN Forecast panel had their say, and now it's time for SportsNation to weigh in. Set your rankings below, then head to Twitter to join the discussion via #ESPNForecast.


NBA MVP candidates

Carmelo Anthony

Carmelo Anthony
Knicks, F
2012-13: 28.7 PPG, 2.6 APG, 6.9 RPG

Stephen Curry

Stephen Curry
Warriors, G
2012-13: 22.9 PPG, 6.9 APG, 4.0 RPG

Tim Duncan

Tim Duncan
Spurs, F
2012-13: 17.8 PPG, 9.9 RPG, 2.7 BPG

Kevin Durant

Kevin Durant
Thunder, F
2012-13: 28.1 PPG, 4.6 APG, 7.9 RPG

Paul George

Paul George
Pacers, F
2012-13: 17.4 PPG, 4.1 APG, 7.6 RPG

James Harden

James Harden
Rockets, G
2012-13: 25.9 PPG, 5.8 APG, 4.9 RPG

Dwight Howard

Dwight Howard
Rockets, C
2012-13: 17.1 PPG, 12.4 RPG, 2.4 BPG

Kyrie Irving

Kyrie Irving
Cavaliers, G
2012-13: 22.5 PPG, 5.9 APG, 3.7 RPG

LeBron James

LeBron James
Heat, F
2012-13: 26.8 PPG, 7.3 APG, 8.0 RPG

Tony Parker

Tony Parker
Spurs, G
2012-13: 20.3 PPG, 7.6 APG, 3.0 RPG

Chris Paul

Chris Paul
Clippers, G
2012-13: 16.9 PPG, 9.7 APG, 3.7 RPG

Derrick Rose

Derrick Rose
Bulls, G
2011-12: 21.8 PPG, 7.9 APG, 3.4 RPG
Your Rankings
1.

2.

3.

4.

5.

6.

7.

8.

9.

10.

11.

12.

NBA releases 2013-14 schedule
The bad news: The NBA doesn't start for nearly three months. The good news: We know where and when that -- and all the other regular-season games -- will happen, as the league released its 2013-14 schedule on Tuesday. Opening night features a couple of marquee matchups, with the presumably Derrick Rose-ified Chicago Bulls visiting the defending-champion Miami Heat, and the surging Los Angeles Clippers facing the scuffling Los Angeles Lakers. Also on the docket: a typically packed Christmas Day, along with big reunions between Dwight Howard and the Lakers (Nov. 7) and the return of Kevin Garnett and Paul Pierce to Boston (Jan. 26).
Whom do you love? When it comes to the NBA, it appears fans now prefer LeBron James. Yes, according to the latest ESPN Sports Poll, the Miami Heat star -- he of the ill-received "The Decision," but also of the last two MVPs and NBA championships -- took first for the first time in four years, named a favorite by 12.9 percent of fans. Among others, he bested fellow multiple champion Kobe Bryant (12.5 percent). Rounding out the top five: Kevin Durant (3.6), Derrick Rose (2.8) and Dwyane Wade (2.6). Who are your favorites? Make your picks from this list of stars!

Your favorite NBA players

Carmelo Anthony

Carmelo Anthony

New York Knicks

Chris Bosh

Kobe Bryant

Kobe Bryant

Los Angeles Lakers

Stephen Curry

Stephen Curry

Golden State Warriors

Tim Duncan

Tim Duncan

San Antonio Spurs

Kevin Durant

Kevin Durant

Oklahoma City Thunder

Kevin Garnett

Kevin Garnett

Brooklyn Nets

Blake Griffin

Blake Griffin

Los Angeles Clippers

James Harden

James Harden

Houston Rockets

Dwight Howard

Dwight Howard

Houston Rockets

Kyrie Irving

Kyrie Irving

Cleveland Cavaliers

LeBron James

Kevin Love

Kevin Love

Minnesota Timberwolves

Steve Nash

Steve Nash

Los Angeles Lakers

Dirk Nowitzki

Dirk Nowitzki

Dallas Mavericks

Tony Parker

Tony Parker

San Antonio Spurs

Chris Paul

Chris Paul

Los Angeles Clippers

Paul Pierce

Zach Randolph

Zach Randolph

Memphis Grizzlies

Rajon Rondo

Rajon Rondo

Boston Celtics

Derrick Rose

Derrick Rose

Chicago Bulls

Dwyane Wade

Russell Westbrook

Russell Westbrook

Oklahoma City Thunder

Deron Williams

Deron Williams

Brooklyn Nets

Your Rankings

1.

2.

3.

4.

5.

6.

7.

8.

9.

10.

11.

12.

13.

14.

15.

16.

17.

18.

19.

20.

21.

22.

23.

24.

Tags:

SportsNation Rank, Steve Nash, NBA, NBA, Kobe Bryant, LaMarcus Aldridge, Carmelo Anthony, Chris Bosh, Tyson Chandler, Stephen Curry, Tim Duncan, Kevin Durant, Kevin Garnett, Blake Griffin, James Harden, Dwight Howard, Kyrie Irving, LeBron James, Kevin Love, Dirk Nowitzki, Tony Parker, Paul Pierce, Zach Randolph, Rajon Rondo, Derrick Rose, Dwyane Wade, Russell Westbrook, Deron Williams, Los Angeles Lakers, Miami Heat, Chicago Bulls, Oklahoma City Thunder

Mavericks free agency

Mavericks owner Mark Cuban says his team is better off not having signed free-agent center Dwight Howard. It's the second year in a row that Cuban has fallen short in recruiting the best available player to Dallas, as he failed to land Deron Williams in 2011.

This year, Cuban says missing out on Howard means he will be able to add players. So far he's signed Jose Calderon, agreed with Monta Ellis, Wayne Ellington and Samuel Dalembert and reportedly is close to deals with Devin Harris and Brandan Wright. Are the Mavericks really better off? Vote below!

Howard's reasons for leaving L.A.?

And the Dwight Howard vs. Los Angeles Lakers saga continues. According to sources, the Lakers' refusal to create a concrete timetable for shifting from the Kobe Bryant era to the Dwight Howard era played a major role in why arguably the NBA's best center opted not to re-sign with the the team. Were the Lakers right in showing loyalty to its current franchise player and not the future star? What do you make of the fallout from this whole fiasco?

marcelluswiley

Marcellus Wiley


In the Emirates Suite at the BNP Paribas Open Hydrating! http://t.co/OqviBmEMF2
about 5 hours ago

SportsNation

SportsNation


BREAKING: Aaron Craft has severed ties with sponsor » http://t.co/CtmrQ41YPd
about 5 hours ago

marcelluswiley

Marcellus Wiley


Hanging with my favorite player Rafa Nadal at the BNP Parinas Open. Your boy is in Heaven! #Tennis http://t.co/qoeoGlaFDB
about 6 hours ago

marcelluswiley

Marcellus Wiley


With the hypest out right now @2chainz #2Chainz http://t.co/a5iHHc53pB
about 7 hours ago

Max_Kellerman

Max Kellerman


Fascinating thing about Rigondeaux haters: it's not enough for them to hate, they need you to hate too. They get angry if you don't.
about 17 hours ago

Max_Kellerman

Max Kellerman


RT @BoxingInter: Look what you started @Max_Kellerman! All 500 of Rigo's fans are driving me nuts on twitter!
about 19 hours ago

Max_Kellerman

Max Kellerman


RT @don_dougan: @Max_Kellerman If u don't like watching Rigo fight, u probably didn't like watching Floyd early on or Pernell in his prime,…
about 19 hours ago

Max_Kellerman

Max Kellerman


Re: @RigoElChacal305: etc., etc.
about 19 hours ago

Max_Kellerman

Max Kellerman


RT @micwiljrSC: @Javii86 @Max_Kellerman @BoxingInter I too enjoy watching Rigo fight. Rigo (along with Floyd) is pretty much a boxing geniu…
about 19 hours ago

Max_Kellerman

Max Kellerman


RT @Nunn_DMC: @Max_Kellerman watching him make Donaire look easy was one of my favorite fights of the year
about 19 hours ago

Max_Kellerman

Max Kellerman


RT @tylerbox12: @Max_Kellerman @BoxingInter I like watching Rigo and look forward to seeing him in there with a fighter that compliments hi…
about 19 hours ago

Max_Kellerman

Max Kellerman


RT @_johncarlo: @Max_Kellerman @BoxingInter I love watching him fight.
about 19 hours ago

Max_Kellerman

Max Kellerman


RT @Javii86: @Max_Kellerman @BoxingInter I enjoy watching Rigo
about 19 hours ago

Max_Kellerman

Max Kellerman


.@BoxingInter wrong
about 19 hours ago

Max_Kellerman

Max Kellerman


.@InkdUpGolfer after @THEREALBHOP beat Cloud he told @andreward ringside he'd never fight him for any amount of $. I was sitting right there
about 20 hours ago

Max_Kellerman

Max Kellerman


.@CookDavidKatz @El_Joel_ @andreward Ward is willing to fight @gggboxing, it's GGG's camp that doesn't want it. Yet.
about 20 hours ago

Max_Kellerman

Max Kellerman


.@El_Joel_ I think the winner's a good fight for @andreward, especially if it's Groves, who'd be best 168lber Andre hasn't already beaten.
about 21 hours ago

SportsNation

SportsNation


Just in case you were wondering why Phil Jackson decided to join the Knicks » http://t.co/duUaK4IYVg http://t.co/FmP4lXG8q3
1 day ago

SportsNation

SportsNation


We're recapping the epic twitter feud between Richard Sherman and DeAngelo Hall. Here's Sherm's rant. ESPNEWS now! http://t.co/cnXgQ1Bolc
1 day ago

SportsNation

SportsNation


EXCLUSIVE: Kobe was not happy after he heard the Knicks were scheduling major announcement for Tuesday » http://t.co/cvC9AJgqBG
1 day ago

BEST OF THE BEST

Revis vs. Ware?

Which player has a brighter NFL future: Darrelle Revis, or DeMarcus Ware? Vote! »