SportsNation Blog Archives

Alex Smith
Jim Harbaugh has been vacillating like a pro on the question of whom he'll install as his team's primary starting quarterback. The 49ers have had success under Alex Smith, but Colin Kaepernick's performance when Smith suffered his concussion has intrigued 49ers fans frustrated with Smith's limitations. Should Harbaugh make a permanent change at the quarterback position?
greenterror2005: "This is such a joke. Harbaugh needs to pull the trigger and make a decision and stop jerking his team and his QBs around. They're coming down the stretch into playoff time and they need to get behind someone. If you're going to call Smith the captain and a leader but put him on the sideline then you just need to come out and say it and not try to build the guy up just to tell him he's not starting. And for Kap the guy needs his reps if he's going to take them to the SB so stop playing games."
GoMy9ers: "13 Niners made the Pro-Bowl as starters or alternates last year, and Alex Smith was not among them (not even close to being name alternate), that's as good an indication as any the team could use an upgrade at the most important position."
dcjr7921: "Jim Harbaugh took the same talent that Mike Nolan & Mike Singletary couldn't get above .500, and now has them competing for a Super Bowl. Not about to question him now."
aggiesbeathornets: "The Niners have found their QB for the next decade, and his name is Colin Kaepernick. Sorry, Alex."
centralvalleyCali-2: "It may look like 2 different schemes because the offense is so much more dyamic under CK, but it's actually the identical scheme. Not sure there's a way to prepare differently for two different levels of execution... You just play closer to the line of scrimmage inf Smith plays, because you know he can't hurt you deep or outside the tackles."
PMendez32: "Kaepernick did ok against the Saints but that's good in terms of his playing experience in that type of hostile environment. The defense is the real story getting two pick 6's, otherwise the game would have been much more close."


Join the conversation or respond by signing in or creating a profile and blogging.
On Thursday, "First Take" debated Jim Harbaugh's comments that the 49ers never pursued Peyton Manning. The 49ers coach said Alex Smith was always in the team's plans for this season and that Manning was never an option. Neither Skip Bayless nor Stephen A. Smith believe him. What's your take?
The 49ers may have wanted Peyton Manning to wear red and gold this season, but since he's not available they decided to stick with the guy who got them to the NFC Championship Game last year. Sources say that San Francisco has re-signed Alex Smith to a three-year deal worth an average of $8 million per season. Smith seemed to have something of a breakthrough in 2011, but was his ascendance something of a fluke?
---
2012 expectations?
The 49ers went 13-3 and made the NFC Championship Game in the 2011 season. The addition of Randy Moss could be just the thing needed for San Francisco to really make a run at the Lombardi Trophy.

---
Is Smith elite?
Alex Smith had been heavily criticized during his time in San Francisco, but 2011 was a fantastic year for him -- 3,144 yards, 17 touchdowns and only five interceptions.

---
Any lingering issues?
Smith was obviously the backup plan for San Francisco in case it missed out on Peyton Manning, but are both sides professional enough to make it work?

Peyton Manning apparently has a new home. The quarterback has reportedly instructed his agent to begin negotiations with the Denver Broncos in a move that would alter the balance of power in the AFC West if it's true. Manning's decision will have a ripple effect across the NFL: What the Broncos should do with Tim Tebow? Have the 49ers ruined their relationship with Alex Smith? And just what have the Dolphins been thinking during this entire ordeal? It should be lots of fun to see how it all plays out.
---
A good fit?
Manning will look awful strange in Broncos colors, but we're sure fans in Denver will get over the brief visual incongruity if it leads to dozens of passing touchdowns.

---
Expectations of Manning?
After missing the 2011 season with a neck injury, Manning is looking to prove to all of football that he is still an elite quarterback.

---
Trade Tebow?
Tim Tebow could make a good backup for Manning, but should the Broncos trade him to a team that needs a fresh start at quarterback?

---
Smith's fate?
The 49ers seem willing to let Alex Smith sign elsewhere, despite the quarterback's emergence in 2011.

---
The most impressive NFC quarterback?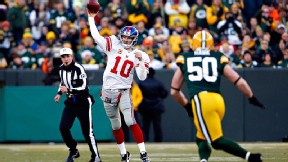 Most of SN expected this to be a debate about Aaron Rodgers and Drew Brees. Was Eli Manning beating Rodgers in Lambeau more impressive than Alex Smith beating Brees at home?

---
Does either team have an edge?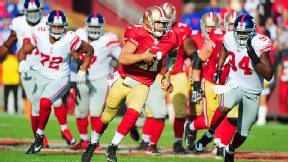 Going back to the regular season, Smith ranked ninth in the NFL with a 90.7 passer rating, two spots behind Eli Manning at 92.9.

---
Did Alex Smith win you over?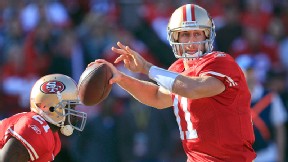 How much of a difference did one game make in how you define Alex Smith, he of the 68 career touchdowns and 58 career interceptions?

---
The clutch brother in the family?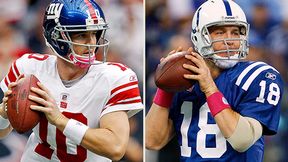 Eli Manning won't match a lot of Peyton Manning's numbers, but he's two wins away from passing his older brother in rings and beat both Brett Favre and Aaron Rodgers in Lambeau Field.

---
Who had bigger cleats to fill?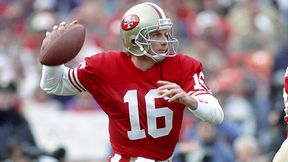 Smith had to live with the comparisons to Joe Montana (above) and Steve Young throughout his time in San Francisco, but Manning has been Peyton's brother his whole life.