SportsNation Blog Archives

Rajon Rondo
With free agency period set to begin July 1, teams are taking a good look at their rosters and deciding which players should be kept and which should be dealt. The NBA 5-on-5 crew analyzed some of the most notable names on the market and debated who will be packing their bags this summer. What's your take? Vote below and join the conversation.
---
Trade or keep: Eric Bledsoe?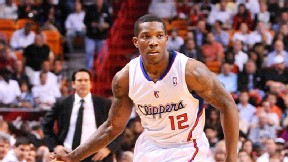 2012-13 stats: 8.5 PPG, 3.1 APG, 3.0 RPG

---
Trade or keep: Garnett and/or Pierce?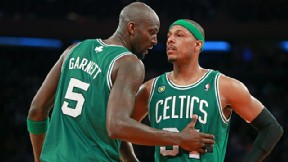 Garnett 2012-13 stats: 14.8 PPG, 7.8 RPG
Pierce 2012-13 stats: 18.6 PPG, 4.8 APG, 6.3 RPG

---
Trade or keep: Luol Deng?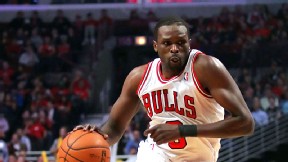 2012-13 stats: 16.5 PPG, 3.0 APG, 6.3 RPG

---
Trade or keep: DeAndre Jordan?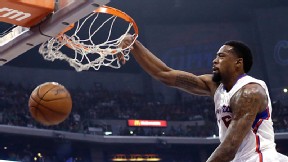 2012-13 stats: 8.8 PPG, 7.2 RPG, 1.4 BLKPG

---
Trade or keep: Rajon Rondo?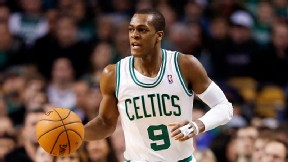 2012-13 stats: 13.7 PPG, 11.1 APG, 5.6 RPG

Boston Celtics guard Rajon Rondo will miss the remainder of the NBA season after suffering a torn ACL in Friday's loss to the Atlanta Hawks. With their floor general on the court, the Celtics have a 99.2 offensive efficiency rating and a 100.4 rating without him. Does this give Boston hope that they will be a playoff team without their starting point guard?
welldone2013: "Sad day for all sheltic!! fans. I love to see this guy play. With the engine down, i doubt if the cast can push for the playoffs. Get well soon Rondo."
LetsGoBraves2012: "celtics offense will suck without rondo"
tanti311: "I think we will be better off without him. I know he is a triple-double threat every night but you watch what happens without him. He makes a lot of mental mistakes and I think he is inconsistent. Go ahead and let the shots fly."
UnbeataBULL8: "I don't like the guy but as a Bulls fan I know how tough it is when your PG goes down because of this. Hope the C's will be all right without him! Wish Rondo all the best and a speedy recovery!"
JWB-1979: "Well this sucks, best of luck Rondo. Speaking of toughness, the dude didn't leave the game after he tore his ACL and put a triple-double up on a torn ACL!!!"
Laangels5824: "Doesnt matter what team you are a fan of. This is terrible news for the NBA and it's sad to see one of the NBA's best PGs go down for the season. Its absolutely disgusting to see so many people happy by this news."
Join the conversation or respond by signing in or creating a profile and blogging.
The Celtics-Heat rivalry hasn't gone away. Rajon Rondo's foul on Dwyane Wade in the closing seconds of Miami's opening-night win was proof enough of that. Wade didn't appreciate it, calling it a "punk play" and hinting that payback might be coming in their next meeting. Is Rondo, who was called for a flagrant foul in the incident, a dirty player? Or was it just a hard foul meant to send a message? Discuss and vote.
bookiebasher87: "Says the guy who broke Kobe's nose in an All-Star game. What goes around comes around."
jdelahoya: "Rondo is so damn arrogant it's almost embarrassing. Celtics need to get over it. Heat are better and they know it. They need to have some class and just play ball."
badgers1028: "Not to defend Rondo, but the game is over and Rondo isn't playing D and wade takes advantage and tries to score. 75% of nba players do the same thing Rondo did cuz he's upset he lost. Wade doesn't need to cry about it, it's basketball. Glad everyone is so proud of him for not throwing the ball in Rondo's, big accomplishment."
pdedse: "Reading what Wade had to say, I thought it was going to be worse than what you see in the video. 10 years ago that's just a foul to make sure Wade didn't get the "and 1". Move along, nothing to see here, folks."
ko_go_bucks: "Flagrent foul? Yes. Punk play? No. BTW when you're one of the best players in the league, defenders are gonna get physical with you. It comes with the territory."


Join the conversation or respond by signing in or creating a profile and blogging.
On Thursday, "First Take" debated the future of the Celtics, with a little help from Boston superfan Bill Simmons. Simmons, Stephen A. Smith, and Skip Bayless went through a few different scenarios as to what the Celtics could do -- everything from trying for it with their current group of players to blowing it up and starting over completely. What's your take?