SportsNation Blog Archives

Joey Votto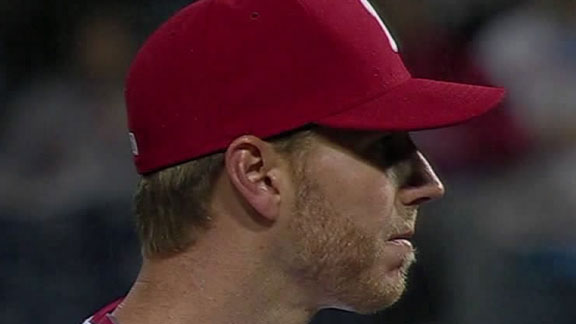 Unlike the increasingly heated AL Cy Young debate, the NL MVP seems like a bit of a foregone conclusion. Albert Pujols is doing what he usually does, but the Cardinals aren't going to the postseason. The Rockies made a run, but without a playoff berth, neither Carlos Gonzalez nor Troy Tulowitzki appear likely to pick up enough votes. Joey Votto, on the other hand, ranks second in batting average and third in home runs and RBIs for a team going to the playoffs for the first time in 15 years. That's what we call an MVP resume.
But what about Roy Halladay?
The Phillies ace is close to a lock for NL Cy Young, but does he belong in the MVP debate? No National League pitcher has won the award since Bob Gibson in 1968, but five AL pitchers won MVP more recently than that. So has Votto really created more wins for his team than Halladay has for his?
Rick (Philly)
Should Halladay get some MVP consideration? He is the best player on the best team in the NL
Rob Neyer
The MVP has unofficially been redefined to exclude starting pitchers who don't win 25 games, and of course nobody wins 25 games anymore. Based purely on wins and losses and impact on pennant races, Halladay is obviously a wonderful candidate. And he won't finish in the top 5. Full transcript
Derek (Toronto)
Hi Jerry, i've had the pleasure of watching Roy Halladay pitch from day one and to see him get the recongition and accolades he deserves is great. However, what he has done this year doesn't come as a surprise to those of us who followed him his whole career. He has preformed this well year in and year out but while he was in Toronto it seemed like he always took the back seat to other pitchers ie. Johan Santana. Do you think the fact that he played in Toronto is the reason he didn't get all the fanfare that he's getting now?
Jerry Crasnick
Derek, Part of it was playing in Toronto, and part of it is his media-shyness. Halladay is a good guy, but he's so busy watching video, lifting weights, doing stretching and cardio and all the other stuff he needs to prepare, he's almost invisible in the clubhouse. He doesn't reveal a whole lot of himself for public consumption. That's never been a priority for him, and it never will be. Full transcript
First it was Ndamukong Suh coming up on the outside (or right through the guard and center, as the case may be) to nearly swipe last season's Heisman Trophy. Now we've got Troy Tulowitzki making a late run in the NL MVP race. We don't know if the two things are related, but the Steelers might want to get in touch with Chris Fuamatu Ma'afala, just in case there's something afoot with the 21st letter of the alphabet.
Tulowitzki and the Rockies finally cooled off, sort of, Sunday against the Dodgers. Tulowitzku had only one RBI and struck out three times in a 7-6 loss in 11 innings. Nonetheless, the Rockies are just 1.5 games out in the NL West and Tulowitzki is hitting .371 with 14 home runs this month. But before we get to Tulowitzki's place in the NL MVP race, what is his place in Colorado's MVP race?
"

Tulowitzki is an absolute beast! If he could just stay healthy over a full season, he could win multiple MVPs. Hopefully, he picks up a Gold Glove and a Silver Slugger Award this year, which he rightly deserves.

"

-- jtrms45
SportsNation, meet Joe Medwick. You may be hearing a lot about him in the weeks to come. Medwick won the NL Triple Crown in 1937 as part of the Gas House Gang in St. Louis. That same year, War Admiral captured horse racing's Triple Crown. And for all the talk of the recent drought of winners on the track, seven horses have swept the Kentucky Derby, Preakness and Belmont since War Admiral did it.
Not a single player from the Senior Circuit has matched Medwick's trifecta in that span.
Enter Albert Pujols and Joey Votto, either of whom would seem to have a great shot at the Triple Crown, if not for the other. Chatting with SportsNation, Jerry Crasnick and Rob Neyer addressed how rare the current situation is and how much the feat means.
Dennis (Chicago)
Jerry, Albert Pujols is .001 behind Joey Votto for the Batting Crown. If he were to overtake him in the next couple of days, when was the last time someone was leading all the Triple Crown categories this late in the year?
Jerry Crasnick
Dennis, Glad you asked. Jason McCallum of ESPN just sent out a note about this yesterday. Dick Allen of the White Sox led in all 3 Triple Crown categories on Sept. 8, 1972. The last NL player to lead all three departments this late in the year was Johnny Mize. He ranked first in HRs, BA and RBIs on Sept. 14, 1940. So it's been a while. Full transcript
Craig (Chicago)
Pujols and Votto making a run for the Triple Crown seems like it is good for baseball, but it also reinforces the importance of RBI, which doesn't seem like a good thing. What's your take?
Rob Neyer
I'm not worried. I think we're getting over RBI, as we should. Which doesn't mean a Triple Crown wouldn't be really cool. I just think Omar Infante's going to get in the way! Full transcript
Might an All-Star snub the best thing that ever happened to Joey Votto's MVP candidacy in the National League? As of Monday morning, the Reds first baseman leads the NL in OPS (he's tied for fifth in RBIs, for the Monty Burns among you). Also as of Monday morning, he's not an All-Star. And for that reason, you're probably going to hear more about Votto in the next 48 hours than in the entirety of his career to date. It takes something like a snub to get people fired up about someone like Votto. Just ask SportsNation blogger M. Stewart.
"Why are there 3 relievers in this All Star game? Only Starters and Closers because relievers barely ever pitch or appear in a game. Why should a reliever for the Reds be in the All Star Game, when the MVP of the Reds, and possibly the MVP of the NL isn't on the team? Joey Votto is 4th in NL in homers, 5th in rbis, 4th in total bases, 7th in walks, 6th in runs and tied for 2nd in slugging percentage. Now seriously, who has more worth? A guy who is 3-2 who probably will only throw for one out or maybe not at all in the All Star game or a batter who hits .312 with 19 homers and 57 rbis. Obviously, it's the batter, Votto. Votto is on the All Star final vote which the fans can vote on. I strongly encourage everyone to vote for Joey Votto as the NL All Star Final Vote." -- Read M. Stewart's full post.
"

Omar Infante and being an all star are concepts so radically different that the sole mention of those words together in a sentence in a positive manner causes a collapse in the center of the universe, whose energy travels around the space and acelerates the destruction of all known and unknown universe.

"

-- trlp1712
"

It is completely ridiculous that Votto doesn't get voted or selected by Players or Manager for this game. He leads ALL NL 1st Baseman in almost all offensive categories & leads all of them in Fielding %. Really, how do you leave this guy off your ballot or vote in? Unbelieveable. The league needs to select a panel of writers & bench coaches or something to select this team.

"

-- romcilvain